Nashville is the dominating super-city of music in Tennessee, despite there is so much musical history in Memphis as well. Not just the masterminds of blues, also acts like ZZ Top or Justin Timberlake have their musical roots in the very Southwest of the state. The Memphis Music Hall of Fame is trying to honor the greatest acts and solo performers of the city. I visited this place the day before I headed to the CMA Fest 2019 in Nashville.
Memphis Music HoF – Location & Admission
The Memphis Music Hall of Fame is located right next to the Hard Rock Cafe. Thus, it is just a block away from Beale Street.
Adult admission to the museum is 8 USD. You can buy a combined ticket, which also allows you to visit the Rock 'n' Soul Museum, for 18 USD. This is a 3 USD discount.
Memphis Music HoF – The Exhibition
The Space in the Hall of Fame is rather limited. Once you are upstairs, you enter one room with a lot of memorabilia of the inductees.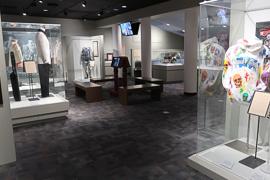 The quality of the exhibits is definitely quite high. For example, there are Justin Timberlake sneakers and Elvis Presley item. The other half of the car in exhibit is located in the BB King's at Beale Street. Of course, there are also Blues-related item, like the signed guitar, which you find at the bottom of these pictures.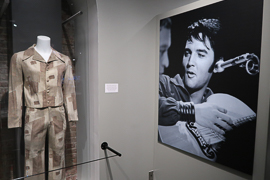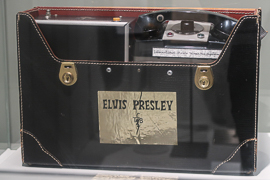 One very nice way to inform about the Hall of Famers is to use one of the interactive screens. You may browse (and listen) to some of their recordings.
Memphis Music HoF – My View
The Memphis Music Hall of Fame is compact – in order to avoid the words "small" or "tiny". Thus, the place is definitely not a must-visit. Nevertheless, I would definitely not full strike it from your list when visiting Memphis. The key reason is: it gives you a nice overview of the musical history of the city. It has a lot more potential than it currently shows – and is able to show due to its limited space. The visiting time is poor – if you are in a hurrry, you will digest every item in an overall of 25 minutes.
Flyctory.com about Memphis
Here are all postings related to Memphis
All Music & Media Postings
Here are all Flyctory.com postings dealing with music and other media: