The title of the album Guten Morgen, schönes Leben translates to "Good morning, beautiful life". The artist who wrote it is German pop singer-songwriter Philipp Artmann, who is growing from a local artist to becoming more popular in Germany. He is well known for combining elements of several genres which define his music. Here is my review of his debut album, which has been released on 25th August 2023.
Philipp Artmann – About The Artist
The musical vita of Philipp Artmann is indeed cosmopolitan. The 32 year old artist was born and grew up in Haltern am See in the Northern Ruhrgebiet region. Later, he started to Management in the Netherlands, but stopped that effort. He was rather pursuing a career in music and grew in Germany, but also played concerts in Australia when he visited Australia. He doing German pop music with reggae and hip hop elements.
Philipp Artmann – Guten Morgen schönes Leben – Track by Track
The eleven track album lasts 41 minutes.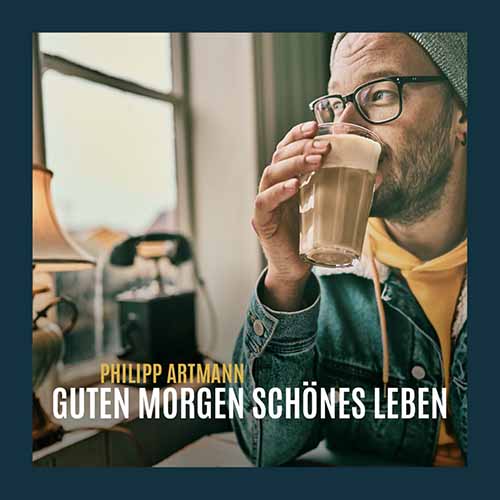 1. Aufbruch
Aufbruch starts with the words Guten Morgen, schönes Leben and thus feels like a title song. The song is a typical singer-songwriter one, the very present rhythm leads to a pop music character. However, Artmann presents very different sounds in this song, including the melancholic sound of brass instruments.
2. Durch Wände
The second song is already illustrating the versatility of Artmann's sound. This song does not only feature hip hop-style vocals, but also the typical groove of the genre. Durch Wände feels to work out as well as its predecessor – even though it is a very different kind of song.
3. So einfach
Vor einem Jahr wollte ich ein fleißiger Student sein
Doch dieser Plan sollte nur Plan für den Moment sein
Denn noch viel lieber wollt ich lieber Leader einer Band sein
Dann doch lieber wieder solo mit 'nem Instrument sein
("A year ago, I wanted to be a brave student
But this plan should just be a plan for the moment.
Because I'd much rather liked to be the leader of a band
But then again being solo artist with an instrument")
The song is about leading your life the way it makes you happy – and not caring about what other say. This single release also nicely illustrates the precise songwriting of the
German artist
. He states 
Es könnte doch so einfach sein – 
"It could be so simple". The groove sound of the song is a fascinating listen.
4. Hör zu (fat. INTI)
Already the very first notes of this song clearly state that it is reggae time now. The guest musician is the perfect fit to it – INTI is a Cologne based reggae musician. The song is a mid tempo, very laid back song, which is also having some hip hop-alike parts.
5. Beste Freunde
Beste Freunde ("Best Friends") also combines reggae and pop elements. However, this praise of friendship  has a much quicker, more dynamic character. The key driver are the rather fast hip hop vocal sections.
6. Selbst wenn
After the wide range of songs – what is still missing in Guten Morgen schönes Leben? Indeed, we need a slower track – Philipp Artmann is sharing this very personal and emotional one, which begins like a ballad. However, the song is about much more than love, but also about wanderlust, the struggle of being curious of exploring new places.
Ich hab's mir nicht ausgesucht
Nicht zu sein wie ihr
Ich hab's mir nicht ausgesucht
Ich bleib' nicht hier
("I haven't chosen it
Being different than you
I haven't chosen it
I don't stay here")
7. Herz tanzt
The following two songs have been selected as releases before the album publication. Herz tanzt ("Heart dancing"). The song is a happy vibe pop song with some summer-style melodies. Definitely made to make you smile.
8. Alle Räder
While Herz tanzt is a rather straight radio song with airplay potential, Alle Räder is a rather unusual release selection. The song lasts six minutes und is a rather lyric and narrative song. Again, Philipp Artmann wrote a very deep song full of personal struggle and conflicts. Intense listen.
9. Lass es ruh'n
After the rather quiet and epic song, the groovy vibes of Lass es ruh'n felt a bit too much at first sight. The reggae-stye groove is mostly created by the brass support, while the core part of the song a mixture of modern pop and hip hop. The melodic chorus feels like a big contrast to the stanzas.
10. Berge & Meer
This song praises the "Mountains and the Sea" – for example by stating "I wouldn't have moved here if I knew how much they are missing". The joyful song is rather a mixture of folk and country music elements and thus one of my favorites.
11. Zuhause
Philipp Artmann becomes a lovely balladeer in this last song. The farewell is about "Home" – a beautiful, very personal song.
Philipp Artmann – Guten Morgen schönes Leben – Spotify
Here is the album on Spotify:
Philipp Artmann – Guten Morgen schönes Leben – My View
Guten Morgen schönes Leben is a lovely debut album. Especially when you listen to it the first times, you are surprised by every song and the very different styles which Artmann is presenting in this album. Eleven very entertaining songs, very good lyrics and deep writes – love it!
Favorite Song: So einfach
Music – Ruhrgebiet
Here are all my Music & Media postings related to the Ruhrgebiet in Germany:
Travel Postings about Iceland
Here are all my travel-related postings about Iceland: