I am typically not too much into live album and Greatest Hits compilations. I love to listen to them – but I feel it is hard rating them. Of course, there are some exceptions – and blues rock champion Joe Bonamassa is causing one of them on Flyctory.com: not only that he is an amazing to me in general – the venue for this recording is just too special. In September 2020, he stepped on stage at the Ryman Auditorium in Nashville, the show has in parallel been streamed into 44 countries. From 11th June onwards, you can enjoy the show again – just as audio tracks (CD, stream, vinyl) or as a DVD or Blu-ray. I just put my ears on Now Serving: Royal Tea Live From The Ryman. 
Joe Bonamassa – Studio Album Review
No bio? Fun fact about this review is that I already reviewed the underlying album – Royal Tea has been released as a studio album in late October 2020 – and there was no doubt to assign a Top Pick! rating to this one. You will find bio in the original posting – and may compare both reviews whenever you want!
Joe Bonamassa – Now Serving: Royal Tea Live From The Ryman – Track by Track
The twelve song album lasts 80 minutes.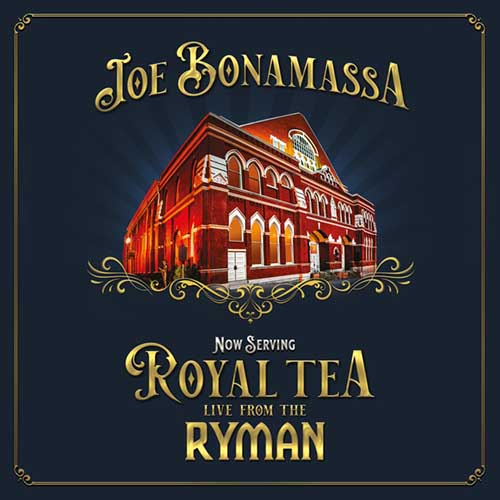 1. When One Door Opens
The finish of the opening track, When One Door Opens, is some sort of relief to me. When I reviewed the original version, I called this song a masterpiece – and now, live at the Ryman, people cheering for it. Thus, I hope that I haven't been that wrong. Love that one.
2. Royal Tea
Joe Bonamassa is sipping tea quickly – like on the studio album, the title track is one of the shorter songs. I love the arrangement between Bonamassa's vocals and his background singers while he is live on stage. His guitar skills are a bit more present in the live version as well, even though the live arrangement here and there distracts a bit from the song as such.
3. High Class Girl
The live album is not an exact 1:1 of the studio album. The order of songs are twisted here and there and there are some track changes and additions in it as well. High Class Girl is on fifth position of the studio recording. I definitely prefer it live. The coolness, but also the fishiness of the girl is just a bit more precisely told in the Ryman. And finally, this song receives and additional duration of about a minute – it absolutely deserves it.
4. Lookout Man!
One thing I should definitely mention: yes, there are differences between the recordings. Sometimes, minor differences in the mixing or a longer / different instrumental part do already cause quite a difference. But some parts of Now Serving: Royal Tea Live From The Ryman are really damn close to the studio recordings. Which vice versa means: the technical staff in Nashville did an amazing job.
5. Why Does It Take So Long To Say Goodbye
Why Does It Take So Long To Say Goodbye receives one of the longest add-ons compared to the studio sound: while the Royal Tea version was already epic with 6:44 minutes – people had the enjoy to listen to this track for almost ten minutes (9:34 mins). They do – and they enjoy. This tells a lot about the musical qualities of Joe Bonamasse – especially in the US music market, which is longing that much for 2:30 to 3:00 minutes mainstream sounds.
6. A Conversation With Alice
No, this track has nothing to do with Smokie – and it is another one which is upgraded by three minutes of duration. Time, which is majorly used to present the amazing instrumental quality of Bonamassa and his team on stage.
7. I Didn't Think She Would Do It
I am tempted to think about what is wrong with songs like I Didn't Think She Would Do It. They "just" get an upgrade of a few seconds in their live versions, while other songs almost double their time. This seventh song of the concert recording nicely illustrates the powerful presence of the band on stage – even though I am sure that it is much more of a blast if you been one of the lucky ones in the Ryman or watch the audiovisual recording on a nice surround system. Nice guitar solo.
8. Beyond The Silence
The songs of this part of the album are in the same order as on the studio edition. Beyond The Silencewas one if the releases before this live album. You can just invest more time into the song in this stage show – especially as you know that you will just play a dozen of tracks at the Ryman.
9. Lonely Boy
I named Lonely Boy the "hidden hero of the whole Royal Tea collection" in October. And in fact, Lonely Boy, Ryman version is again one of the most catching parts of the June 2021 release. Such an amazing showcase of musical, especially instrumental power. Love it!
10. Cradle Rock
From the tenth song onwards, Bonamassa is leaving Royal Tea songs (which also means that Savannah is not part of the Ryman album) and heading towards classics. The first one is the 2000 Cradle Rock, which he already published in other live recordings. That almost gives this track some sort of bonus song feeling.
11. Walk In My Shadow
With Walk In My Shadow, Joe Bonamassa played the second reference to his A New Day Now album, which had been released just a few weeks before the Ryman show in a 20th Anniversary remastered version. Good marketing – and of course a good job on the musical side.
12. A New Day Yesterday
Not too surprisingly, the very last song is another. which is originally from the 2000 album / anniversary edition. The song is one of the best rated of the album – and at the Ryman, it is also a really nice modern blues showcase.
Joe Bonamassa – Now Serving: Royal Tea Live From The Ryman – Spotify
Here is Joe Bonamassa's live album on Spotify:
Joe Bonamassa – Now Serving: Royal Tea Live From The Ryman – My View
I finally need to answer an easy and a difficult question at the end of this album review. Starting with the easy one, for sure: Is Now Serving: Royal Tea Live From The Ryman a good album? It definitely is! I sometime struggle to accept it as a live album. They just did the recording too perfect. It almost feels to sterile, to unemotional. There is no interaction with the people – apart from their clapping at the end of each song.
More more difficult: is the album worth a(nother) purchase? I would say this is rather a "no", if you own Royal Tea already. Indeed, the new recordings are longer and some of them do some upgrade to the studio recording. But there must be some strong fandom – either for the artist or the genre – do go for most of the songs a second time. If you haven't bought the album yet and think about it, the Ryman version is definitely a very interesting option.
Blues on Flyctory.com
Here are all postings on Flyctory.com related to the Blues:
Music Legends on Flyctory.com
Who belongs to the music legends? Here on Flyctory.com, it's only me who decides on this: