After I dealt with visiting the Graceland Mansion in a separate posting, the second part of my review of Graceland deals with the numerous exhibitions available around the Graceland Visitor Center. This especially includes the two Elvis Presley airplanes. The remaining parts are also called Elvis Presley's Memphis. As all refreshment services are located in that area as well, you will find information about these services and the multiple gift shops in here.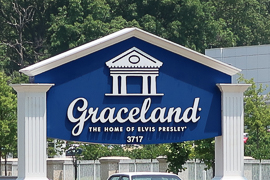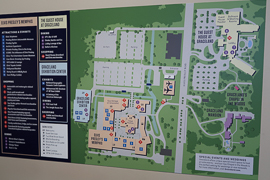 There is a 370 major size picture gallery of my Graceland visit in Travel Gallery section.
Graceland – Location & Admission
About the location and admission to Graceland, I refer to the mansion posting, where I especially focussed on the complex admission structure. The Visitor Center is located on Elvis Presley Boulevard, opposite to the Graceland Mansion.
Please note again that the very basic Graceland (Mansion Only) ticket does not grant you any access to the exhibitions mentioned in this posting. Some of the gift shops and food opportunities may also not be available for you. If you are not buying the poshest (aka: most expansive) admission option, there is an additional charge on the airplanes.
Graceland Exhibitions – Presley Motors
Presley Motors, the collection of Elvis Presley's cars, is likely the part of the exhibition, which attracts most visitors and which you most likely think of. It is also the first exhibition hall you will likely visit after returning from the mansion – afterwards, all the exhibitions are linked so that you do not need to go outside if you do not fancy the weather conditions.
It is hard to say what is better at Presley Motors – the selection and the condition of all the cars on the one hand – or the presentation of them. I feel that this is close to being the perfect automobile exhibition. The cars are the most important items – but they are supported with useful infornation, for example on the walls behind the exhibits.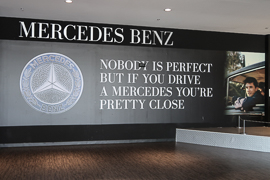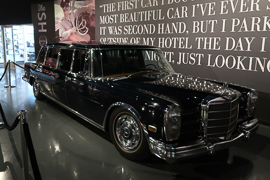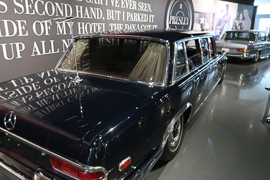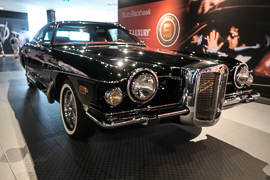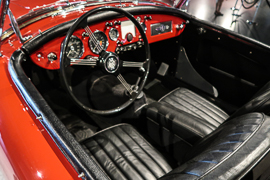 Presley Cycles
The section next to the amazing car collection is called Presley Cycles. In fact there are not just motorcycles and trikes, but also boats, jeeps, golf carts and a lot of other moving material. The collection might not be as impressive as the impressing collection of cars, but definitely still worth exploring.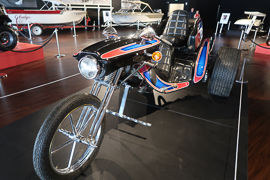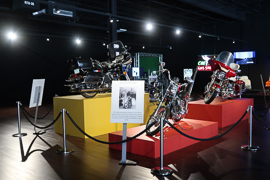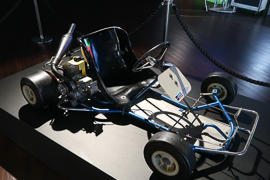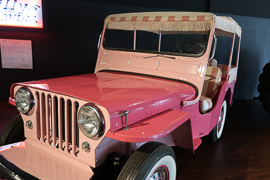 Graceland – Other Exhibitions
The Graceland Exhibitions or Elvis Presley's Memphis goes on with numerous different collections and exhibitions. Some are quite minor like a Lisa-Marie collection I skipped in this review.
The Elvis Presley Archives
Elvis Presley's Memphis is the largest Elvis museum in the world – and nothing shows the incredible immensity of items they own than the Archives. They just show a couple of items they own, but cannot display somewhere. Overall, the museum owns more than a million exhibits. On the pictures below, you see how wide the range of items is – from pen-holders of Elvis' workdesk to the original blueprint of Graceland. The exhibitions at Graceland are already massive – but the archives show that they could be even much larger.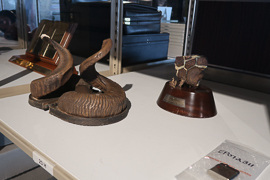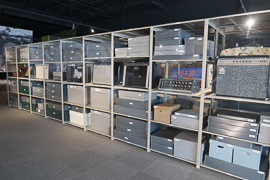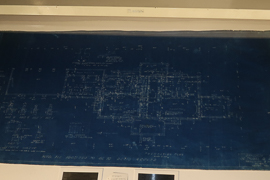 Private Presley – Elvis in the Army
Private Presley is, of course, about Elvis's army career. I am not that much of a military person, but his whole army life is covered in here. Of course, there are also numerous references to Germany, where he was working as well.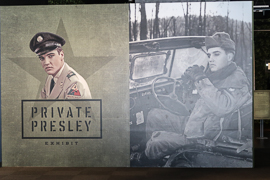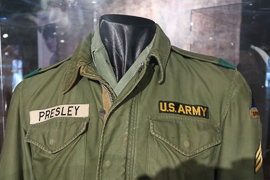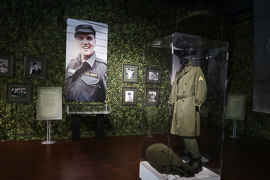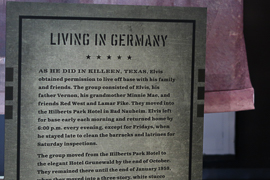 ICONS – The Influence of Elvis Presley
As a music fan, one of the exhibitions which impressed me most is ICONS. Stars of the music business give their statement, how Elvis influenced them – together with some memorabilia of their life. You see some country music stars like Blake Shelton or Miranda Lambert on the pictures below here – but there is nearly everybody somewhere in this major exhibition hall. A very iconic and central display represents the whole band of KISS. Of course, you find rock icons like Bruce Springsteen, but also Bob Marley and many more. Really cool!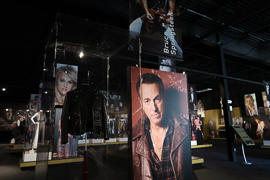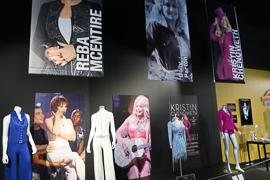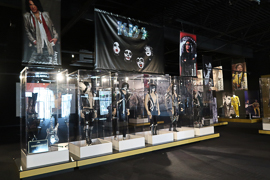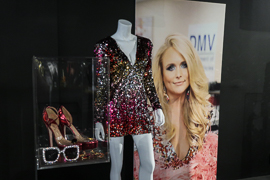 The Entertainer Career Museum
The Entertainer Career Museum is likely some sort of the heart of all Elvis Presley's Memphis exhibitions. I am tempted to say that it shows everything which you can imagine which documents the musical career of the King: there are some of his first records, for example. There are a lot of suits he used on stage, presentations of his movies he did as an actor and many more small and large memories. The most impressive thing is likely the wall of golden records, which is just massive. This room also holds his three Grammys, which he all received for gospel, not for rock songs.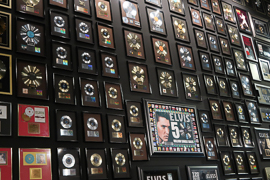 Sun Records and Marty Stuart
Two special exhibits were quite at the end of my tour. First of all, there was a replica of Sun Records and their studio (which I visited after Graceland anyway). Another exhibition was about Marty Stuart and his influence to the music industry.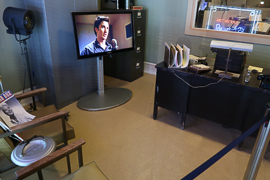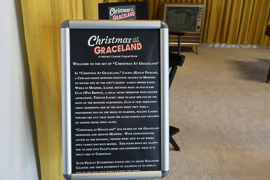 Graceland Air
For an aviation enthusiast, doing the five dollar addon and visiting the Elvis Presley planes was a must, of course. The planes are located right at Elvis Presley Boulevard, half way to the mansion. You will have to do a short walk to the exhibition site. The Graceland Air building is both, entrance and ticket control as well as souvenir shop.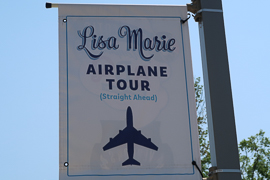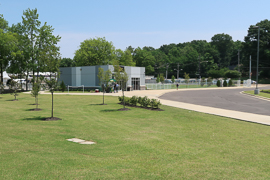 There are two planes on display. The minor one, registered as N777EP, is a Lockheed L-1329 Jetstar II. It was Elvis Presley's first private jet. The access to the Lockheed is quite limited, though. You can have a look (through a transparent wall) to the cockpit and have a look into the cabin – again, you just have access to it through a transparent barrier.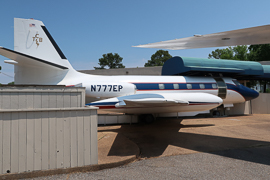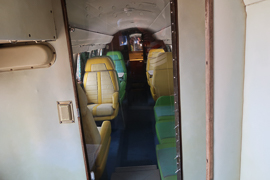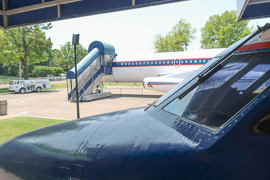 Inside and Outside "Lisa-Marie"
The plane most of you are likely looking for is N880EP, a Convair CV-880, which is most popular under its given name "Lisa Marie" (or its nickname: Hound Dog One). It is real aviation history, though, as this jet, which Elvis bought from Delta Airlines and turned into a private jet, is the only  CV-880 body, which is properly preserved in the world.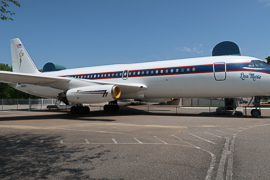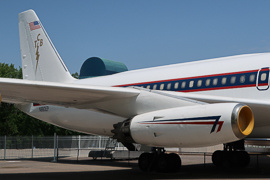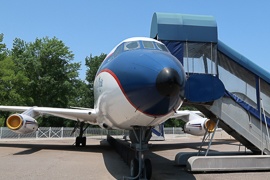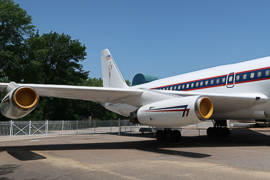 Again, you are just able to have a look into the cockpit, but you can walk through most of the plane. There are some info screens with short movies. All seats are blocked for the public and additionally covered with thick transparent plastic covers to protect them. There is security around in more or less any room.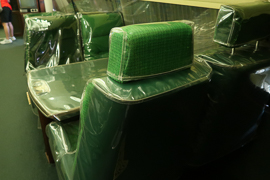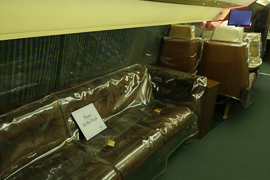 On the one hand, I felt it was cool to visit this unique icon – on the other hand, I would have loved to have more of an aviation experience here. Maybe that is just not realistic if you look at the masses of people which even visit Graceland on a low intensity day.
Graceland – Services
The area around the exhibitions is nicely designed. There are a couple of nice food opportunities around as well. Graceland Visitor Center also features a concert venue. There is also an exhibition area for non-Elvis exhibitions, which I did not check.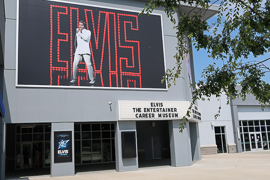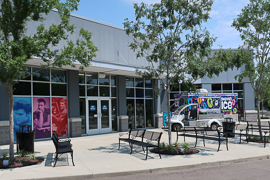 Apart from a major central store, more or less any exhibition area has its own souvenir store. The merchandise differs in these stores slightly. Starting with CDs, magnets and souvenir shirts, you may buy a plush Lisa-Marie plane at the airplanes or a 4,000 replica of one of Elvis' outfits close to his golden records. Most of the stuff (apart from these replica memorabilia) are within the expected price range.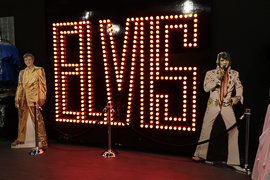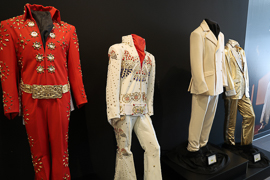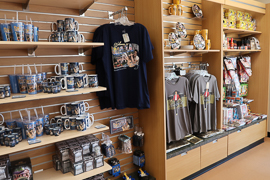 Graceland Exhibitions – My View
You don't need to be an Elvis fan to like this exhibition. It is massive – and, even more, it has something for everyone. If you are a music lover in general, you may fancy the statements of the stars about Presley. Technical enthusiasts might go for the cars, bikes. Die hard fans will like everything anyway. Just visiting the mansion would be just not a complete visit of Graceland – this add-on is simply worth it! A definite Top Pick!
Graceland – The Gallery
I added a gallery with all of my Graceland pictures, exhibition and mansion to the Travel Gallery section:
USA – All Postings
Here are all postings which deal with the USA: