The story of Ross Antony is quite amazing: having an English education as a musical artist, Antony is nowadays a well-respected artist in the German Schlager music scene. His music is authentic, often fun and entertaining. Thus, I felt I just had to listen to his Christmas album Lass es glitzern (Weihnachten mit Ross) ("Let it sparkle – Christmas with Ross"), which has been released on 6th November 2020.
Ross Antony – About The Artist
Ross Anthony Catterall was born on 9th July 1974 in Bridgnorth in the United Kingdom. He is a singer and actor. Even though he graduated in his home country and also had its first roles in musicals and as pantomime, there, his breakthrough was rather in Germany. First, he acted in a couple of musicals in Germany and Austria, before he won at a talent show in German TV, Popstars, which lead to the pop music group Bro'Sis. The group disbanded in 2006. Anthony increased his popularity in Germany, which also lead him to win the German version of I'm a Celebrity… Get Me Out of Here.
Even though his debut single …And That's the Way It Is! is already dated as of 2000, he is releasing albums regularly since 2011. Thereby, he more and more developed towards German Schlager, his most successful recordings had German lyrics. With Schlager lügen nicht ("Schlager do not lie"), he made it to the German Singles Top 10 in 2019. Lass es glitzern will already be Antony's twelfth solo studio album. He by the way already did a Christmas album six years ago, Winterwunderland, a recording with his husband. Their center of life has by the way that much moved to Siegburg near Bonn that both are German citizens nowadays as well.
Ross Antony – Lass es glitzern – Track by Track
The album includes 13 tracks and lasts 38 minutes. Apart from his husband Paul Reeves, Antony is supported by German pop and schlager singer Ute Freudenberg.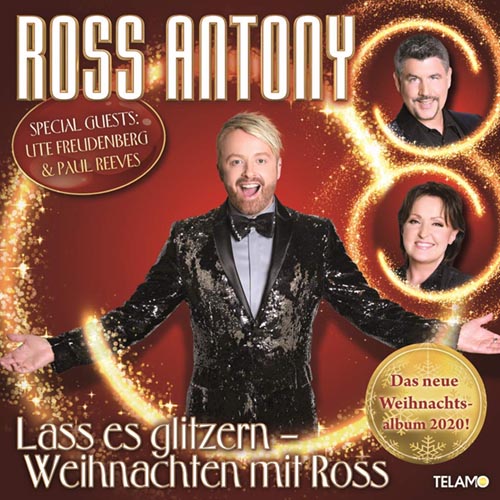 1. Ein weißes Wunderland
Ross Antony's trip through the winter and holiday season starts with a powerful pop-schlager track: Ein weißes Wunderland ("A white wonderland") is a catchy, melodic track, which feels as if you just need to board the sledge… Maybe rather a skidoo than a traditional horse or reindeer carriage – the track is quite uptempo.
2. Lass es schneien
When Ross Antony transforms the classic Let It Snow to (regarding the title, literal translation) Lass es schneien, the song becomes a bit of too soupy… But hey, it is festive season, so there may be some extra love and emotion. And Antony does a nice and happy track. Not that bad.
3. Herzwärme (feat. Ute Freudenberg & Paul Reeves)
The first track on the album, which features Freudenberg and Reeves. A slow track, which less feels like a schlager, but could easily be an on stage one in a winter musical. Freudenberg and Reeves are the strong voices in this song, but the trio forms a quite nice-to-listen-to harmony.
4. Weiße Weihnacht
Not too surprising, the this Christmas album also contains a version of the Bing Crosby classic White Christmas. There is a bit of rhythm in the background, but apart from that, the interpretation is quite close to the original recording, just a bit quicker. It's a matter of taste – there are so many interpretations of this song. Antony does it well – you may select his version of one of so many other different voices out there who recorded that one.
5. Es schneit
Es schneit ("It is snowing") feels like a children's song (and there is a kids choir in the background vocals. A typical Ross Antony song: 2:15 minutes, happiness – this time with a Christmas touch. You have to admit that it is fun somehow.
6. Santa weiß schon, was er tut
If you are new to Ross Antony, this might be a tough track: Santa weiß schon, was er tut ("Santa knows what he is doing") is a die-hard schlager track. Might be a bit too plushy for many Christmas trees – but quite well and straight produced. By the way, the longest track on the album with some four minutes.
7. Schneewalzer
The Schneewalzer ("Snow Waltz"), an Austrian traditional winter song, starts quite traditional, but then has its rhythm-boosted elements. This may not be a track you want to listen to at the Christmas tree – but if you like Antony's music, this will be a great soundtrack for your winter road trips.
8. Ding Ding Dong
Ding Ding Dong is the second Christmas song, which has a touch of a children song. Not too deep in the lyrics, but a nice festive rhythm. Good one! This song has already been published in 2013 as part of his Aber bitte mit Schlager album.
9. Christmas mit dir (feat. Paul Reeves)
Christmas mit Dir ("Christmas with you") is a duet of Ross Antony and Paul Reeves. The album stays in the schlager range, but feels less soupy than many of the other tracks. Really enjoyable vocal collaboration.
10. Es ist Weihnachten (feat. Ute Freudenberg & Paul Reeves)
The second three voice recording spreads a lot of Christmas feelings. No disco fox drum machine, but a traditional instrumental backup. The song even features some English lyrics. Nice one.
11. Viele bunte Päckchen
Viele bunte Päckchen ("Many colorful packages") is a song about preparing for Christmas and the present handover. The song has also already been released, I found a version of it as of two years ago, as part of the soundtrack to a chlldrens' book about friendship. Beauty.
12. Hawaiianisches Weihnachtslied (Mele Kalikimaka) (feat. Ute Freudenberg & Paul Reeves)
Mele Kalikimaka is a Hawaiian classic, which I featured in 2019 introducing you to the Hawaiian slack guitar music of my friend Jim Kimo West. Translating it to German is not really enjoyable to me – I stay with Kimo!
13. Do They Know It's Christmas (feat. Ute Freudenberg & Paul Reeves)
The album closes with a pop Christmas classic – despite the title, the version of Do They Know It's Christmas is performed in German. Quite close translation of the song. Not a bad one at all, this song has been covered really terribly that often… Ross Antony, Ute Freudenberg and Paul Reeves do it in style.
Ross Antony – Lass es glitzern – Spotify
Here is the Spotify widget
Ross Antony – Lass es glitzern – My View
Ross Antony is likely one of the straightest, most friendly and most honest artists in the German Schlager scene – and that's just like Lass es glitzern, his holiday album, is like as well. If you personally like his style, if you want Christmas to be that close to German schlager music, that's all up to a matter of taste (sometimes, I feel it is a bit too much for me as well) – but Ross Antony presents Christmas in a way which fits to his previous publications, which is well produced, well sung (and partially really well supported by Reeves and Freudenberg) and is emotional as well as fun. There is quite a variety of songs – and some of them are even quite classic. Thus, I feel it is a good option under the 2020 musical Christmas tree. Give it a try if you feel like it.
Christmas Media Reviews
Here are all media reviews dealing with Christmas:
Flyctory.com in Bonn
Here are all postings related to the former German capital Bonn: