Even though I have seen Walker Hayes live on stage a few times, his 2021 EP Country Stuff is in fact the first Flyctory.com review I am doing of the US country artist. He did quite a change in appearance the last years – so I was also interested in how this could lead to an impact on his music. Release date of the six songs has been 4th June 2021.
Walker Hayes – About The Artist
Charles Edgar Walker Hayes was born on 27th December 1979 in Mobile, Alabama. He moved to Nashville at the age of 25. Five years later, he debuted with the single Pants, which has been quite successful regarding it was his first one. The second single Why Wait For Summer also placed in the 40's of the US Country Charts, but the corresponding album Reason To Rhyme could not settle in the charts. In 2016 and 2019, he released three EPs all called 8Track with an additional sub-title. His next major success was the 2017 single You Broke Up With Me, however, which also became a double platinum record in the US. Boom, the related album, made it up to the sixth spot in the US Country Album Charts after its December 2017 release. He released a few songs thereafter (and the third 8Tracks EP), but overall, no song could connect to it. Country Stuff is already Walker Hayes' fifth EP.
Walker Hayes – Country Stuff – Track by Track
The six track EP lasts 19 minutes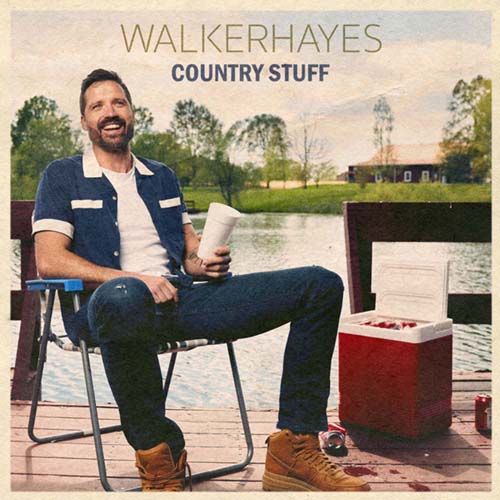 1. Country Stuff (feat. Jake Owen)
Hard to argue against that the title track, a collaboration with Jake Owen, is a cool track. Very modern pop country track with hip hop elements and a superb groove. Fun to listen, for sure.
2. Fancy Like
Apart from that this is a solo track without Jake Owen, I could use almost the same words I used for the opener for Fancy Like as well. Modern, Pop country (definitely more pop than country), a groove… Especially in this running order, Fancy Like is just facing a huge issue: the song is significantly worse and lacking really catching elements. It's not (only) Jake Owen. The song is just not more than average, maybe even less than that.
3. Make You Cry
Not only because the song has a significantly higher country music touch, Make You Cry is pleasing me much more than its predecessor. A nice country song with pop elements. The song is good, but definitely does not meet Walker Hayes best productions.
4. I Hope You Miss Me
I hope you're living out by the ocean
That's always where you said you were going
LA baby on Sunset Drive
City of angels you should fit right in
You want the part baby go get it
Can't wait to see your name in those credits
Hope you find yourself but selfishly
I hope you miss me
This song with an easy melody is driven by a really nicely told break-up story. Will that girl ever fulfil her dreams, becoming big as an actor, running into Jennifer Lopez and doing all these other celeb things? Or will she simply miss Walker Hayes. We won't know. But we enjoy listening to the fourth track of this EP.
5. What If We Did (feat. Carly Pearce)
From my perspective, Walker Hayes already had a smile on my face with that track before I even listened to it. Teaming up with Carly Pearce, one of my favorites, can't be that bad, can it? The song starts not too promising from my point of view, but it gets better. Unfortunately Carly is more or less (ab)used as a high quality background singer in this song – which is overall a bit too thin. Even including the Carly-factor in my review.
6. Briefcase (feat. Lori McKenna)
Another big name on the EP. Lori McKenna is so amazing, especially on the songwriting side. Much better collaboration than the song before – and a beautiful story. Really enjoyed to listen to these two people at the end of the EP.
Walker Hayes – Country Stuff – Spotify
Here is Country Stuff on Spotify:
Walker Hayes – Country Stuff – My View
Cpuntry Stuff is rather average. The title track is great, but there are too many weaker songs on this EP as well. The lyrics are typically not too bad – but this unique cheeky, ironic touch in Walker Hayes' tracks feels to be faded. Bad luck, I loved it.
2021 Country Music Reviews
Here are all my 2021 published Media Reviews related to country music:
Museums and Exhibitions in Rhineland / Ruhr Region
Here are all museum and exhibition reviews tagged with All around Cologne: