After my 2018 debut at the London Country 2 Country and the first-time German event in Berlin the weekend before, I looked forward to be back at and around the O2 Arena for the 2019 edition of the amazing country music event. From 8th to 10th March 2019, the British capital again hosted a massive lineup of world-class and upcoming artists of that genre. In contrast to my original planning, I do one (lengthy) diary and review instead of three daily bulletins.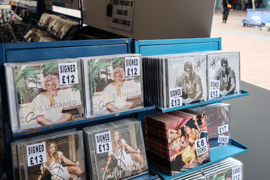 There is a major size picture gallery for this posting including 755 pictures.
C2C London 2019 – The Arena / Area
I wrote quite something in my previous year review about "The O2" and the surrounding. The ICON outlet mall (I wonder if there is any connection to the similar name Orlando entertainment district) has recently been opened so that you now can really circulate the arena completely. With the lovely combination of stores, restaurants and minor clubs around the arena, it is one of my favorite venues. The Jubilee Line connection gives a good connection to the city. This time, I stayed in the ibis Canning Town, just one stop away from the arena (Stratford direction, so the trains were comparably empty), which made it quite perfect. The Town Square venue and vending area felt to be smaller than previous year with less stores, though.
I took all pictures without photo pass, i.e. with standard pocket camera equipment. Especially the pictures inside The O2 (row 23) and in small and comparably dull venues may not be perfect quality.
C2C London 2019 – Day 1 (Fri 8th)
I started a bit later on Friday, as I was testing the Emirates Aviation Experience, which is very close to O2 Arena. Thus, I just had one "minor" act (most of them are quite big already) before entering The O2. I decided to visit the Country Music Week Hub, which is located on top of the All Bar One in the entrance area. I haven't visited the venue before, but I absolutely loved it. More than that, I was lucky to find a second row seat to listen to the show of Sarah Darling, who I met in Berlin already. She is doing very melodic country music. I absolutely liked her set – not just as it sounded even more familiar to me now. Have a listen at Where Cowboys ride, a country-music love letter to Wyoming. I included it to my favorite C2C 2019 songs in the respective posting.
Main Stage & Spotlight
After having a quick bite, the admission to the arena was a bit chaotic and very slow so that I just made it in time to see Chase Rice as the first act of the evening in the main arena. A very nice start of the main stage part of the festival. I saw Rice for the first time and absolutely liked his performance, which is quite typical, melodic modern country.
The second act of the day was Cam, who I already saw in Berlin. Cam is charming, she is a great singer, doing good lyrics. The UK loves her and so the arena was already partying. She just does not touch me. Somehow, I even feel sorry for that, as I cannot see any reason for that. If you like slow, partially romantic modern country with good and straight lyrics, you will love her, I am sure.
After Cam, there were two more acts I already saw in Berlin. I loved the friendly and truthful performance of Brett Eldredge. You saw that he loved to be on that stage – and the crowds liked him. After that, Keith Urban burned the floor as he did in Berlin. What an amazing performance. However, I felt he was even closer to the audience in the German C2C. Again, he gave away his guitar. There are rumors that he gave it to the same girl he gave it to on his Wednesday London concert, though. I listened to that part of the show on the radio already, as a cold had hit me the previous week.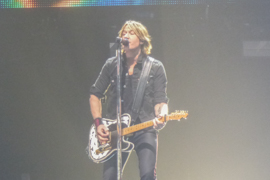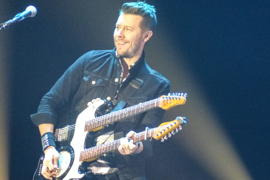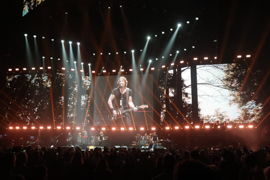 The first ten minutes of the 30 minute intermissions to prepare the main stage for the next artist are used at the Spotlight Stage, where upcoming artists may present themselves for ten minutes with a limited set. The artists were young US artist and songwriter Adam Hambrick, the amazing Abby Anderson and the US female trio Runaway June. As these acts start right next after the main stage act has finished, I typically have no pictures of them.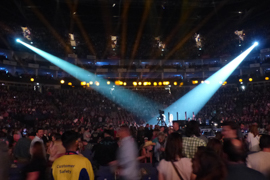 C2C London 2019 – Day 2 (Sat 9th)
There were quite stormy winds in London – and as they blew directly into the Big Entrance Stage area, I decided to prefer the tent-covered Town Square stage, which has a lot of stores and bars around. The roof and tent construction shaked quite a lot – though starting artist Jake Morrell gave a really good performance, this was (unfortunately for him) just due to the weather. His sound was really great. I recommend to listen into his Englishman and the title track of his latest EP, Home.
Kaylee Bell is likely the artist with the longest trip into London for the 2019 C2C. Bell travelled in from New Zealand. I enjoyed listening to her, who was by herself, just with her guitar. Not as powerful as Morrell before, though.
The Adelaides, a UK female vocalist and guitar player trio, were the third act on Town Square. Quite impressive ladies and voices, it definitely makes fun to listen to their music. However, having three strong vocalists on stage was a bit too much for the rather basic and quick-to-change Town Square stage setup.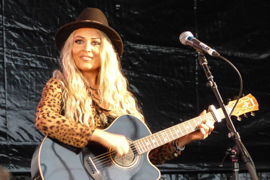 After listening and loving her debut album "No Saint", I was that much looking forward to see Lauren Jenkins back on stage. She did the Introducing Nashville main stage opener in Berlin. Like the album, which I rated a Top Pick, I enjoyed her songs on stage. There is also a posting about her short movie, which has been shown in Berlin. I am sure she will be big very soon.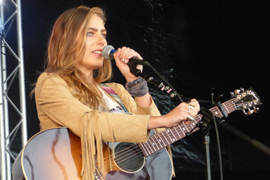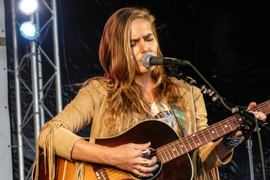 A short visit to ICON stage
The new ICON outlet area is definitely an amazing part of the O2 Arena area. The more it is nice that Country 2 Country set up a small stage there as well. I had a quick meeting with the very talented Vic Allen (who was in one of my country picks already), who very sadly did not have stage time in London. I happened to see the young and talented Remember Monday, a three-girl combo previously named Houston. They are at the British "The Voice" currently. Not that surprisingly, quite many people gathered around the stage. Very nice, harmonic country songs – sadly, the screen at the back of the stage gave unfortunate photo conditions.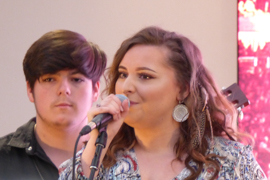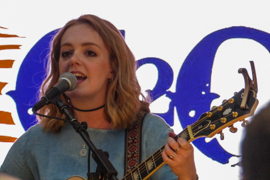 I headed back to Town Square stage, as there were two more amazing acts on the lineup. The amazing Raelynn was the second last act to play in the packed tent. Coming with her full band, she did an amazing show. She also gave a preview to her album to be released in 2019, together with current songs like Queens don't lie and classics like God made Girls, which was a Top 10 in the US Country Billboards. She is amazing and the people loved to sing and dance with her.
A twitter video told me that Town Square is the place to go on the late afternoon. If you follow my country music coverage, you know that Catherine McGrath is my huge female country music love – and she was the "Special Guest" artist to conclude the day on Town Square. No matter if you read my Liverpool concert review or my thoughts on her album, I just love her music, her stage appearance and the way she is acting with people. However, it definitely touched me to listen how many people she is attracting with her songs – so many people singing with her.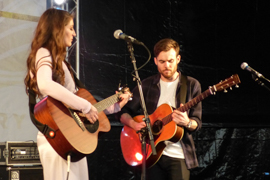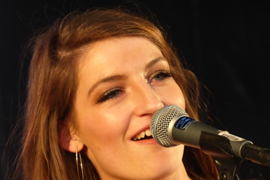 Main Stage & Spotlight
The Saturday main stage sessions started with one of the artists I looked forward to see (again) most. Carly Pearce, the Kentucky country girl, boosted her career after I saw her at the lovely Red, White and Boom Festival in Lexington, Kentucky, 2017. Especially her debut single Every Little Thing shot on top of the US Country Airplays. She even gave some Bluegrass in her 40 minute show, which covered her first album. Loved it. She was followed by The Fairground Saints on Spotlight.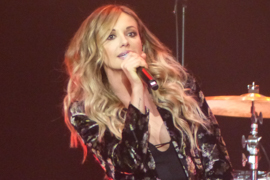 Dustin Lynch is amazing on stage – and made The O2 dance and party with his main stage performance. I made this show from the very back of the floor level to be sure to stand in first row for Catherine McGrath's Spotlight Stage performance. I just loved to see her there and enjoyed the crowds.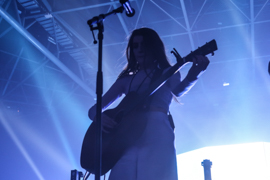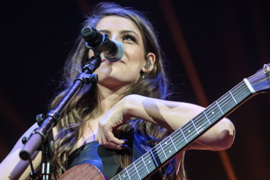 Catherine is typically an artists who takes plenty of time for each and every fan. However, she felt to be in a hurry after a certain time of chatting with the people – which was good news. For the song they did together, Don't let me forget, she shared the stage with main stage artist Hunter Hayes. Unfortunately, Hayes had a bad throat in addition to his not that inspiring performance in Berlin. In their lovely duet, he even missed one start at the begin of one stanza. Hayes is an excellent and talented artists as well as an amazing guitar player. I felt he just pushes himself too much. I left after the duet for a food break, thankful for the lovely duet with Catherine.
Michael Ray, Carly Pearce's fiance, did a great three-song set on the Spotlight, before Lady Antebellum gave an absolutely amazing and professional show. They are just perfect (again) in interacting with each other on stage and with the people in the arena. Both, artists and crowd, had an amazing time. Great performance definitely!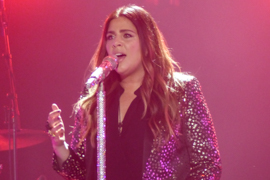 C2C London 2019 – Day 3 (Sun 10th)
Some of the minor venues were packed on Saturday so that you could not enter them any more. Thus, I decided to go for one stage and stay there most of the day. I chose The Loft, which I already loved during the 2017 C2C. It hosts very intimate recorded sessions with the artists, which typically just last some 25 minutes. There are acoustic instruments only, no drums or e-guitars.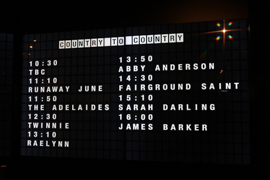 The James Barker Band, which I saw at the amazing Sound of Nashville in Cologne, did not make it in time (traffic), so that the first slot was, 40 minutes late, held by Runaway June. I learned that one of the three US girls is a grand-daughter of legendary John Wayne. The girls really did a classic songwriter session and told a lot about themselves and their songs. Lovely band!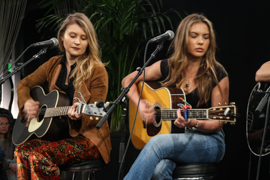 After my debut of seeing the US female trio on stage, there were some "already known ones". The second band on stage that day were the UK female trio The Adelaides, which I enjoyed much more in that intimate acoustic set compared to Town Square the day before.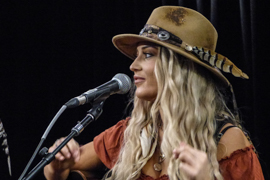 I was absolutely looking forward to see Twinnie again after meeting her in Berlin and Cologne. Bad luck I could not see her at the major BBC Radio 2 Stage at the Indigo – but she smashed The Loft definitely! Such a straight way to act with herself, her songs and the people – you just have to love the Hollywood Gypsy. For example, she made some comments about her dress ("Mixture of leopard and ostrich"), which was not too suitable for dancing on the major stage ("The audience may have seen more than they paid for"). Her performance was great again, including the funny (I hate) Cupid or the current single Better when I'm drunk. There are more Twinnie concert pics in my review of her CMT Next Women of Country concert in Liverpool.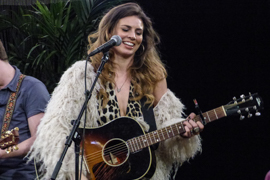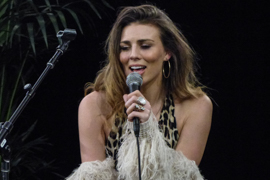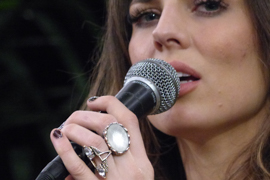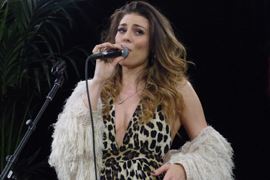 Raelynn gave Catherine McGrath no Chance to see her show
Maybe the sub-title is a bit too much yellow press, but when the Texas powerball Raelynn entered The Loft, there was really no space to somehow see something of the amazing performer. Among many others, Catherine and her sister tried to find a spot, which was useless. An absolutely densely packed venue just listened and loved Raelynn in this atmosphere as well, who not just said but also made you feel how much she enjoyed to play in that club. Wow!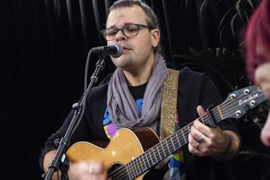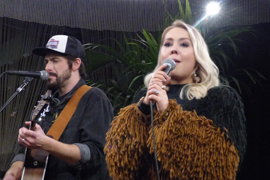 I did not know Abby Anderson before her set at the C2C Sessions, but from the very first session, her all-over smile and spirit made people love her in a short three-song set. If you happen to have the chance to see her, do it – you will definitely enjoy her way of singing country music with a very soulful voice.
Next act on the small circus-alike stage were The Fairground Saints. If there was a C2C Award for the highest joy of playing, they could be the right choice. Funny guys, funny lyrics, excellent acoustic guitar play – look forward to listen into their 2019 to-be-released album definitely.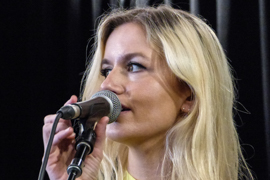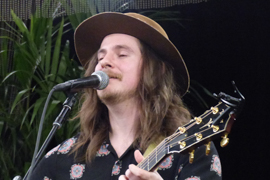 Sarah Darling was the nominal finisher of the C2C Sessions. The session was similar like the intimate one I attended in Berlin – Darling is just very good in getting in touch with the people's souls. The James Barker Band did their missed set at the end of the day, but I preferred to have a snack before heading to main stage.
Main Stage & Spotlight
Drake White & The Big Fire promised to have a rocking and powerful beginning of the day. Like in Berlin, they amazed the people and heated them up. Just a very nice, lovely-to-follow performance. Apart from the Queen cover Fat Bottomed Girls, the country fans liked songs like Story, which tells about White's family member dreams.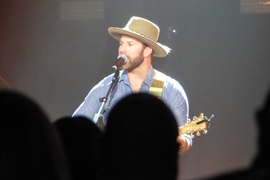 The second act of the day was Ashley McBryde, who is extremely popular in the UK. Honestly, I did not get into her music so far, but with her performance, the Arkansas Powerhouse absolutely made me fall in love to her. Rocking, cheeky, straight, I just loved it! My highlight of her show was Fat and Famous, which she wrote for the tenth anniversary school class reunion and pays back how people treated her at school times.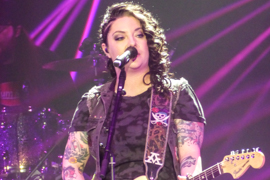 There could hardly be any bigger contrast than having Lyle Lovett right after McBryde. Lovett was great in the 1980s and 1990s, having won four Grammy's with very classic country music. Like Lovett, the musicians had a lot of life and music experience, but the music quality was amazing. Of course, it was not country music you stand up and dance to (maybe you could at the end…), but I absolutely loved it. His performance had a touch of Bluegrass, some Jazz-alike elements and a lot of soul and Black Music elements, majorly given by the fantastic vocalist Francine Reed. Some people took the performance for a dinner or drink break – I felt they did a mistake!
The final act of the day was Chris Stapleton, maybe the most impressive male voice in country music. A very puristic show, just with him, his wife (vocals), a bass player and drums on the stage, which felt far too large for him. He also somehow "hides" behind his huge cowboy head, so that you can hardly spot (or take pictures of) his face. A fascinating performance, which did not touch me too much. Much more touching to me were the Spotlight Stage performances of Caroline Jones, The Wandering Hearts and especially the amazing Jimmie Allen, which I did not take pictures of.
C2C London 2019 – My View
C2C in London was amazing! It will be interesting to see how the event will develop in the future. The artists seem to take it as a UK event, but in fact there are quite a lot of non-British guests in the arena. The Brexit may move it out of (political) Europe and harden the easy-to-travel-in characteristic of the capital. Furthermore, Berlin and Amsterdam seem to be alternatives, which are both inside the EU, even inside the Schengen area. It will be much easier to travel to and between these venues. C2C is no longer a UK event, it is a European one. Keith Urban and Brad Paisley sell out their (smaller) Berlin venues as quickly as they do in the UK already.
The second risk to the C2C in London to me is the C2C itself. Many participants, artists and visitors, state how massively the festival is improving in quality and size. There are already more and more organisational problems. You have to queue before the first concert to get into a minor venue like The Loft. The Bluebird Cafe additional tickets have never been in public sale, the pre-sale took it all. The daily wristband visitors (all venues apart from aftershow, separately ticketed and main arena) paying ten pound per day may even avoid a multiple hundred pound VIP ticket holder to see the act he would like to. You need to have even more venues to compensate it – and maybe stop selling wristbands.
So far, though, the excellent conditions of the C2C venue in London guarantees its survival. Berlin, for example, will never be able to move to Mercedes-Benz arena if the festival will stay at that time, as the arena also needs to be used for hockey playoffs. 2020, the C2C in Berlin will collide with the tourism trade fair ITB and thus will face limited hotel capacities. The Verti Music Hall is too limited, using cinemas and bowling alleys for the (ticketed!) minor events cannot produce the unique London spirit.
It will be very interesting to see how the festivals will evolve in future years. The music is growing and more and more widely accepted. Country music will soon be played in other countries' radio stations as well – at least the "not that country-alike artists" like Keith Urban. This may be a chance for young and powerful artists like Twinnie to take their claim in international music business.
C2C London 2019 – The Gallery
755 pictures I took during the C2C 2019 weekend can be found in the posting's associated gallery:
Flyctory.com about Country Music
Here are all Country Music-related postings on Flyctory.com: