When I scanned country music new releases as of 2nd June 2023, I stopped at the album No Vacancy. I hadn't heard of the US-American artist releasing it, Brittany Warthan, so far, but I definitely loved her sound. Thus, I share a more intense listen of the eight songs with you. As far as I could reconcile, No Vacancy is her debut album.
Brittany Warthan – About The Artist
I unfortunately could not find too much bio information about Brittany Warthan. The country music artists is originally from Richmond, Virginia, but is nowadays living in Nashville. She is an active musician since 2013 and uses her civil name Brittany (Marie) Warthan for releases since 2021. Before that, she released music as Brittany Marie.
Brittany Warthan – No Vacancy – Track by Track
The eight song album lasts 28 minutes.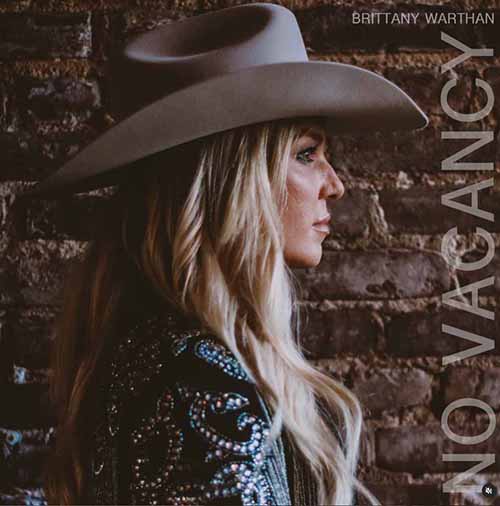 1. Bad Guy
In a certain regard, No Vacancy is a typical US debut album. Out of the eight songs of the album, five have already been published. They are conveniently sorted to the front of the set of songs. Somebody's gotta be the bad guy – this dark and atmospheric piece of country and rock is a nice opener, regardless if you already know it or not. It quickly makes it into your heart once you start listening.
2. Not Supposed To
If you purely rely on Spotify statistics, the 7k times streamed Not Supposed To is the most successful single release of the album so far. After the dark, intense, rocking style of the opener, Brrittany Warthan sounds very gentle in this ballad-alike song. Nice contrast.
3. Bibles and Break-Ups
On her Facebook post about the album release, Warthan states I've battled doubt fear sadness anger & disappointment after disappointment, all to have God circle me back around to the truth that God can take any situation meant for harm and create something magical from it. Sometimes we don't see where it's taking us at the time but little by little , when you live life in faith, God can show you the other side. The third song feels to be quite in line with with this theme. The album stays on the rather slower and emotional side.
4. In a Moment
I like the more mid-tempo and rocking character of In a Moment. Nonetheless, I feel that this song has (even) more potential Good melody, a lot of energy, but a little lack of a great catch to me.
5. No Vacancy
Out of the five previously released tracks, I would pick the title song as my favorite listen. Very nice country track with pop vibes. Finally, a typical Nashville production, but I like it.
6. Lubbock
With almost four minutes, Lubbock is the longest song of the album. Brittany Warthan is doing another rather slow song, which does not need too much instrumental support. Nice listen.
7. Kill a Memory
Kill a Memory has been one of the tracks which persuaded me to have a deeper listen into No Vacancy. I like the slightly rocking attitude of the song and the overall very present, catching, melodic chorus. The post-chorus instrumental part stays in your mind as well. Really good listen.
8. Sun + Moon
The album closes with this song, which is adding a very own sound and touch to No Vacancy. Very nice and unique focus on Brittany Warthan's voice, even though the instruments, especially the fiddle, are rather present. That's the way I liked to be kicked out of an album.
Brittany Warthan – No Vacancy – Spotify
Here is the album on Spotify:
Brittany Warthan – No Vacancy – Track by Track
I have to give in that I would love the album if it had one or two more (new) songs. Nonetheless, No Vacancy is overall a really nice debut, which convinces me to have a stronger focus on Brittany Warthan and her music. Some songs don't meet their full potential, but overall, it is a good listen.
2023 Female Country Artists Reviews
Here are all my Media Reviews of female country music released in 2023:
Flyctory.com in Washington D.C.
Here are all postings about Washington D.C. and surroundings: