Album #71 now: less than nine month after Willie Nelson released his last studio album, First Rose of Spring, the country music legend is back in the record stores. Willie Nelson is just unstoppable. His new release is called That's Life and has been released on 26th February 2021. The album connects to his album My Way as it again features songs which his close friend Frank Sinatra made famous. It is even recorded a majority of the songs in the same studio Sinatra used, the Capital Studios in Los Angeles.
Willie Nelson – About The Artists
Do I really need to add some information on Willie Nelson? I did some short information about him in the First Rose of Spring review. Summing up all hits, awards and other kids of honor would definitely break the capacity of my blog. Willie is the living country legend, the top of the genre.
Willie Nelson – That's Life – Track by Track
The eleven track album lasts 34 minutes.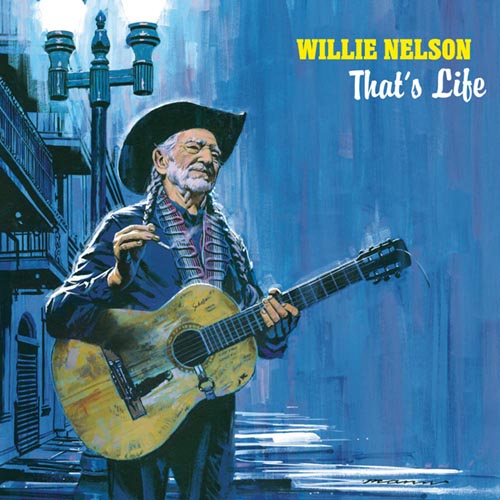 1. Nice Work if You Can Get It
The album opens with Nice Work If You Get It, which was originally written by Tommy Dorsey.
Strolling with the one girl
Sighing sigh after sigh
Nice work if you can get it
And you can get it if you try
Like at My Way, Willie Nelson just sounds cool in this swing-jazzy environment. Frank Sinatra ones said that Nelson is a blues singer. At least he adds a cool vibe to the songs.
2. Just in Time
I am not too much into that Frank Sinatra tunes style, but it just feels awesome to me to listen to it when Willie Nelson is performing. The vibrant Just in Time feels so modern, when the 87 year old Nelson does a song, which Tony Bennett originally recorded in 1956.
3. Cottage For Sale
Cottage For Sale has been one of the songs which Nelson released before the That's Life album release already. While the first two songs are rhythmic and groovy, Cottage For Sale is very deep and thoughtful. Lovely.
4. I've Got You Under My Skin
This Virginia Bruce song is another track which simply fascinates me in the Willie Nelson version. It sounds so new, so timeless. It has originally been recorded in 1936 and Sinatra made it famous as a single in 1956 – even though the musical legend performed it live since 1944. Now the country legends reincarnates it, about eighty years later.
5. You make me feel so young
The powerful You make me feel so young, a Sinatra original, is one of the core tracks of the album to me, especially due to its very striking and powerful brass arrangement.
You make me feel so young
You make me feel there are songs to be sung
Bells to be rung and a wonderful fling to be flung
So glad that Willie Nelson is still so young.
6. I won't Dance (feat. Diana Krall)
Of course, many critics and listeners will focus on this collaboration of two music legends. The song is a 1935 original and became big with Fred Astaire. The list of different recordings is long. Sinatra published the track in 1957 – but there are also quite modern interpretations like a 2014 cover by Lady Gaga. Now, there is another one – and this collaboration of Willie Nelson and Diana Krall is indeed a beauty.
7. That's Life
I been a puppet, a pauper, a pirate, a poet, a pawn and a king
I been up and down and over and out and I know one thing
Each time I find myself lying flat on my face
I just pick myself up and get back in the race
Ain't a song like that a perfect fit to Willie Nelson, the living legend, the unstoppable musical genius? When he is playing the harmonica, this 1963 Marion Montgomery song, which became huge by Sinatra in 1966, spreads a touch of country – and it becomes more timeless than it has ever been.
8. Luck Be A Lady
Luck Be A Lady is another song which is driven by brass instruments. I feel that classic arrangement is just a very cool listen. Nice song.
9. In The Wee Small Hours Of The Morning
In The Wee Small Hours Of The Morning was the title track of Sinatra's In the Wee Small Hours album of 1955, which became a Grammy Hall Of Fame inductee in 1984. A very slow and thoughtful track. I just love to listen to Willie Nelson in songs like that. Even though I enjoy doing him country music even more.
10. Learnin' The Blues
The tables are empty, the dance floor's deserted
You play the same love song – it's the 10th time you've heard it
That's the beginning, just one of the clues
You've had your first lesson in learnin' the blues
Regarding the lyrics, this song is one of my absolute favorites of the album. Just a lovely way to do this Sinatra recording.
11. Lonesome Road
Are we already there yet? After the eleven stories, this book about Frank Sinatra is closed. At least regarding the record – I feel that this way of praising the music legend (by another music legend) keeps him alive. I am thankful for this travel back into the musical history.
Willie Nelson – That's Life – Spotify
Here is That's Life on Spoitfy:
Willie Nelson – That's Life – My View
I am not a Sinatra fan – so Willie Nelson had a tough time with me with that That's Life record. But after listening to it, I have to say that I just love it! It is the third album by Willie Nelson I reviewed on this website – and it is my favorite of them. Just because it is very special. And because it manages to somehow make these songs sound fresh and new again.
Musical History
These are all articles, in which I dealt with events and places influencing musical history:
German Museums
Here are all my postings about museums and exhibitions related to or located in Germany: