Love & Money is the second time I review an album by the Georgian-British artist Katie Melua. In fact, I struggled with her jazzy Album No. 8 in October 2020. However, when I had a first listen to her 24th March 2023, I felt that this release will be a much better one. Let's have a listen together to her tenth studio album.
Katie Melua – About The Artist
Katie Melua was born on 16th September 1984 in Kutaissi, which was part of the Soviet Union at that time, nowadays part of Georgia. The peak of her career was right at the very beginning of her releases, in the mid-2000's. Three albums, the debut Call Off the Search (2003), Piece by Piece (2005) and Pictures (2007), lead to a massive global success. The three albums only lead to eleven platinum records in the United Kingdom. The two key singles were the 2003 The Closest Thing to Crazy and Nine Million Bicycles (2005) at that time. You find more bio in my Album No. 8 review. The album sold very well and was Top 10 in several markets like Germany and the United Kingdom. In 2022, Melua released an album with Simon Goff, Aerial Objects.
Katie Melua – Love & Money – Track by Track
The ten track album lasts 36 minutes.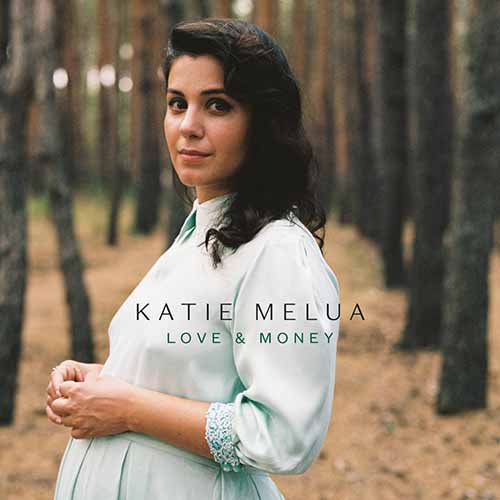 1. Golden Record
Golden Record is the opener to Love & Money.  A beautiful, gentle song, which strongly reminds of Katie Melua's successful releases. Very promising beginning of the album
2. Quiet Moves
The four minute track Quiet Moves comes with a more present rhythm. It reminds me of some late 1980's female pop acts. This song is my favorite track of the album.
3. 14 Windows
Due to the guitar presence, these 14 Windows remind of folk pop tracks. The song has a lovely focus on the microphone and creates a great atmosphere. It's good to have a little peace inside you – this track feels to be a lovely calm-down towards that target.
4. Lie In the Heat
This song is driven by the beat of the drums, but also by nice guitar and piano melodies. The instrumental part definitely has a stronger role than the songs before.
5. Darling Star
With Darling Star, the sound of the album moves slightly into the jazz direction again. However, finally the sound stays in the pop music premises – there is even a certain vibe in this one which makes you move to the rhythm.
6. Reefs
Reefs show a rather rocking side of the album. The arrangement is brilliant, so that the sixth track is a very intense listen to me. I have a bit of a Nine Million Bicycles feeling in my heart.
7. First Date
This First Date is again working a bit more with instrumental and rhythmic elements, so that the song gets that folk music touch. This song thereby works with interesting breaks within the song. A nice genre mix leading to an unique sound.
8. Pick Me Up
The concept of most songs on Love & Money is similar. However, the songs work due to the excellent talent of Katie Melua. Songs like this one make me feel much more comfortable with her music than in my most recent review.
9. Those Sweet Days
The third song of the album which has already been released is Those Sweet Days. It feels like a song for every musical taste: impressive backing vocals, great storytelling, intense instrumental moments. The song feels really hymnic, despite its 3:26 minutes duration.
10. Love & Money
The title track is closing this beautiful set of songs. Love & Money thereby does not disappoint at all. If you liked the album so far, you will love the tenth track as well. A lovely praise of family.
Katie Melua – Love & Money – Spotify
Here is Love & Money on Spoitfy:
Katie Melua – Love & Money – My View
Love & Money works with the two key talents of Katie Melua: an excellent, characteristic and warm voice – and beautiful storytelling. This basis is just good. Unfortunately, I would have loved a slightly wider range of plots and styles – but this is just a very minor point on the negative side.
32 Top Rated Pop Music Reviews
Here are the 32 Media Reviews related to pop music by rating in descending order:
2022 Travel Top Pick!s
Here are all my Travel reviews leading to a Top Pick! rating in 2022: