Samuel Rösch became famous by winning the TV show The Voice of Germany. I already had a look into his music in April 2021, when he released his album Geschichten ("Stories"). While this review was mixed, I was looking forward to Für den Augenblick, his 2022 EP, which has been released on 25th November 2022.
Samuel Rösch – About The Artist
Samuel Rösch is a 1994-born artist, who has won the The Voice of Germany in 2018. Since then, he is releasing music, starting with his first single Wir. I gave some bio information in my Geschichten review.
Samuel Rösch – Für den Augenblick – Track by Track
The seven track EP lasts 19 minutes.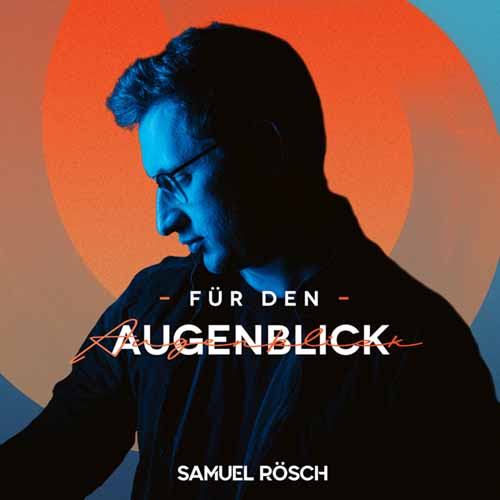 1. Neuanfang
Das ist ein Neuanfang – "This is a new beginning" – is the key message of this opener. The song has a nice vibe and stays in your mind, even though the lyrics are based on a certain simplicity. Is this EP a new beginning as well? Let's have a deeper listen to the following songs.
2. Für den Augenblick
The title of the second song roughly is "For this moment". The song beautifully describes a breakup. On the one hand, there is struggle now, on the other hand it is full of messages like Wir sehen uns bald wieder – "We will meet each other soon again". To me, the best write of this EP – emotions beautifully translated into music.
3. Das Gute sehen
Doch ich will mit dir das Gute sehn
Durch die dunklen Wolken schauen
Lass unser Herz auf die Zunge nehmen
Um im Schweren zu vertrauen
("Cause I will see the good things with you
Look through the dark clouds
Let us take our heart on the tongue
In order to trust in difficult times")
The melody of this song is a nice rock-pop blend. You almost feel like in a schlager song, the groove and the rhythm makes you remind your teenage years disco fox dancing lessons. Another nice write.
4. Mein Mut
Mein Mut is a bit slower. The instrumental arrangement of the song gives a nice focus on Samuel's voice. The artist pays that back with a beautiful storytelling, which feels to alter between slightly dark and energetic moments. Uplifting and intense listen.
5. Mondschein
The 2:19 minute song Mondschein ("Moonshine") is the shortest on the song. The electronic backing rhythm is a bit too much to me. Overall, the fifth song is the weak spot of Für den Augenblick to me.
6. Wunderwerk
I initially felt that Wunderwerk makes the EP move too much into a kitschy schlager recording. Luckily, the rhythmic and emotional chorus of the song, which is about Samuel's first child, moves back to the pop signature in the verses.
7. Wenn der Wind
The EP is very personal and emotional – and thus the organ-driven ballad Wenn der Wind feels to be the perfect closing song for Für den Augenblick. The song is a beautiful love letter to his wife.
Samuel Rösch – Für den Augenblick – Spotify
Here is the EP on Spotify:
Samuel Rösch – Für den Augenblick – My View
The press kit states, comparing to the debut album, "The songs became more intimate, more musically direct". This time, it is no marketing slang – I would definitely support this. I absolutely loved to listen to these seven songs, which is a huge step forward in my point of view. Well done – if you like emotional German pop, this one is definitely a good option.
Media Reviews (Talent Shows)
Here are all my Media Reviews with a relation to talent shows, e.g. talent show artists:
Flyctory.com about Christina Taylor
Here are all my postings related to Christina Taylor: