According to a title of one of his recently released singles, Adam Warner is the Long Haired Country Boy. On 16th December 2022, he released his latest album, What We're Known For. Here is my track by track review of the twelve song set.
Adam Warner – About the Artist
Adan Waner is a US-American country music artist, who grew up in Lawrenceville in Southern Illinois. Growing up on a farm, later serving the marines – Adam Warner's bio reads like a perfect stereotype for this genre. In 2018, he released the EP Can't Get Enough. I could not fully determine the number of albums he released before. The press release names What We're Known For as the artist's fourth long-play. However, there are only two albums I could definitely spot, Big Storm, which I reviewd in 2021, and the 2018 release The Songs That Made Me Adam Warner. However, there seem to be three significantly earler recordings, Sawdust and Sour Apples (2008), No Place to Lay (2005) and fall (2004).
Adam Warner – What We're Known For – Track by Track
The twelve song album lasts 37 minutes.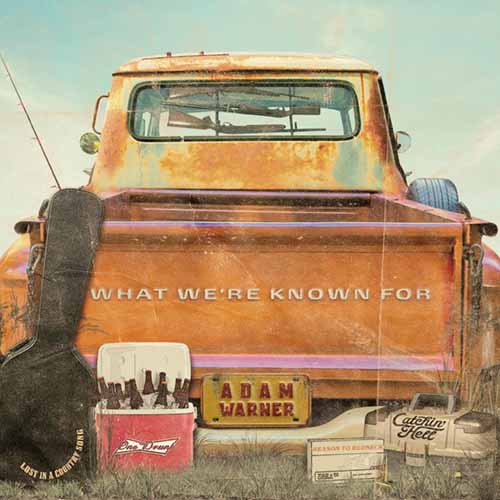 1. What We're Known For
The title track opens for Adam Warner's 2022 album – and as well for a block of six songs which have already been released before 16th December 2022. The song is in fact a really nice modern country song with a nice proportion of howling guitars and rock music feeling. Sounds promising, indeed.
2. Catchin' Hell
Already the first tunes of Catchin' Hell tell you (if you don't know the song anyway): the style won't change too much. Adam Warner welcomes you with dark, almost bass-alike guitar riffs, which drive the whole with a nice, rhythmic vibe. If you like harder country rock tracks, this is one of Adam Warner's best 2022 suggestions for you.
3. Lost In A Country Song
The idea of getting lost in a country song is a rather popular metaphor in the genre. The style of the third track feels very similar to the second song. However, Lost In A Country Song is not as dark as the predecessor.
4. Split A Beer
Split A Beer… I better don't go for any more comments about country music and stereotypes. However, in case you feel this is a rather light-hearted song when you listen to lines like
Yesterday I drank one on the lakeBut today I just can't be where you ain't
The song finally turns out to a rather deep and intense write – one of the mosst beautifully written songs of the album.
But when this day rolls around every yearI sit beside your stoneAnd split a beer
5. One Drunk
One drunk too drunk gets everybody upOut of their chairs justa raring to tear it upLife of the bar, justa spark'll get the party litHard to believe it all started with just thisOne drunk
The metaphor and a focus on alcohol is staying. The slow and groovy track, however, is a nice drinking and party song. One for these intermissions, where just feel like moving slowly and enjoying yourself.
6. Reason To Redneck
The six-already-known-songs section is closing with Reason To Redneck. The song is bringing back the full country party feeling and summer vibes to the listen after having these rather intense moments before. Very entertaining listen.
7. Got Started
Got Started is right in the heart of the triangle of rock, blues and country tunes – that's just what you tend to call Southern rock. The song sileazily stomps forward – you simply have to slowly move to the laid back groove of this song.
8. Like Daddy Did
The eighth song is praising Adam Warner's father (Just like my daddy did). Good lyrics, the melodic side does not touch me as much as other songs of What We're Known For, though
9. First Face
The ninth song is introducing a slower, very personal touch again. The slow fiddle melody and the almost harp-alike guitar play increase the very emotional touch. Again, the song deals with the death – from a different perspective.And when the Good Lord is gonna call for me […] you're the first face I wanna see. Another really lovely write.
10. Granny's Lincoln
The old car of Adam's grandmother is worth more groove, more rock power and more blues power. Great listen, which reminds of the country rock smashers at the beginning of this listen.
11. Long Haired Country Boy
This song is not one of the core tracks of Adam Warner's 2022 album, it is also the longest one. During the 4:18 minute, he manages to find a great balance of Southern rock ingredients, which finally leads to a great, energetic Southern rock song. One of my favorites.
12. Goodbye Hometown
The closing song of the album is the 2:50 minute Goodbye Hometown. The song has a melancholoc touch at the beginning, but more and more turns into a postiive mood. A song as it is typically the US-American country music listener's heart. I am sure, the fans over there will love it.
Adam Warner – What We're Known For – Spotify
Here is the album on Spotify:
Adam Warner – What We're Known For – My View
What We're Known For is a pleasing finale of the 2022 Flyctory.com country music year (assuming that there won't be too many releases in the two weeks after 16th December 2022). Adam Werner does a really nice blend of country, blues and rock elements. Some songs even have a slight hard rock touch. Definitely worth a listen – and a Top Pick!.
Flyctory.com Country Music Top Picks! Reviews in 2022
Here are all 2022-published Media reviews about Country Music with a Top Pick! rating:
Rock of Ages (Musical)
Here are all postings related to the musical Rock of Ages: