Seven years after his last album, Chris Knight released his new album Almost Daylight. Being successful as a songwriter in parallel, I really looked forward to have another piece of his mixture of country and folk music on the one hand and rock on the other.
Chris Knight – About the Artist
Chris Knight, who was born in Slaughters, Kentucky, in 1960 and even has a degree in Agriculture from Western Kentucky University, started quite late in his musical career. He did his first composing at the age of 26. Eleven years later, he had his first record deal with Decca Nashville. The self-titled album, however, did not have too much commercial success as did Decca, who seized operations soon thereafter. After Knight released his second album A Pretty Good Guy with Dualtone Records in 2001, his third album, The Jealous Kind of 2003, had some commercial success and peaked 67th in the US Country Album Charts. His further works were more and more successful. Knight's last album Little Victories released in 2012, already made it to the Top 25 in the Country Album Charts and was even placed fourth in the US Heat Charts. He has also some significant success as a songwriter. Among other songs, he wrote It Ain't Easy Being Me by John Anderson, Jason McCoy and Blake Shelton, of which also a Chris Knight version exists. It has been viewed 2.5 million times on Youtube
Chris Knight – Almost Daylight – Track by Track
The eleven track album roughly lasts 40 minutes.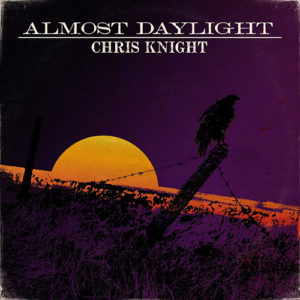 1. I'm William Callahan
I have to admit that – apart from the artist information above – I have not been in touch with Chris Knight and his music at all. Thus, I'm William Callahan is my first contact with his music. If a relationship between two people (me and him) starts like that, it must be good one. Classic country music sound, a strong and powerful voice and some strong electric guitar play. Wow.
2. Crooked Mile
Similar to I'm WIlliam Callahan, the Crooked Mile catches me from the very beginning, makes me listen to the lyrics, enjoy the guitar play. Another really good song.
3. I Won't Look Back
Said the bank's looking for me
Gonna take back what they own
They can find their red Camaro
On the Dixon Road
In a flooded cornfield
Laying on its side
I was trying to dodge a coal truck
Now I'm trying to thumb a ride
But I won't look back, I won't look back
The third track on the album is a bit slower than the first two ones. It also features the harmonica. Excellent songwriting! The worst fact about the song? It is just 2:46 minutes and thus the shortest one.
4. Go On
Fourth song, same review: I just love to listen to Chris Knight and his stories. His voice just tells me that I have to listen to him – and the lyrics don't bore me. Nice song!
5. The Damn Truth
And that's the damn truth
The way I see it
That's the damn truth
Take it or leave it
It don't change
You better believe it
We live in a world of lies
That's the damn truth
One of the tracks which have been previously released. Nice song again, I love the melody in the chorus especially.
6. Send It On Down feat. Lee Ann Womack
Jesus' would you save me
I'm going crazy
I need some help getting out of this town
Are there any answers
I'd sure like to hear one
Well if you got some, won't you send it on down
While I'm still able to be found
7. Almost Daylight
Finally, here is the title track. A lovely scenery in this song, which perfectly fits into the sound of the whole album.
I'm staring out the door of a motel room
Waitin' for the the sun to stare down the moon
Another long night
The rates are low but the cost is high
If I didn't have you, I'd never get by
It's all right, it's almost daylight
8. Trouble Up Ahead
This track is a bit more rock-alike and on the electric guitar side. I like the solos there very much. Nice one!
9. Everybody's Lonely Now
This slower track, again featuring the harmonica and some background vocals, is just a lovely country music ballad. Love to listen to it.
10. Flesh and Blood
Flesh and Blood is a very intense track. Vocals, which are just supported with some strings and acoustic guitars. The song is a lovely homage on Mother Nature. Great storytelling!
11. Mexican Home feat. John Prine
This track, which Knight is performing together with country music legend John Prine, is the longest on the whole album. Prine is a Songwriters Hall of Fame member, who was also nominated for the Rock'n'Roll Hall of Fame. He adds a lot to the track and makes Mexican Home one of the best tracks on the album. Nice finish!
Chris Knight – Almost Daylight – Spotify
The Spotify widget allows you to preview the whole album:
Chris Knight – Almost Daylight – My View
Mr Knight, where have you been all the years? And why have you never been that successful? Hard to imagine this when you listen to Almost Daylight, which is very fine country music songwriting – a classic sound, but still very modern and advanced. I really enjoyed every second of it – really cool stuff worth listening to – a.k.a. a Top Pick!
Flyctory.com Media Reviews
Here are all CD, book and movie reviews: