After a rather slow start, Brent Cobb is nowadays regular releasing solo music. And Now, Let's Turn The Page, which has been released on 28th January 2022, is already Cobb's fifth studio album. Here is my review. The album will (at least in Germany) be availble physically on 11th February 2022.
Brent Cobb – About The Artist
Brent Cobb was born on 1st August 1986 in Americus, Georgia, USA. He was quite early into music, as his father was part of a rock band. In teenage years, Cobb's band Mile Marker 5 had some regional appearances. In late teenage years, he moved to his cousin Dave Cobb, a music producer, in Los Angeles, which also lead to his 2006 debut album No Place Left to Leave. However, Cobb did not feel too well there and moved back to Georgia, before Luke Bryan suggested him to move to Nashville. Initially, Cobb worked there as a songwriter. He was quite busy with that – and so it took him until 2012 to release own songs on his self-titled EP.
While Cobb wrote for big names like Little Big Town, Miranda Lambert or Luke Bryan, he worked on more solo songs. His second album was released in 2016, ten years after the debut. Shine On Rainy Day peaked 17th in the US Country Album Charts. Two years later, Cobb released Providence Canyon. In September 2020, he released his fourth studio album, Keep 'Em on They Toes.

Brent Cobb – And Now, Let's Turn The Page – Track by Track
The nine track album lasts 29 minutes. The album has been significantly influenced by a car crash accident Cobb had while driving with his son to his parents.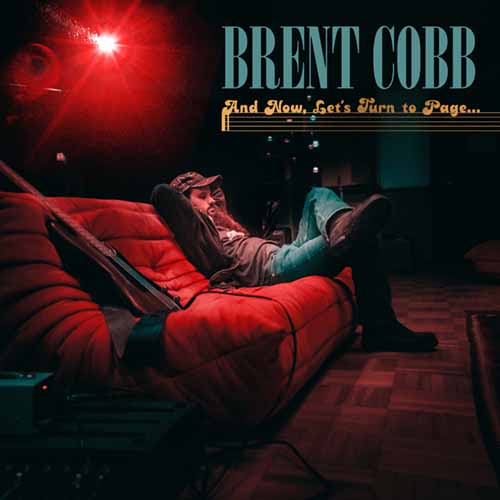 1. Just A Closer Walk With Thee
Just a closer walk with Thee
Grant it, Jesus, is my plea
Daily walking close to Thee
Let it be, dear Lord, let it be
The album is full of religious reference – and so is the opener. The track is a very melodic song, which just comes with that country-gospel touch. An easy and somehow simple melody and lyrics like a prayer.
2. When It's My Time
I have been quite impressed that a 35-year is doing such a direct, personal tune about fading away. Again, the song reminds of a slow gospel song, even though this track has more melodic elements than the opener.
When it's my time
I'm gonna go
There is no reason
For me to stay
I did all the dancing
That could have been done
I would have been gone anyway
3. In The Garden
The third song is focusing on Brent Cobb's vocals and organ chords. Again, the song is very spiritual.
4. Are You Washed In The Blood
After this very slow and quiet start, I am really glad that Brent Cobb is firing out some powerful guitar chords in this track. The song has a nice blend between country, rock and gospel, including backing vocals in the chorus. Are you washed in the blood of the Lamb? is the key question of the song.
5. Softly and Tenderly
The song is a slow gospel ballad with some nice piano and organ sounds in the background. Very nice recording.
6. Old Rugged Cross
The sixth song is very much centering on Cobb's voice. The style is very similar to his precedessor: a very slow gospel track, which makes you feel the country music roots.
7. We Shall Rise
If Europeans think about gospel, they majorly think about songs like We Shall Rise: very powerful and energetic, also with a bit of an repetitive touch. Brent Cobb is adding his howling electric guitars to the song and combines Christian lyrics with rock'n'roll. Good listen.
8. Old Country Church
How I wish that today all the people would pray
Like we prayed in that old country church
If they'd only confess, Jesus surely would bless
Like he blessed in that old country church
I struggle with songs like this. From religious background (which I don't share, but respect), they have a missionary touch. That's too much for me. The composing is nice, though.
9. Blessed Be The Tie That Binds
The album closes with a 49 second prayer. Suits to the album, but still causes the skip button on my side.
Brent Cobb – And Now, Let's Turn The Page – Spotify
Here is the album on Spotify:
Brent Cobb – And Now, Let's Turn The Page – My View
My recently maintained Christmas Country 2021 Playlist illustrated how deeply country music and Christian thoughts are interlinked. Thus, I am sure, Brent Cobb will receive great critics and great sales with this album. It's simply the type of music, recorded on point, in the way the community is craving for. Brent Cobb and his team did a very good job. For me as an atheist, some tracks are too much and there is just a too similar way of worshiping to me. The album is very short, but at least the digital pricing is done in line with that (at least at Amazon Germany).
Religion
Religious sites, religious music – posts tagged with Religion are closely related to believing:
Flyctory.com in Chattanooga TN
Here are all postings dealing with the Southeastern Tennesse city: