27th January 2023, the first  Flyctory.com concert coverage of the new year. I will feature a couple of really cool acts in the first quarter of 2023 – but this show was definitely a special one. US country and pop artist Kane Brown has quite a fan base in Europe as well. One small hint for that is that you could even buy early entry "VIP" tickets for this show at the Carlswerk Victoria in Cologne. For his stage of the Drunk or Dreaming Tour, Kane Brown has been supported by Restless Road.
This posting comes with 136 major size pictures as part of the concert gallery.
Carlswerk Victoria – About The Venue
I have been to the Carlswerk Victoria a couple of times now. Some things are really unique about the 1,600 spectator venue. For example, a key feature is that it shares facilities with the significantly smaller Club Volta. During my previous coverage at that venue, a Brett Young show in November 2022, there was a metal show next door. The venue of the East side of River Rhine has rather good public transport connections. A nice feature is the parking garage right next door.
Kane Brown & Restless Road – About The Artists
Kane Brown was born on 21st October 1993 in Chattanooga, Tennessee. He has a quite dramatic familiar background. They weer sometimes homeless, his father has been incarcerated in 1996. He felt to become successful after attending the 2013 seaon of X-Factor, but he refused to be part of a boy band. Instead, he started to post cover versions on social media. His breakthrough was the 2015 released cover version of Check Yes or No by George Strait, which received more than seven million views.
Briefly before that, he self-released an EP, which surprisingly made it into the Country Billboard Top 10. His self-titled debut album released in 2016 became a double platinum and lead the US Country Charts as well as the 2018 Experiment. Brown's music contains pop and R&B elements on top of country ones. He had multiple Coutnry and Country Airplay chart-toppers in the USA and Canada so far. The biggest success tracks were likely the 2017 releases What Ifs (featuring Lauren Alaina) and Heaven, which are both seven-time platinum releases in the USA. Heaven has half a billion streams on YouTube only.
The statistics of the trio Restless Road might not be that impressing – but songs like their Growing Old With You wrote 25 million Spotify streams as well. The current lineup consists of Tach Beeken, Colton pack and Garrett Nichols. The band has originally been founded in 2013 in Nashville. They have released one (self-titled) EP so far.
Kane Brown & Restless Road – The Show
Already before the show, you felt that this evening will be something special. I had a couple of shows at the Carlswerk Victoria already, but I never saw crowds somehow close to this evening. The queues for entering the venue were massive and ran far beyond the typical size, even when the gates were open. There were quite a lot of people still outside the venue when Restless Road started their set right in time at 20:00. Unfortunately, the pit at the stage was closed for photographers, so that I had to take pictures from the very rear of the venue – excuse the generally poor picture quality in this review. I am not sure whether the song selection by the support act has been a fully wise one. They had quite some covers which definitely would work in the U.S.. While Country Roads made the people cheer to their music, the Cologne crowd in the already quite packed venue struggled with songs like Tim McGraw's I like it, I love it.  Later parts of their 30 minute set featured their classics like Bar Friends, Growing Old With You and also their new single On My Way – that definitely worked out well – the trio go quite some applause finally and definitely found some new musical friends.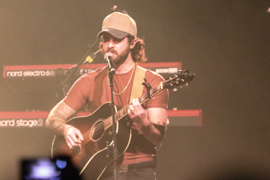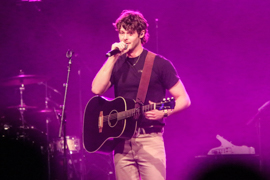 A very special Country Music Show by Kane Brown
The intermission featured some rap and hip hop classics like No Diggity or Tommy Boy's Jump Around – another hint that Kane Brown is somehow having the branding of other country acts like Brett Young , who had already played in this venue. His intro starting at some 20:55 was also rap-dominated, while the – typically rather young and female – crowd cried when he entered the Carlswerk Victoria stage right in time at 21:00. The set was supposed to end around 22:15, but finally took some ten minutes longer. Already the first songs like Pull It off or Short Skirt Weather lead to a good atmosphere on that Cologne evening, but with Hometown and Like I Love Counrtry Music, it reached its initial climax and even more mobile phones were raised above the people's head. While Thank God, the voice of Kane Brown's wife Katelyn was a playback unfortunately – would have loved to see her on the Cologne stage.
The second part of his set featured more rap and more modern country pop parts. One highlight, however, was Famous Friends, for which Restless Road came back on stage. The four vocalists in parallel gave a lot of value. The last songs of the evening were One Right Thing, Heaven and What Ifs, which closed the show without having an encore.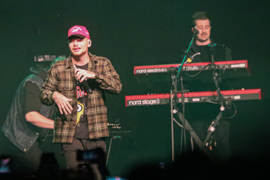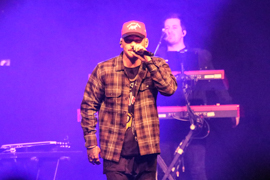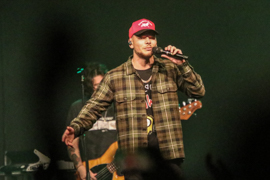 Kane Brown – The Gallery
Here are 136 major size pictures of the show. They are located in the concert gallery:
Kane Brown – My View
Restless Road gave Cologne a very good showcase of their talent and songs, even though I felt they could have done even better. Kane Brown did a great evening, you felt a lot of energy on stage. He and the band had a lot of fun. The massive crowds in Cologne surprised me – what is Kane Brown doing so much better than other country music acts that Central Europe really seems to love him? Indeed, there were also quite some English-speaking people in the audience. But that's just a minor part of the story of this concert. Country music in Germany and adjacent countries is working out, you just have to do it a bit like Kane Brown. Great show, presented by the two German major country music promoters, Wizard Promotions and Sound of Nashville, which makes you think about country music marketing strategies.
Flyctory.com Country Music Concert Coverage
Here is a list of all concerts I covered, limited to Country Music:
Spotlight – Flyctory.com Interviews
Here are all postings of my interview section Spotlight: