Bar Stool Preacher is one of the most interesting country music album releases of 2022. Despite Jacob Bryant is just releasing his second album, he already has quite some history of releases. I was really curious about this one, which will be released on 14th January 2022. The physical release is one week later.
Jacob Bryant – About The Artist
Jacob Bryant is a Georgia-origin artist from Jasper, who is doing country music with a strong Southern rock touch. Since the mid-2010's, he started to release a series of EPs, starting with a self-titled one in 2014. In 2015, he released Through The Windshield. After an unplugged-style EP, 2016 featured a third studio EP release, Up In The Smoke. Finally, in 2019, he released his debut album Practice What I Preach with his most successful song so far, Pour Whiskey on My Grave. The album has been re-released in 2021 as a deluxe version.
Jacob Bryant – Bar Stool Preacher – Track by Track
The thirteen song album lasts 45 minutes.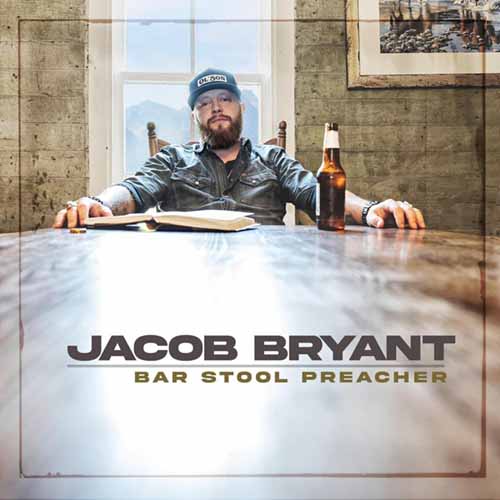 1. Well Whiskey (Discount Cigarettes)
Jacob Bryant starts his 2022 with rather classic tunes. Not the modern country rock people might know him most for, but nostalgic melody lines with a nice vibe. Not the opener I expected, but a really nicely done song.
2. The Bottom (Raise Em Up)
The guitars had a three minute break right at the beginning of the album – but now, it is time to rock. The six-string and his friends are creating a nice sound bedding, especially for the chorus. Nonetheless, there is still a bit of that classic touch in the song Bryant presented in the opener. Nice.
3. Can't Say No To You
I could say, "No, keep on walking" – but I can't say no to you. This comparably slow song comes with nice rhythmic work by the drums as well as the guitars. The bass is creating a lovely groove – perfectly recorded track.
4. Baptized By The River
Baptized By The River is a modern country rock track. The song is still in mid-tempo range, but spreads a lot of power and energy. Not as good as some predecessors, though.
5. Things That Hurt
Things That Hurt is a song for the heart of country music listeners. The almost ballad-alike setting gives a lovely focus on the strong voice of Jacob Bryant. One of my favorite.
6. Can't Take An Angel To Hell
The album stays rather slow during this sixth song, but Can't Take An Angel To Hell is significantly darker. The guitar licks almost feel frightening. Again, the slight roughness in Bryant's voice gives a beautiful match to the atmosphere.
7. Good Ol' Boy (UK Rock Mix)
Indeed, this song is rocking in this new version. It's a lot of fun to listen to the re-recording of his 2020 release.
8. Devil & An Old Six String
All three single releases of the album so far are in the second half of the album. Devil & an Old Six String is an intense, epic listen. Great storytelling, beautiful country-rock sound, which is rather in the average tempo ranges – but in the upper class of songwriting.
9. Buzzards
The song might not be the most present one on the album at first sight – but the longer I listen to it, the more I love the way Jacob Bryant is creating a beautiful 3:28 minute story here.
10. Ain't Gonna Happen Today
Another song which is just surprising: Ain't Gonna Happen Today is another groovy travel back in time. Classic honky tonk fans will put this track on repeat, I am sure.
11. Heartbeat
Heartbeat is a really nice and straight epic country song. Another very intense listen, which feels to be just perfectly made for US country radio stations. Nonetheless, the song was not that successful.
12. Wash It Down
At the beginning of the second last song of the album, I felt it has a bit of a Keith Urban one. Finally, Wash It Down is a very rhythmic country rock song. The vibes almost add a pop-ish touch to the listen.
13. Amen
Amen is likely a good word to close an album in the very religious country music scene. A bit too much for me – but that's what the North American market is loving. And indeed, the song just has a very catching touch.
Jacob Bryant – Bar Stool Preacher – Spotify
I will add the Spotify widget once the album has been published.
Jacob Bryant – Bar Stool Preacher – My View
Jacob Bryant's second one is indeed a very good listen. Bryant presents a nice range of songs, from very traditional tunes to songs made to rock in your boots. There is one thing the album does not present at all: a really weak track. And that's one of the key reasons this one is a really good listen.
Flyctory.com Country Music Top Picks! Reviews in 2022
Here are all 2022-published Media reviews about Country Music with a Top Pick! rating:
Flyctory.com in Atlanta
Here are all postings related to Atlanta GA: