In March 2020, just at the beginning of the Covid-19 pandemic, Melanie Wiegmann went to the Maltese island of Gozo to visit her partner Carl Carlton. Planned as a four day trip, this one eventually turned into a three year stay. They made use of the time and finally recorded an album based on the Great Americana Songbook, featuring songs from Leonard Cohen to John Prine. The result is named Glory of Love and has been released on 1st September 2023. Here is my review.
M. Wiegmann & C. Carlton – About The Artists
Melanie Wiegmann is a German actress, singer and dubbing actor. She was born on 27th September 1972 in Münster. She has a background as a musical actor as well and played Mamma Mia! as well as Ich will Spass! in the late 2000's. I could not find any previous releases by her on Spotify – the earliest is their 2021 Black Muddy River, which is also on the Glory of Love album.
Carl Carlton is Wiegmann's life partner (born 20th April 1955). His civil name, Karl Walter Ahlerich Buskohl, much more reflects that he is a German citizen. He is working as a rock musician, composer and producer. His biggest success was the collaboration with Robert Palmer, which lead to a Grammy nomination for the 2003 album Drive. He also had his own band, Carl Carlton & the Songdogs, which released four albums so far. Furthermore, he is a well-reputed stage guitarist and studio and worked for major German and international acts. His Wikipedia page lists collaborations as an instrumentalist with artists like Alannah Myles, Joe Cocker, Simple Minds or Udo Lindenberg.
M. Wiegmann & C. Carlton – Glory Of Love – Track by Track
The fifteen song album lasts 64 minutes.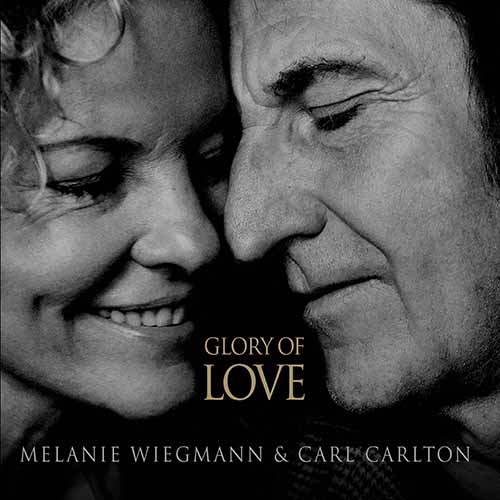 1. Long Monday
The couple opens with the John Prine classic. It beautifully suits to the Glory of Love album title and is full of harmony and balance. An easy and nicely recorded song, which leads to optimistic thoughts.
2. Black Muddy River
I am not sure whether this song has been an official release or just a teaser on soical media. The video I found (which you see above) dates as of 2021 already and thus is likely one of the first songs recorded by the German collaboration. The strong Americana / country sound works out beautifully. Nonetheless, this version of the Grateful Dead original has a short guitar solo episode.
3. Glory Of True Love
The third track is another Jon Prine write. Glory Of True Love is the first song on the album, which is also spreading some dancing vibes. Classic, traditional – and a good listen. The contrast between the crystal-clear voice of Weigmann and the slightly raspy and raunchy Carlton works great in here.
4. If I Needed You
Townes Van Zandt asked If I Needed You in 1972 – and Emmylou Harris did so as well some nine years later. Now it is up to Wiegmann and Carlton to continue this line. I feel that the gentle dialog-alike style of the song works very well between these two artists. A key reason for that is that Carlton can easily move from a raspy rocking voice to a very gentle and emotional sound. Just what it is needed in here.
5. Sunday Morning
The very first song on their debut album – that's what Sunday Morning has been to The Velvet Underground in 1967. The year before, the song has been released as a single. The pop style of the original is still there, but much weaker than more than five decades ago.
6. Dance Me To The End Of Love
This cover of the 1984 Leonard Cohen track takes over six minutes. It opens with a guitar part, which rather reminded me of Iberian music. Indeed, this track does not connect that well to the songs before in regards of the genre the song represents. However, the melodic-theatric style of Dance Me To The End Of Love adds a nice flavor to the set of songs. Am I the only one thinking about Nick Cave's and Kylie Minogue's Where The Wild Roses Grow in here?
7. Dreamer
In this song, Carl Carlton is featuring… himself. He has already co-written the original, which has been released by the Jill Stevenson band in 2009. The song has a touch of indie-folk to me. Well, baby, I'm a dreamer, I've got a dream – the song is featuring a nice, 4:19 minute narration. Good oe.
8. Here, There And Everywhere
There is even a Beatles song on this album. The very high voice of Wiegmann on this song leads to a fairy tale alike atmosphere. In this song, the two artists indeed created a magical atmosphere.
9. A Hard Rain's A-Gonna Fall
How could that be different? The longest song of the album features a Bob Dylan original. Ain't it amazing that this song is already over six decades old? In this duet style track, it feels really timeless.
10. Wildflowers
Tom Petty is one of my favorite artists. The more I am critical about this version. But, I have to say that they did a good job, out there in Gozo. The result is a very melodic interpretation with a folk hook.
11. Lovin' In My Baby's Eyes
The original of this one has been written and released by US-American blues musician Taj Majal, who had his 80th birthday in 2022. There is not that much of a blues song in this 2023 version, but I like the gentle, melodic style with a country music heart.
12. I'll Be Your Baby Tonight
This Bob Dylan song has been covered a couple of times already. The version by the German couple has a bit of the original, a bit of Robert Palmer & UB 40 and a new, nice fresh ease, which leads to a nice, characteristic sound.
13. Love Hurts
The transformation of this 1960 song, which among many others had been performed by Nazareth in 1974 has been one of the tracks I looked forward to most. The slightly kitschy country ballad released in 2023 does not divert too much from the classic, but still creates a very own sound, leaves a very unique mark. To me, the album is reaching its climax here.
14. Route 66
Nat King Cole made this Bobby Troup song famous and turned it into a global blues hit. Wiegmann and Carlton don't dare to take the blues heart out of this song. A very wise decision, likely. Thus, their version cannot create such a strong character as its predecessor, but
15. The Rose
Amada McBroom wrote this song for the 1979 movie with the same title. The song is one of these hot song candidates for weddings. And the gentle version which has been recorded in Gozo would also be an excellent choice for this kind of romantic moments. Great finale.
M. Wiegmann & C. Carlton – Glory Of Love – Spotify
Here is the album on Spotify:
M. Wiegmann & C. Carlton – Glory Of Love – My View
Glory of Love is a cover album, which is definitely having the key property a good cover album needs to have: an own style, an own character. This romantic pandemic hideaway lead o a lovely set of 15 songs. You are tempted to hope that these lovebirds are locked in again for the next album. Very nice one.
Favorite Song: Love Hurts
Melanie Wiegmann & Carl Carlton – Glory of Love Tour
In late 2023, the couple will tour Germany. Here are their tour dates
| | | |
| --- | --- | --- |
| Tu 21.11.2023 | Münster – Jovel | |
| We 22.11.2023 | Leverkusen – Scala | |
| Fr 24.11.2023 | Aurich – Stadthalle | |
| Sa 25.11.2023 | Dresden – Schlachthof | |
| Mo 27.11.2023 | Berlin – Wintergarten | |
| Tu 28.11.2023 | Augsburg – Specrtrum | |
| We 29.11.2023 | Aschaffenburg Colos-Saal | |
| Th 30.11.2023 | Osnabrück – Rosenhof | |
| Fr 1.12.2023 | Worpswede – Musichall | |
| Sa 2.12.2023 | Erfurt – Museumskeller | |
| Su 3.12.2023 | Isernhagen – Blues Garage | |
| Tu 5.12.2023 | Leipzig – Kupfersaal | |
| We 6.12.2023 | Hamburg – Fabrik | |
Tribute & Cover Music
Here are all my postings related to Tribute & Cover Music:
Malta on Flyctory
Here are all my postings related to Malta: