Time to say good bye? Strong rumors stated that Threads might be Sheryl Crow's farewell album. Crow has done so much for the music and especially for country music that it would be a huge loss. She was also one of the country music artists, who made it big in Germany. Hard to believe that this amazing story could end – but before that, Crow gives us 17 tracks, which are all duets and collaborations with very different people of the business. Even Johnny Cash is on the album.
Sheryl Crow – About The Artist
Sheryl Crows was born in 1962 in Kennett, Missouri. She incorporates a lot of music styles, even jazz elements in her music. She released her first album, Tuesday Night Music Club at the age of 31. It topped the Australian charts, but also placed in the Top 10 in Germany, Canada, Switzerland, the UK, Austria and, of course, the United States. The key track (which also made me listen to her music) was All I wanna Do, which made it to the top of the charts in the US Mainstream charts, in Australia and Canada. Additional Top 10 placements here in the US, US Alternative charts, France, Japan, Germany and the UK.  Another big hit was the 1996 If it makes you happy.
At the end of the first decade of the millennium, her sales slightly decreased. The 2010 album 100 Miles from Memphis just made it to the Top 10 in Canada and the USA. During that time, she also had a couple of appearances in TV series. In 2011, she released a cook book named If It Makes You Healthy.
Sheryl Crow – Threads – Track by Track
Threads is a 17 track album. Seven of the songs were (in different ways) released before the album release on 30th August 2019 already. The album contains 12 new originals, Redemption Day was released before, and four covers.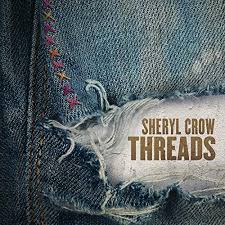 1. Prove You Wrong (feat. Stevie Nicks & Maren Morris)
The first song is already a great one. Stevie Nicks and Maren Morris, who I met before her Amsterdam show, join Crow in this song. It feel country, rock, it is catchy – it is just great!
2. Live Wire (feat. Bonnie Raitt & Mavis Staples)
Bonnie Raitt and Mavis Staples stand for classic sounds with big touch of blues. This is what Live Wire  is – country in a quite classic sound with a touch of the blues swing. A very different sound compared to Prove You Wrong, but definitely a good song. The video below is taken at the rehersals.
3. Tell Me When It's Over (feat. Chris Stapleton)
In contrast to the duet with Pink on her latest album, I love the collaboration of Chris Stapleton with Sheryl Crow. It adds a lot of strong guitars and rock to the unique Sheryl Crow song – nice one, definitely!
4. Story Of Everything (feat. Chuck D, Andra Day & Gary Clark Jr.)
Here's a story for you that will make your head spin 'round
Some troubled soul walks into church and guns everyone down
What did that congregation do, they forgave that boy somehow
Our do-nothing congress, they never make mistakes
'Cause they don't show up to work except to give themselves a raise
The audacity of hope makes every bigot shake, yeah
Another song, another very different sound. Very old school, but I also feel a touch of soul in it. The song makes you sway and dance – after four songs, there is already such a bandwith of songs and sounds, it is just amazing.
5. Beware Of Darkness (feat. Eric Clapton, Sting & Brandi Carlile)
A song with Eric Clapton? Wow! But for Sheryl Crow, it is not enough – she is adding Sting and Brandi Carlile to it… Perfect ingredients for a perfect song? A surprisingly slow and quiet one, maybe not that remarkable at first sight. But a nice song, definitely.
6. Redemption Day (feat. Johnny Cash)
How can Johnny Cash be on that record? It is a remastering of a song, which already appeared on her 1996 album Sheryl Crow. What a lovely way to honor one of the biggest grandmasters of country music! Goosebumps guaranteed!
7. Cross Creek Road (feat. Lukas Nelson)
I love Lukas Nelson, also like his latest album. Thus, I was deeply looking forward to that duet – and I absolutely love this collaboration as well. Very catching, intense music, a lot of power and great guitar play. Lovely song!
8. Everything Is Broken (feat. Jason Isbell)
Everything is Broken is another very classic country track, even featuring the harmonica. Quite uptempo with a strong guitar arrangement. Definitely a nice song!
9. The Worst (feat. Keith Richards)
The Worst is absolutely not what you would expect of a duet with Keith Richards. No hard rock, but thoughtful and soft acoustic guitars dominate this song. Lovely to listen to.
10. Lonely Alone (feat. Willie Nelson)
The tenth track is not with Lucas, but his father, living legend Willie Nelson. This 4:37 minute track has a huge touch of Nelson. Love his voice in there.
Why is he always gotta be calling me when I'm lonely?
It's so wrong to be leading me on and I can't say no
He swears that it's gonna be different this time but it won't be
Why is he always gotta be calling me when I'm lonely?
11. Border Lord (feat. Kris Kristofferson)
Kris Kristofferson is definitely a big name in the country music business as well. After the duet with Willie Nelson, this song is quite some contrast. But I like it.
12. Still The Good Old Days (feat. Joe Walsh)
Well you might be crazy
I might be lazy
But I like it that way
I think it's high time
We break out the good wine
Raise a glass and say
These still are the good old days
This song is definitely one of my favorites on the album. Joe Walsh, playing guitar for The Eagles, gives a great sound and is a lovely duet partner for Crow in this song.
13. Wouldn't Want To Be Like You (feat. St. Vincent)
Wow, this album is so versatile. Recording with Annie Clark aka St. Vincent, this song has a touch of hip hop and a bunch of influence of alternative rock music. Crow is able to master this genre as well. Impressive track!
14. Don't (feat. Lucius)
What an impressive track. A classic touch ballad with a strong orchestral arrangement. I was absolutely impressed, especially after having Wouldn't Want To Be Like You before.
Don't
Hold me and tell me that everything's gonna be fine
Don't
Tell me how my love for you will grow deeper in time
15. Nobody's Perfect (feat. Emmylou Harris)
Partnering Emmylou Harris, Nobody's Perfect becomes a soft and gentle ballad. Lovely to listen to, thus I wanted to share it with you.
16. Flying Blind (feat. James Taylor)
A very swining classic country track with James Taylor. A song, which is very catchy on the one hand, but it also makes you want to dance. Good track!
17. For The Sake Of Love (feat. Vince Gill)
Vince Gill is concluding this masterpiece with a strong and powerful ballad. For The Sake Of Love is a just a great duet. Vince Gill's music is able to add a lot in here.
Sheryl Crow – Threads – Spotify
You may listen to the full album here via Spotify:
Sheryl Crow – Threads – My View
In my recent review of Taylor Swift's Lover, I felt that the album is too long and gets boring. No problem for Sheryl Crow, though, to record more than one hour of versatile and characateristic songs. The record does not get boring – you even more ask yourself what Sheryl and her friends doing that right. I love the album, so many different songs for different situations in life as well. Thus, there can be nothing but a Top Pick! rating.
Flyctory.com Media Reviews
Here are all CD, book and movie reviews: