After his 2015 album Guitar Stories: Slack Key & Beyond, Jim "Kimo" West is back in the virtual record stores with a some-sort-of-sequest, More Guitar Stories. West, who is well-known as part of Weird Al Yankovic's band, released the album on 14th August 2020.
Jim "Kimo" West – About The Artist
James West was born on 18th December 1953 in Toronto, Canada, but he grew up in Tampa, Florida. He started to play guitar at the age of 12 and ran into Steve Jay in his teenage years. Together with drummer John "Bermuda" Schwatz and Ruben Valtierra, he is nowadays the band of Weird Al Yankovic. West joined that project in the early 1980's. Since the late 1990's, he regularly releases solo albums as well. His biggest solo success so far was his fifteenth album, Moku Maluhia: Peaceful Island (2018), which is his most recent album as well. The album has been nominated for the 2019 Grammy Awards as the Best New Age Album. Alongside Weird Al Yankovic, however, West was also part the parody superhero's five Grammy wins and eleven nominations so far.
Please also check out the interview I had with Jim about his music, his career and this album the day before the release.
Jim West – More Guitar Stories – Track by Track
The album has ten tracks and lasts 51 minutes.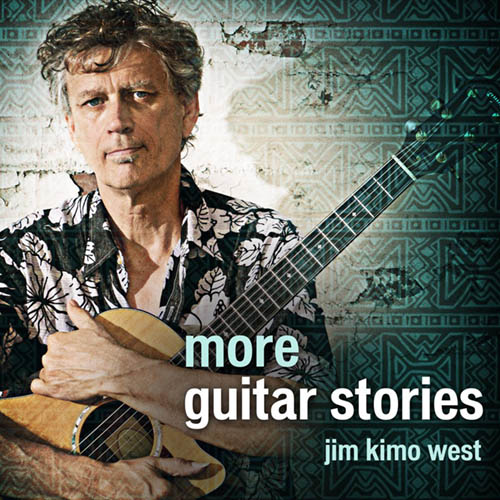 1. Mele Ahiahi-Evening Song
I am always a bit more nervous when it comes to reviewing instrumental albums – just because I hope that my linguistic potential is good enough to describe the music in a sufficient way – there are no lyrics, no stories, I can relate to. Mele Ahiahi – Evening Song feels very intimate, very light and slow. Also relating to its title, it feels like watching the stars on a clear sky night to me. Very concentrated on the sound of the guitars – there are just a few additional sounds like a triangle or some very decent rhythmic elements. Calming.
2. Windward
Windward feels a bit more lighter, also more rhythmic and dynamic to me. The guitar is not that much in the center of the music any more, as a violin taking over the acoustic dominance here and there. The song has more of an "Hawaiian touch" to me than the first track.
3. Birimintingo
In my recent interview with Kimo, he pointed out Birimintingo as one of his favorite tracks of the album – so I was indeed quite much looking forward to it. At the beginning, the song is even confusing me a bit – is that still guitar playing? It sounds a bit like a harp to me. Very angelic, lovely sound, which later in the track plays with elements like drums. The guitar more and more sound like a harpsichord, very fascinating and intense.
4. Paniolo Starlight
With 4:26 minutes, this track is the second shortest of More Guitar Stories. I like the way different layers of guitar sounds are composed and lead to something like a "melody" and a "vocal" level of Paniolo Starlight. Love it!
5. Tin Roof Shing-A-Ling
Tin Roof Shing-A-Ling caught me from the very beginning. The accentuated-rhythmic and groovy sound just made me dance. I also love how different instruments and sounds are combined to tell the story of the song.
6. Moonbow
The low background strings (a cello or a bass?), lighter string sounds, the guitars… There are so many different levels of instruments which combine to Moonbow, I just enjoy to listen to that collaboration. One of my favorite tracks of the album so far. Close your eyes and enjoy the pictures Jim West is painting in your soul with his music.
7. Green Islands
Green Islands almost feels like a radio track, really atmospheric. It does not use as many different instruments as some of the songs before, but again, especially strings and guitars create a floating, a bit of mystical mood. Has a touch of Oriental influences as well.
8. The Lydian Sea
The second track Kimo recommended in the interview was The Lydian Sea – with close to six minutes also the longest track on the album, by the way. It is really cool how you explore the Indian style he mentioned in our chat. I feels like a melodic travel to other parts of the world. Quite eco-friendly… and musical First Class.
9. Sugar Cane Blues
Sugar Cane Blues – feels like West takes us to very different areas of the (musical) world in this song. And yes, you feel the blues in that one as well. Versatile album.
10. Soul Motion
Soul Motion feels a bit sad to me. Like a farewell in some elements. The violins are very strong in this song again, almost dominating the guitars. The songs has some parts, though, in which it changes its character significantly, almost like the guitars want to have more presence in these final five minutes of the album. Lovely.
Jim West – More Guitar Stories – Spotify
Here are More Guitar Stories on Spotify:
Jim West – More Guitar Stories – My View
I am – unfortunately – not strong enough in instrumental skills to judge on the quality of playing the instruments (which may be even more important for non-vocal tracks) – but the more I can tell you about how the music touches me, how much it influences my moods and thoughts. And Jim "Kimo" West does this part amazingly. What a lovely travel of sounds of the world (and maybe sounds out of this world) in ten songs. Love it!
Flyctory.com about Weird Al Yankovic
Here are all postings related to Weird Al Yankovic:
Instrumental Music
Here are all postings about Instrumental Music: