It's been quite a while that I released my last Spotlight interview. The more I am happy that I have been able to chat with an artist, who is among my favorite ones: Christina Taylor is an amazing young country music artist, who started her musical career in North Carolina. Her song As Good As You Look with Brett Kissel has been streamed more than 900k times – and other songs made it close to half a million. She started 2021 with a three track EP, Covers Vol. 1, promising that there are a quite some more songs to follow during the year. Perfect opportunity to chat with her, ain't it? Hope you enjoy it as much as I did.
Flyctory.com meets Christina Taylor
FLYC: Hi Christina, thanks for joining me for an interview. Let's start looking by looking back to 2020: how much has the pandemic impacted your life as an independent country artist?
Christina: Thank you so much for reaching out!
The pandemic has definitely forced independent artists to get creative with how they promote their music. Because there are not as many show opportunities, I have been coming up with ideas on how to promote my music online. It also gave me some time earlier this year to slow down and write. A couple of the songs I'm releasing this year were written during my downtime in the middle of the pandemic.
FLYC: Despite you did not release new music last year, your music was streamed over 500,000 times on Spotify only – which I feel is a massive number. What did you learn or improve during 2020, which will help you most in the future?
Christina: Yes, it is crazy to me that so many people still streamed my music despite not having a release last year! In 2020, I learned to slow down and enjoy the little moments. It is great to be busy and motivated, but it is also important to stop and smell the roses every once in a while.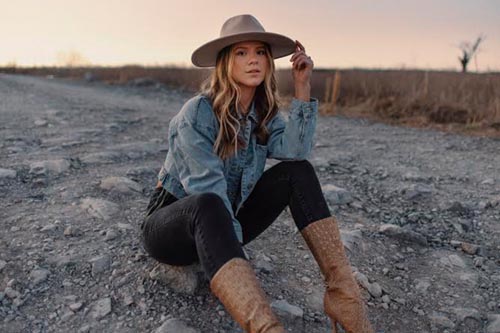 FLYC: You are typically referred as a North Carolina origin artist, but in fact, you lived the first eight years of your life in Florida. Did that time already have an impact on your musical career?
Christina: I was definitely exposed to different types of music in Florida which I think impacts the music I make today. My parents also love all types of music, so I was exposed to all genres at a young age from them. The only country artist I had listened to within those first 8 years of life was Shania Twain, whom I still love. I wasn't truly exposed to country music until I moved to North Carolina. I think the fact that I grew up loving all genres of music has helped to give me depth in the music I create. I find myself pulling from soul, rock, rap, etc. as inspiration for my art.
FLYC: Was there a song or moment, which finally made you go for a country music career?
Christina: Not necessarily one moment, but I remember when I was around 17 I really started listening to country music. I came across Eric Church and became obsessed with his writing and grit. I thankfully have the ability to sing any genre I want, but there came a point where I just knew that country music was the path for me.
FLYC: In your late teenage years, you started to be in Nashville more often. How was it like for you to start getting around in Music City?
Christina: I started driving to Nashville twice a month when I was 18 years old to write. It was definitely hard being the new girl and figuring out where you fit in, but thankfully Nashville is full of people who are trying to do the same thing you are. People tend to be really inviting because of this. It didn't take too long for me to find my people in this town!
FLYC: What has been the biggest challenge for you in these first career steps in Nashville?
Christina: I think the biggest challenge for me has been self-doubt. I've gotten a lot better at managing that feeling as I've gotten older. But when there are a lot of people in the same vicinity as you who are working towards the same thing, it can be hard not to compare your work to theirs. I've come to realize that there's always going to be something someone else has that you don't, and vice versa. And that's okay!!
FLYC: Your first single was Don't Look In Your T-Shirt Anymore, in 2017. The song has some 400k Spotify streams nowadays. Was there some special moment where you felt that this song might be really successful?
Christina: The moment I wrote this song with my co-writers we knew it was special. We felt it was a heartbreak song written in a way we hadn't heard before, and we knew people would relate.
FLYC: The same year, you released your debut EP, That Girl. What's your favorite song of the EP and why?
Christina: My favorite song off the EP is That Girl because it was the first song I wrote when I got to town. I was going through my first break up and I remember feeling so liberated after writing it. Those were words that I truly needed to get off my chest, and I feel I was able to do it in the best way.
FLYC: Another major achievement that year was that you received support from CMT Artist Discovery and Radio Disney Country. How important is that for a young independent artist?
Christina: Any support I receive as an independent artist means the world to me, but receiving support from CMT and Radio Disney was surreal because those were two platforms I grew up watching. It was kind of a full circle moment for me.
FLYC: We also met for the first time at the Radio Disney Stage at CMA Fest in 2019. In the meantime, you had released three singles, Loser, Setting Myself on Fire and American Dreamin'. How was it like for you to see in an event like that that so many people enjoy your music?
Christina: It was amazing getting to play the Radio Disney stage at CMA Fest! And the amount of people that came to watch, and that I got to meet after the show, was insane. It was a moment I will never forget, and I will always be thankful that Radio Disney Country gave me the opportunity to perform.
FLYC: In 2019 and 2020, you also did two collaborations with Brett Kissel, As
Good As You Look and I'm Not Him, I'm Not Her (published on his Now or Never album). How was that collaboration like?
Christina: I always love getting to collaborate with Brett. He is an amazing artist to work with, and he totally took my song As Good As You Look to the next level. Then getting to collaborate with him on his project was just the icing on the cake!
FLYC: Let's look into 2021. You started the year with three cover versions, which also have recently been released as an EP, Covers Vol. 1. What do these three songs mean to you?
Christina: I had so much fun recording and performing these songs! I really wanted to do songs by male artists because I always think it is so interesting to hear female vocals on a song that was written for a male vocal. I also wanted to branch out and do genres you wouldn't normally hear me sing, like the Post Malone and Colter Wall songs.
FLYC: You have some new music coming out soon. Which kind of songs can we start looking forward to from you?
Christina: I have been recording a bunch of different stuff in the studio so you can expect to hear a wide variety of music from me in 2021! I really wanted to record songs across the spectrum (fun, happy, sad, etc.).
FLYC: Will there maybe be an album or a new EP soon as well?
Christina: No album or EP coming this year but lots of singles!
FLYC: Which kind of gig do you prefer? A bar, an intimate club or the big
stages? Is there maybe a venue you look forward to play at one day?
Christina: Honestly, I love any opportunity to get out and perform my music for people. There are good things that come with all show settings. The big festival shows tend to be a lot of fun and upbeat, but it's nice to perform somewhere smaller where you can talk a little more in depth about your songs and get a little bit more intimate too. I don't have a favorite, they are all great.
FLYC: You name P!nk and Eric Church as your musical idols. If you could tour with one of them, who would that be – any why?
Christina: I love them both so much, but I would have to choose Eric Church! I think it would be amazing to perform in front of the true country music fans that I know Eric would attract on tour.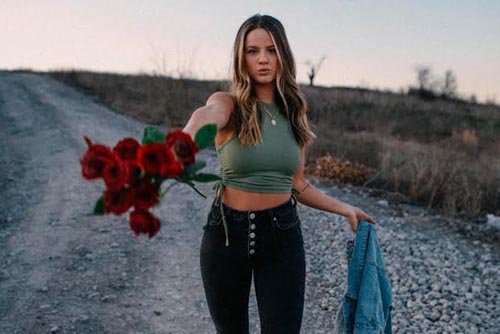 FLYC: Maybe finishing with some personal questions: you moved to Nashville in 2017 and now live together with another country artist, Brenna Bona. How important is her feedback to you – and maybe vice versa?
Christina: Me and Brenna are always showing each other work tapes and demos and asking for each-others opinion. It's so great to have an outsider's perspective on the song, and I know she would always be honest with me!
FLYC: The most important questions last: You recently became enganged with your boyfriend. Congratulations to that! Which Christina Taylor song would suit best to your future wedding party?
Christina: Thank you so much! I have a song that I haven't released yet called The One and it basically talks about how I've found the guy I want to spend the rest of my life and that he's not just "another one". I think that song would probably fit best for my future wedding!
Follow Christina Taylor Online
Concert photos / Title picture by Flyctory.com – all other pictures: artist material. 
Flyctory.com about Christina Taylor
Here are all my postings related to Christina Taylor:
Spotlight – Flyctory.com Interviews
Here are all postings of my interview section Spotlight: