I have been a couple of days late for Kiss The Girl, when I checked the new releases as of 11th December 2020. In fact, Bret Mullins had released the album already on the Monday before (7th December 2020). I still felt it might be very interesting to share this album with you – so here is my (slightly belated) album review.
Bret Mullins – About The Artist
You should not mix up Bret Mullins with Brett Mullins. The latter is a former Australian rugby professional and has quite a lot of different kinds of features in the internet. As this is a music review, it focuses of course on the Texas country artist Bret Mulins. Unfortunately, I could not find too much bio about the impressive artists, who is 190cm tall. After two albums, Good Place To Be From (2012) and Long Live a Country Song (2015), Kiss The Girl is his third album, which he recorded alongside his band. Already in 2012, he won the San Antonio Music Awards as the Best Country Band of the Year.
Bret Mullins – Kiss The Girl – Track by Track
The ten track album lasts 34 minutes.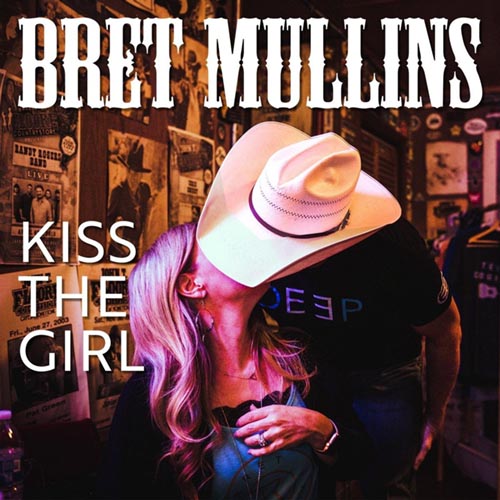 1. Round Here
The album starts with a very classic country topic: home, country lifestyle, feeling safe and happy where you are. A slow and emotional track, very catchy. A song for the heart of many US country fans indeed.
2. Home Sweet Texas
Already the title suggests that Home Sweet Texas will not differ too much in its subject compared to Round Here. Melodically, it is a very different song, though: it has a lot of groove and speed and also feels much more modern than the album opener. A really good song, especially if you enjoy the rather traditional way of interpreting the genre.
3. I'm Better Already
I'm Better Already is slower than the song before, but I also feel that this song is not as good as the first two songs. Still a nice lesson, but also less special.
4. Kiss the Girl
The flowing and swaying atmosphere of the chorus turns the title track to one of the most remarkable tunes of Bret Mullins' 2020 album. A really intense song about love. Good one.
5. You're Why God Made Me
After two slower tracks, You're Why God Made Me is one for the quick feet on your next country party. With its strong rhythm, it the song feels a bit like a travel back in time to the 1960's or 1970's – but the album is traditional, the song is a classic country music topic – so why shouldn't there be some musical references to the past as well?
6. Where's My Baby Tonight
This song is a very powerful ballad – one of the tracks in which I felt Mullins' voice is exceptionally intense and just a great listen. One of my favorites.
7. I Got the Key
If you listen to a song which starts with the lyrics
You see I like my truck
and that's my baby
Daddy bought it new in 1980
He always said that one day maybe
He'll hand it down to me
He more or less has to be country. It may feel a bit too stereotyped, but finally that's just what Bret Mullins' music is about. And this song is indeed one of the best ones of the whole album.
8. Miami My Amy
I will likely receive a lifelong ban of visiting Texas after publishing these words – but the section before the first chorus reminds me that strongly about some David Hasselhoff ballads in the 1990's – glad that the chorus has much more of a country music touch… And finally – hey, I am German, we still like The Hoff over here (at least some of us…)!
9. Freedom to Me
Freedom can mean a lot of things
It's breaking news, busting now, chasing crazy dreams,
I played for tips with my old guitar
Burned up and rose sleeping in my car
But I wouldn't trade those days to anything
It was freedom to me
Freedom to Me is one of the most beautiful songs on the album to my, looking back to life and praising and enjoying the "free" moments in live, even if they have been some tough experience as well. Great listen.
10. Company I Keep
Mullins closes the song in style: a powerful fusion of country and rock'n'roll just creates a lot of fun while listening. This song is indeed musical Company I Keep – good one!
Bret Mullins – Kiss The Girl – Spotify
Here is the Spotify widget to Kiss The Girl:
Bret Mullins – Kiss The Girl – My View
Bret Mullins does music for the traditional listeners. Classic and straight country tunes, good lyrics which touch the heart of the people who he is aiming for as potential listeners. He does it well, indeed. What I also like is that he is covering a certain variety of topics to me and not going into American exceptionalism and similar weird ideas. I would not see Kiss The Girl as a Top Pick!, but it is not too far away from it – finally, Mullins' voice is just too present and catchy.
Flyctory.com Travelling the USA
All are all USA-related travel postings on Flyctory.com:
German Artist Top Pick Albums
Here are media reviews of German artists, which I rated as Top Pick!