The closer CMA Fest 2019 came, the more I became aware of all the side events, which are not happening as part of the festival, but due to it. One very frequent examples are fan meetings or fan club parties. In country music (especially in Nashville), the artists are quite close to their fans. Thus, many of them organize separate events for their die-hard fans. As the schedule is packed during those days in Nashville, some of the meetings have very adverse timings. Lindsay Ell, who I saw in the Sound of Nashville event, for example, had an early morning session and organized breakfast for her fans.
I visited two of these events. Cassadee Pope gave a quite "traditional" Fan Party, while Jana Kramer is not just popular for her music, but majorly for the podcast and other social media activities she does with her husband and family.
There is a designated major size picture gallery attached to this posting.
About Cassadee Pope
There is quite some bio about Cassadee Pope on flyctory.com already, as I reviewed her lovely 2019 album Stages as well as was photographer at her CMT Next Women of Country concert in Liverpool in May. In Nashville, I felt the immense popularity of the former The Voice winner, which for example has some 600,000 followers on Instagram. The song below, One more Red Light, is one of my favorites of the Stages album.
About Jana Kramer
It may be an awkward start to introduce a person by the number of Instagram followers. Jana Kramer has about 1.7 million of them, which is in the range of the big country acts like Dierks Bentley. However, only part of her popularity is directly related with her musical career. She is also an actor and competed in Dancing with the Stars. She is now married to Mike Caussin, a former NFL (American Football) player. They have two children. Together, they decided to live a quite public life, the podcast "Whine Down" is extremely popular. There have been Whine Down touring events in the past. Due to her familiar background, she speaks limited German.
She released two albums, Jana Kramer (2012) and Thirty One (2015), who both made it to the Top 10 of the American Billboard charts. Why You Wanna and I got the Boy are her most successful tracks. She has recently released a new single, Beatiful Lies.
Cassadee Pope Fan Party
Cassadee Pope hosted her fan party in the Third Coast Comedy Club, which is located in the lovely former Marathon buildings. The price for the party was 50 USD plus tax, including the party itself, a notebook and VIP badge as a gift and the Meet & Greet.
Cassadee Pope typically played one song and then answered a couple of questions by the fans, overall five or six times. The questions were spontanous and she felt very comfortable in replying. Overall, the club felt to be quite full – and the organisation of the Meet & Greet was a bit chaotic, but it was definitely a nice event.
I liked the Meet & Greet as you at least felt Cassadee is really interested in meeting her fans. The pictures were done by a photographer and were available for download thereafter.
Jana Kramer & Mike Caussin – Whine Down
The Whine Down event was held on Sunday, 9th June, in The Back Corner, a quite cozy club with a nice stage. The admission, 25 USD, included a cheese buffet and a free drink.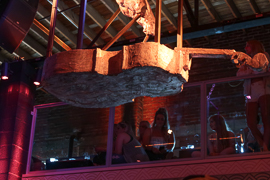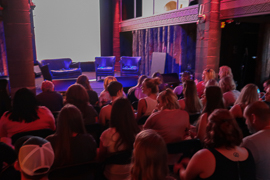 I honestly did not know anything about their podcast before the event, so that my expectations were rather low. The podcast part, which was something like a discussion panel with Jana Kramer, Michael Caussin and two additional guests, was very entertaining, though. Especially Erin Oprea, fitness coach of Jana Kramer and many other Nashville celebrities, was very entertaining with her straight statements. Overall, I had much more fun than I expected.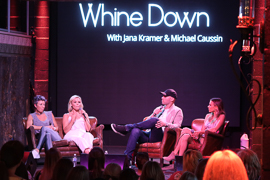 Sorry, Michael, the highlight of the even was of of course the short (roughly 20 minute) set of your wife, who only had an addtional guitar player with her. It was the first time I saw Jana Kramer live on stage. It was a very nice and intimate performance, playing some old hits and some new ones.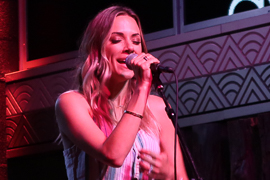 ,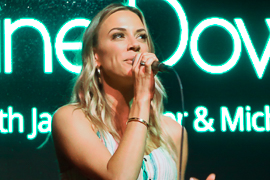 Afterwards, there was the meet and greet, which also gave opportunity to have a short chat with both, Mike Caussin and Jana Kramer.
My View on the Events
There are a lot of people, who do many of these events during the CMA Fest – and I feel that they are right. Both events, the different they were, were just amazing. It is cool that the celebrities take the time for their supporters and give them something back in that way. I would feel that Jana Kramer's event was the better value for money. I also loved the event just because I could finally make it to see her on stage. Cassadee Pope felt to be more open-minded and a bit closer to her fans, though. I am absolutely glad I did them.
CMA Fest Fan Events – Gallery
I put major size pictures of both events in a combined gallery:
Postings about Nashville
Here are all reviews and more about and around Music City:
Flyctory.com about Country Music
Here are all Country Music-related postings on Flyctory.com: