The last Brett Eldredge album I reviewed has been Sunday Drive in July 2020. Now, the country music big gun is back – and is bringing us a potential soundtrack for the Christmas holidays. Here are my thoughts about his 22nd October 2021 holiday release, Mr. Christmas. 
Brett Eldredge – About The Artist
After five "normal" studio albums, Mr. Christmas is Brett Eldredge's very first Christmas album. Especially as I did not fully enjoy Sunday Drive, I have been really curious about this listen. You will find more bio about Brett Ryan Eldredge, which is his full civil name, in the posting named and a review of a show he ad together with Lauren Jenkins in Cologne in early 2020.
Brett Eldredge – Mr. Christmas – Track by Track
The eleven song album lasts 38 minutes.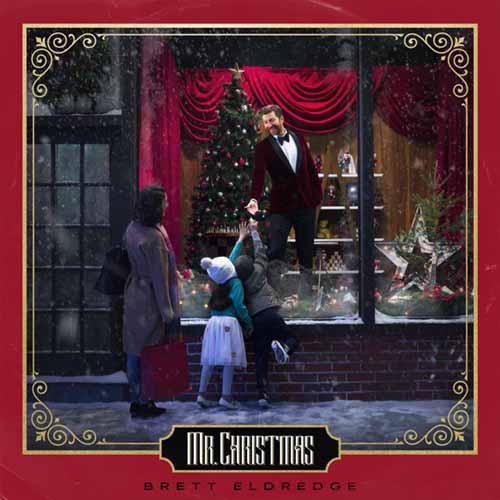 1. It's The Most Wonderful Time Of The Year
Brett Eldredge starts his musical Christmas party with a classic. The big band sound with a bit touch of swing will be used very frequently. To me, one of the best songs of the album – very energetic instrumental part and very good vocal performance.
2. Mr. Christmas
Mr. Christmas is a new song by Brett Eldredge. The title track has already been released as a single before the album. I feel the song is quite nice, even though it does not spread as much festive spirit as its predecessor. Another point is that I feel in this song (as well as in some others) I just feel his vocal performance is just weaker than his potential.
3. Merry Christmas Baby
Even though the instrumentation of this song stays the same compared to the songs before, the song has much more of an R&B touch. This is not too surprising, the song has been originally written by Lou Baxter and Johnny Moore and has been published short after WWII for the first time. Good Santa blues.
4. Jingle Bells
Jingle Bells is of course one of the classics. I don't like the Brett Eldredge version, to be straight. He is again heading for a swing-alike interpretation, but it is just too plain to me. If you want to make a special recording out of it, you need to invest more.
5. God Rest Ye Merry Gentlemen
There is an excellent version of this classic by the Pentatonix. Eldredge starts in a very quiet atmosphere, before he is adding more rhythm and more instruments. Not bad, but again not a must-listen.
6. I Heard The Bells On Christmas Day
This song has already been written in 1863. The 2021 version by the country artist is again very reduced and thus emotional, which I like. Might not be the right song to sing with the family or to run while unpacking the gifts – but it may help to get into the right Christmas mood.
7. Rudolph The Red-Nosed Reindeer
Okay, that's maybe one of the Top 3 songs of Christmas pop songs. This also means in my point of view: you need to do this song in a very special way that it adds some value to the thousands other versions. This version majorly lives from a beautiful instrumentation to me. The vocal parts are fine.
8. Cool Yule
Already while listening to the brass at the beginning of the song, I had some doubts if that one will work out. One of the best versions of this song has been recorded by nobody but Louis Armstrong. Brett Eldredge obviously fails in adding the same level of power and emotions to his recording. Again, the instrumental part impresses me more than the vocal one.
9. Santa Claus Is Coming To Town
He's making a list, he's checking it twice… Was Little Brett naughty or nice? I feel that this song lives from a certain level of "cheekiness" – which I just don't feel on the Mr. Christmas song. Finally, it leads to a disappointment on my side.
10. Feels Like Christmas
Feels Like Christmas is to me a song which illustrates how Mr. Christmas could have worked out. There is power, presence in the song. The R&B and soul touch gives a nice touch to the song. Not a new All I Want For Christmas Is You-class of Christmas pop song, but a really nice listen.
11. O Come All Ye Faithful
I am sorry, Brett. The album would have been better without this track. The song is neither energetic enough nor comes with the emotions I demand from this lovely song.
Brett Eldredge – Mr. Christmas – Spotify
Here is Mr. Christmas on Spotify:
Brett Eldredge – Mr. Christmas – My View
Let's say it like this: if I was an artist, I would definitely not record a Christmas album – unless I have really, really good recordings. The reason: there are hundreds new ones every year – and likely a couple of dozens of artists which are at least as talented as I am. You have to produce something special. Either you sing your heart out or you do versions which are special. If you don't manage to find special songs, you straightly sing yourself into the swamp of mass Christmas productions. Brett Eldredge did that in my point of view with Mr. Christmas first. And – sad to say – this album makes him drown in there much quicker than other artists. Some good ideas are not good enough.
Christmas Media Reviews
Here are all media reviews dealing with Christmas:
Sound of Nashville on Flyctory.com
Here are all postings related to the Sound of Nashville concert series in Germany and the Netherlands: