There is one guy which gave me the initial crush with Indian tennis – Leander Paes. But in fact the love really started with the "Indian Express" – Leander Paes alongside Mahesh Bhupathi.. They were the dominating tennis doubles of their era. Perfectly matching skills and a great way to push themselves to the limit (or above) on court. They were made to write doubles tennis history for decades. They were made to win Olympic medals and many Grand Slam titles. Compared to their potential, their amazing record feels rather thin. The reason: they did not get around well with each other on the personal level.
This story hurt Indian tennis, Indian sports. More than a decade after their split, the Indian streaming platform Zee5 is showing an exclusive documentary about the story of Leander Paes and Mahesh Bhupathi, incepting on 1st October 2021. I just had to share my thoughts with you.
Leander Paes – Short Bio
I already gave the Ode To My Superhero posting about Leander Paes, who is likely the sportsperson, who influenced me most in my life. Leander Adrian Paes was born on 17th June 1973 in Calcutta / Kolkata. Nowadays, he is living in Mumbai. His list of records is long. He is overall having eight men's double Grand Slam victory and ten mixed doubles one, holding a Career Grand Slam in both disciplines. He is the second man, after Rod Laver, who won Wimbledon titles in three decades. His very first ATP tournament victory was in 1997 in Chennai in doubles, partnering Roger Federer. 21 years later, he won the challenger in Santo Domingo, Dominican Republic, alongside Miguel Angel-Reyes Varela.
His Davis Cup record is remarkable. Globally, he is the player with the most doubles wins in Davis Cup. He was part of several Indian upsets in the 1990's and early 2000's with some remarkable victories, also in singles. Playing for the Indian flag also gave him an Olympic Bronze Medal in singles at Atlanta 1996, beating Fernando Meligeni. Two years later, he won his only ATP Title in singles, in Newport at the Tennis Hall of Fame Open. That is, by the way, also the place where I have seen Leander playing in a professional tennis match for the the last time.
Mahesh Bhupathi – Short Bio
Mahesh Shrinivas Bhupathi was born on 7th June 1974 in Chennai. In contrast to Leander, who has a career high singles ranking of 73, Mahesh never made it into world class singles tennis on tour level. Especially in Davis Cup, though, he has some remarkable records. He has a Career Grand Slam in mixed doubles (he won each major twice), but an Australian Open title is missing for the same achievement in men's doubles. He is the first Indian player winning a senior Grand Slam title. However, with 52 doubles titles, his record is amazing. His first ATP Doubles Title was in 1997, when he already partnered Leander at their victory again Oleg Ogorodov (Uzbekistan) and Eyal Ran (Israel). His last title was in 2013, when he partnered Michael Llodra (France) in Dubai.
The Indian Express – Some Career Highlights
Despite the last period of their collaboration was rather mixed, Leander Paes and Mahesh Bhupathi have an amazing career record of 303-103 wins. They are the Davis Cup doubles with the longest streak of being unbeaten. In theory, this streak is still open – however, the last victory was in 2010, beating Marcelo Melo and Bruno Soares. Only two doubles teams, Jacco Elthingh / Paul Haarhuis (Netherlands) and Jonas Björkman / Nicklas Kulti (Sweden) have ever beaten Leander and Mahesh, the Indian Express in Davis Cup. Together, they won three Grand Slam titles, the French Open in 1999 and 2001 as well as Wimbledon in 1999. On top of that, they won 27 ATP titles.
Break Point – The Documentary
To my surprise, the documentary comes in seven episodes, each about 30 minutes. Audio is available in English, Hindi, Tamil and Telugu – I obviously watched the documentary in English.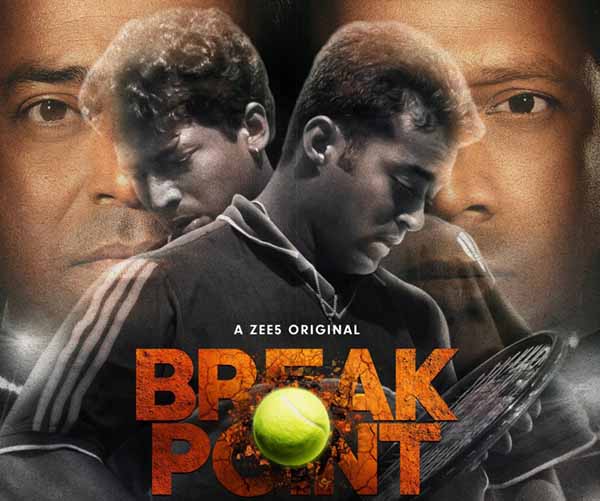 Episoide 1 – Two Little Indian Boys
Already the introduction of the first episode states how outstanding the story of Leander and Mahesh is. There are not only statements of great Indian players like Rohan Bopanna and Sania Mirza, but also big other country's tennis players like the Woodies. Then the episode turns towards the childhood years. There are already some interesting stories. Leander, for example, tells that his favorite sports until today is soccer and that the doctors told his parents he will never be athletic. Mahesh tells how the tennis career of his father was faithfully stopped by a broken arm. The episode also looks into the beginnings of tennis training of the two Indian tennis heroes.
You are also getting the story how Leander and Mahesh met for the first time, at the 1990 Wimbledon Junior Tournament – which Leander finally won in singles. The documentary is also looking to Jakarta, where Mahesh and Leander did join forces together for the very first time. In their first match, they beat the second seeded doubles pairing. Leander and his typical partner Sebastien Lareau were already a top class team – while Mahesh was a college player at the University of Minnesota. There was a lot of opposition against this partnership, but finally Leander pushed for it.
Episoide 2 – Made In India
One of the first events the second episode is looking into is the 1996 Atlanta Olympic Games, where the Indian Express joined forces in doubles for the first time. The lost against the later gold medal winners Woodbridge / Woodforde, who state in this episode how impressed they have been already of these two players. A very cool part of this rather long second part is about the famous chest bump – and also how the Bryan twins later used that one as well.
A very interesting topic is also that Leander and Mahesh likely just spent too much time together. On the other hand, the episode also looks at how Hesh's coach Enrico Piperno took away common time from the Indian team. Beautiful also to see some footage of the amazing 1996 Davis Cup upset against the Netherlands, regardless Leander and Mahesh lost their doubles match. The episode also looks at the first Indian to win a Grand Slam tournament – which was Mahesh Bhupathi in fact, partnerin Japanese Rika Hiraki in the 1997 Roland Garros. The episode closes with that this is probably the first little split between the Indian Express players.
Episoide 3 – Masters Of Clay
The third episode majorly focuses on 1999. It is also about gossip, initial little issues. You also see that the might not have communicated about issues they had too well. On the other hand, you follow the Indian Express en route to their 1999 French Open title. This is also giving the opportunity to look into their tactics, their different strengths and how their opponents look at him. Especially towards the end of this episode, you also look into the struggle between being equal teammates and having such a glamorous person like Leander, who always had some extra focus on himself. By that, it is also about feeling offended. Interesting to see how much certain sponsorship and commercial things still feel to hurt Leander today.
Episoide 4 – Two Good, Two Bad
The holy lawn: Wimbledon. The fourth episode is about the magical 1999 tournament, maybe the best tournament these guys ever played. You get into the rough trip into the finals, but this episode is again about communication and being so complimentary to each other. Finally, there was the final against Paul Haarhuis (Netherlands) and Jared Palmer (USA). The Indian Express won – or as Leander says, I will never forget standing on the Wimbledon Centre Court with my younger brother.
The story of the the two Indians is about disappointments over rather small things. Leander Paes wrote amazing tennis history, winning the Mixed Doubles Semi and Final and thus gaining two titles the same day, Mahesh was not there. Two months later, communication issues lead that Leander and Mahesh signed into a tournament in Indianapolis with different partners each – and facing each other in first round. Trust faded from both side – even though the performance was that good.
When Leander and Hesh won Wimbledon, the TV commentary ended with Well, I am sure they will be back next year to defend it – and they will be back many more years to come. He was crucially wrong.
Episoide 5 – Double Faults
Even though the Indian Express made it to the US Open Finals, they had a bunch of hard weeks thereafter, lost easy matches and also struggling at the Hartford World Championships in the finals. The breakup felt to come closer and closer. Paes missing a Davis Cup tie as well as feeling to be always late from Bhupathi's view were some drivers. Additionally, Paes caused Bhupathi's coach to leave the team. Leander wanted to have unique team staff around them.
After Hartford, Mahesh Bhupathi had a hard shoulder surgery. There was even the perspective that he may not be able to play tennis again. Leander played with different partners, but the two professionals did not communicate well. When Bhupathi came back to the tour, he wanted to temporarily play with the support of his former coach Ricco – but Leander did not like that at all. Interesting to see the roles of the fathers in the split in this episode as well. The split became more and more clear – including too much gossip between the two parties. The story of the World No. 1 team was about to end. At the French Open 2000, the for the first time both competed in Men's Double – with different partners.
One of the strongest statement of this episode is definitely by Leander: As soon as we went our own ways, I was struggling. Even my game pattern was made about playing with Mahesh. Their coaches tried to get them back together. Leander's coach did try to get them together after they both failed at the French Open. Both versions of what happened in a massage room at Paris  feel very different – but the result was definite: the discrepancies were bigger than ever before.
Episoide 6 – The Comeback
Also due to the 2000 Olympics, a text message caused Leander and Mahesh reunite. Mahesh therefore did not follow the offer to partner Todd Woodbridge on the tour. Bhupathi calls this decision dumb in the documentary. The Olympics in Australia did not work out for the Indians as they – due to that significantly dropping rankings – were unseeded. They again were drawn into Woodbridge / Woodforde, who were pushed by the Sydney crowd to the victory and another medal.
Episode 6 jumps into 2001 thereafter, when the Indian Express won the French Open, but they did not play consistently any more and also had some terrible losses. Another bad loss was an early round one at Delray Beach, 2002. Again, a chat they had together after that loss sounds very different in the film, depending whether told by Leander or Hesh. Even twenty years later, you still feel how emotional both players are – especially Leander. Break Point does not really give any clear picture here. Just two very different perspectives. Todd Woodbridge gives a beautiful statement about troublesome times he had with Mark Woodforde: Winning was what lead us back on track – but that didn't happen to Leander and Mahesh.
Leander's Brain Lesion & Olympics 2004
This episode is also about Leander's lesion. You see how much they were still close to each other. Mahesh broke down and was in tears when he got the message that his former partner is seriously ill. Leander fought back so that they could go into Athens 2004. After they battled into the semifinal even eliminating Federer/Allegro, they were taken out of the semis by two German single players, Schüttler and Kiefer. In Athens, the Bronze Medals was played out the first time. The Croatian team Ljubicic/Ancic won an epic battle for that medal. The closet they got to an Olympic Medal ever. And again, the tournament ends with gossip.
Nonetheless, the key quote of this episode, which is just 37 minute, but maybe the most complex one, is by Leander about Hesh: But I know I love and respect him… Always will…
Episoide 7 – One For The Nation
Episode 7, the last 34 minutes of this documentation. The episode starts with the 2006 Doha Asian Games. Leander was preparing to play with Rohan Bopanna, but short before the tournament, the All Indian Tennis Federation decided to nominate Mahesh Bhupathi in doubles instead – even though Mahesh was almost retired. They got hammered, as Leander named it, against Taiwan in the tennis team event. The result was a press and media disaster. There were rumors that Mahesh was injured or not fit to play and latest when there was a "fitness test match" before the sign-in to check that. Politics, organisational chaos. Leander and Mahesh won the Asian Games gold medals driven by their grand potential.
The story is the foundation for looking back on their national pride, their extraordinary potential to increase their game when it comes to play for India. Of course, there are also some very personal, but also somehow peaceable words about their partnership.
Break Point – My View
I am not neutral in this one. I would call Leander a friend in a certain way, I met Mahesh a couple of times. Finally, I explored all the trouble, the split-ups – but also the success – as a fan of the Indian tennis. Leander and Mahesh were the guys who made me travel around the world for this sports. And even if they are not playing any more and I really love our current team's players, they somehow still are the reason why I go to Espoo for a two-day Davis Cup tie.
This documentary is awesome. Excluding intros and outros, it comes with some three hours of focused material. You will not find the truth everywhere. Some stories sound very different, depending who is the narrator. But I guess it is natural. It is thrilling, well-told. It is a great sports documentary. You do not need to love Indian sports, you don't have to be in tennis. Thanks to Leander and Mahesh that they made it possible.
All pictures, including the logos, are taken from the documentary.
Flyctory.com about Indian Tennis
Here are all postings related to tennis and India:
All "classic" blog posts
No reviews – just debating and certain topics – these are my "traditional" blog posts in the categories Just blogging, Just blogging on music and Sports Blogging: