Nine-time Grammy nominee, being in the jury at the US-American The Voice TV talent show since the beginning and winning eight out of nineteen shows and some thirty million singles sold worldwide. Blake Shelton is definitely a big name in the US music industry, not only in the country music genre. Thus, if there is a new release by him, he is automatically in focus. On 21st May 2021, he released his new album, Body Language.
Blake Shelton – About The Artist
Blake Tollison Shelton was born on 18th June 1976 in Ada, Oklahoma. His parents do not have music background, but in his early teenage years, his uncle taught him to play the guitar. At the age of fifteen, he wrote his first song and won a local award with music already a year later. Two years later, he moved to Nashville. It took about eight years, until he had signed a deal. He was about to debut with I Wanna Talk About Me, but the label decided to grant the song to Toby Keith, who made a chart-topper out of it. Shelton released Austin as a debut – and the song topped the country charts as well, it turned into a platinum record. Until now, there are 27 additional singles which topped the country charts as well.
On the album side, he debuted with a 2001 self-titled album, which also turned out to a platinum one and peaked third in the country charts. Since today, no Blake Shelton album peaked worse than seventh in the US Country Album Charts (Startin' Fires, 2008), the last four albums all topped the US Country Charts. His latest albums also lead to good placements in markets like Canada, Australia or New Zealand.
Blake Shelton – Body Language – Track by Track
The twelve song album lasts 38 minutes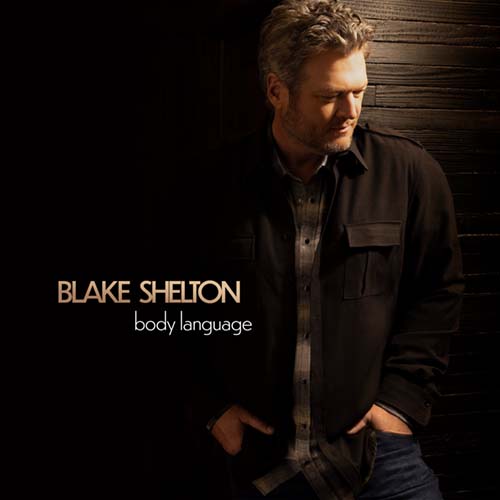 1. Minimum Wage
The song starts with the powerful, monumental Minimum Wage. The song was one of the single releases before the album – and it is really great, straight country rock. The song even has a touch, which reminds me of Let Me Entertain You by Robbie Williams… and that one has been a global success…
You can make a six-pack on the carpet
Taste like a million-dollar bill
You can make a one-bedroom apartment
Feel like a house up on the hill
You can make my truck out in the driveway
Roll like a cleaned-up Cadillac
Girl, lookin' at you lookin' at me that way
Can make a man feel rich on minimum wage
2. Body Language (feat. The Swon Brothers)
The title track of the album is performed with Zach and Colton Swon, who made the third spot in the 2013 NBC edition of The Voice – of course, as part of Blake Shelton's team. Blake Shelton is surprisingly passive in this song, the siblings give a nice country pop touch to this song.
3. Happy Anywhere (feat. Gwen Stefani)
Gwen Stefani and Blake Shelton are happy since 2015 – and when they do music together, everybody is happy: 45 million streams on Spotify, a nice vibe and still undoubtedly a country track. Do I need to say more? You already approved that song, I feel!
4. Now I Don't
The fourth song comes with a nice, gentle groove and a decent, but good instrumental performance. The song feels to hide a bit in this selection of tracks – but in fact, it is really a good one.
5. Monday Mornin' Missin' You
Friday night I get to buzzin'
Till I'm feelin' nothin'
Drinkin' 2-for-1s way past two
By Saturday, I'm long gone
Lit up like the neon
Thinkin' that I'm bulletproof
By Sunday, I'm backslidin'
Can't help it, can't fight it
I know I'll be wakin' up to
That Monday mornin' missin'
Monday mornin' missin' you
Some good riffs, which form a catching melody, a nice love song and the genius of Blake Shelton – finally, it feels so easy to write good country music songs when you listen to songs like that one. Simple, straight and good one.
6. Corn
Corn in the truck, corn in the field
Corn in the bottom of a moonshine still
Corn in a kettle, corn in a skillet
Corn in a jug, hot damn you can feel it
Corn for the chicken, corn for the deer
Corn for as far as you can see around here
Leanin' on a fence in a Carhartt hat with a farmer's tan
Sayin' man look at all that corn
Yeah all that corn
Corn has likely been the song which gave me most of a smile. It felt that much like a Luke Bryan track to me. Rather classic vibe for a Blake Shelton one. A nice rhythm… and there is even the fiddle! Love it!
7. Makin' It Up As You Go
Summer is about to come soon – placing bets that this country song will be a song with which Blake Shelton and his team wants to conquer some country music beach parties. The rather thin and pop-ish lyrics as well as the rather short duration are favoring this idea as well.
Hey, hey mama
What I do next, I don't know
Will I drink till I'm drunk
Will I sink till I'm sunk
I'm just makin' it up as you go
Hey, it might be tomorrow, might be a year or so
How long does it take for a heart to unbreak
I'm just makin' it up as you go
8. Whatcha Doin' Tomorrow
Whatcha Doin' Tomorrow is a song right in the Blake Shelton comfort zone. One of these tracks which do not require you to listen too much – you just know it is a Blake original. This also makes the song even a bit of boring to me – even though it is a good one.
9. The Girl Can't Help It
Claps as a rhythm, a catchy main sets of chords on the strings in the background and a cool groove – damn, I want to be part of the next Blake Shelton tour and party to that song. Might be too early to do travel plans over to the States, unfortunately.
10. The Flow
You gotta roll with the flow till the flow don't roll no more
You gotta know when to hold, when to fold, when to hit the road
And when to stay the course
You gotta learn to bend or the difference in a little rain and a raging storm
You gotta roll with the flow till the flow don't roll no more
Then roll on out the door
The tenth song has a lovely summer groove… and a nice Flow. Really a good track, which stays in your mind.
11. Neon Time
There are a lot of good songs for the summer on Body Language – this one is rather for the intimate dance in the later hours of your country music party. Enjoy these almost four minutes – might be the highlight of the night.
12. Bible Verses
The album's closing track is personal, acoustic… and spiritual. A nice recording to calm down after twelve songs – even if you are not religious.
Blake Shelton – Body Language – Spotify
Here is Bible Verses on Flyctory.com
Blake Shelton – Body Language – My View
All facts summed up tell me that Body Language is a really good album. Twelve songs, different moods, no bad one. The lyrics are good when they have to be good – and they are thin, where they are fine to be thin (e.g. at Makin' It Up As You Go). Blake Shelton delivers just what you expected, but somehow I miss the little extra, a song which blasts me, which surprises me. Corn is the most catching song, which stayed in my ear. Can't say I am disappointed and the album is a well-deserved Top Pick! – but something to me is missing to raise it to the absolute top of 2021 releases.
Flyctory.com Country Music Top Picks! Reviews in 2021
Here are all 2021-published Media reviews about Country Music with a Top Pick! rating:
Spain – Travel Postings
Here are all my Travel postings related to Spain: