Since about half a decade, Wincent Weiss became a big name in the German-singing pop music scene. After two successful albums, he is releasing his third one, Vielleicht Irgendwann ("Maybe sometimes") on 7th May 2021. Here is my review.
Wincent Weiss – About The Artist
Wincent Weiss was born on 21st January 1993 in Bad Oldesloe, some 50 kms Northeast of Hamburg, Germany, in the Schleswig-Holstein state. His first public appearance was as a candidate in the talent show Deutschland sucht den Superstar, the German version of American Idol. He failed to pass the round of 29 candidates. Two years after he recorded a cover of Unter meiner Haut ("Under my skin") by Elif Demirezer, a remix of the song happened to make it to the sixth spot in the German single charts in 2015 and stayed in the Top 100 for over a year. This lead to Weiss'  debut solo single Regenbogen in 2015. Already his second single, Musik sein ("To be music") got a platinum record in Germany and was Top 10 in Austria and Switzerland.
2017 featured two additional successful singles and his debut album Irgendwas gegen die Stille ("Something against the quiet"). The album became a platinum record in Germany (peak position: #3) and Switzerland (#4). In 2019, Weiss released his second album Irgendwie anders ("Somehow different"). The album was second placed in the two countries and eighth in Austria. Weiss is also working as a model. For example, he worked for Versace in the spring / summer 2016. One year later, he won the MTV Europe Music Award as the Best German Act.
Wincent Weiss – Vielleicht Irgendwann – Track by Track
The fifteen track album lasts 44 minutes.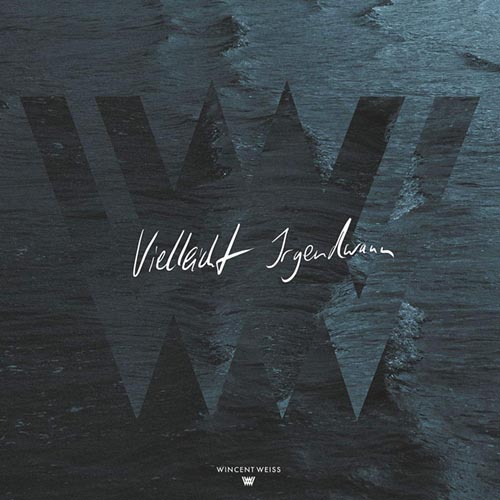 1. Weit weg
The album starts with a straight pop track. A song with a lot of emotional struggle.
Doch ich kann die Welt von oben sehen
Obwohl ich eigentlich am Boden bin
Wenn ich nur will, wenn ich nur will
bin ich weit, weit weg.
("But I can see world from above,
even though I am down on the ground
If I only want, if I only want
I am far, far away")
Really nice beginning of Vielleicht irgendwann.
2. Was die Menschen nicht wissen
The song is about people giving you advice and suggestions without really knowing you. The song is coming in a significantly softer mood than the song before. Nice listen.
3. Was habt ihr gedacht
Even though the song is only 1:49 minutes, it is one of the most intense of the album to me. A song about the loneliness and anonymous feeling being on tour, being exposed to public thoughts and hatred. Amazing finish – I decided not to tell it here. You have to listen to this one.
4. Wie es mal war
The fourth song is one of the single releases of the album. Again, Weiss is featuring sadness, depression, looking back to happier days. The song also references the times when he has been successful with happy music:
Ich will, dass es wird, wie es mal war
Ich zähl' die Minuten, bald 'n ganzes Jahr
Ich will, dass es wird, wie es mal war
Ich würd alles geben für ein'n einzigen Tag
Ich will, dass es wird, wie es mal war
Ich zähl' die Minuten, bald 'n ganzes Jahr
Will nur, dass es wird, wie es mal war
Ich würd alles geben
("I want that it gets back to how it is has been
I count the minutes, soon a full year
I want that it gets back to how it is has been
I would give all for a single day
I want that it gets back to how it is has been
I count the minutes, soon a full year
Just want that it gets back to how it has been
I would give all")
5. Jetzt nicht mehr
The song ("Now not any more") is about a broken relationship and the emotional struggle to get rid of the emotional connection. The song is angry, melancholic. A very modern sound with a lot of almost spoken word parts. Still not the most impressive song of the album to me.
6. Wer wenn nicht wir
The next three tracks have already been released as singles as well. After a lot of sadness, melancholy and depressions, this song is definitely spreading more happiness and optimism. Nice listen, but with all the sad songs, the song somehow feels weird at this position of the album.
7. Wo die Liebe hinfällt
If you think that Wo die Liebe hinfällt ("Where love is happening to occur" – literally: "Where the love falls") is a happy love song… I have to say I am sorry. The second line of the chorus is already Da lass ich sie liegen ("I just leave it where it is"). A song which struggles about finding love. A rather rocking song, which is also very catching.
8. Winter
In this most recent release, Weiss is asking Warum ist schon wieder Winter in mir? – "Why is there is winter inside me again?". Again, a very deep, personal, depressive song.
Seitdem ich alles hier erreicht hab'
Denkt jeder, ich bin nicht erreichbar
Und deshalb fühl' ich mich so einsam
("Since I succeeded in all this
Everybody thinks, you cannot connect to me
And this is why I feel so lonely")
The bridge at the end of the song is the most touching part of the song to me.
9. Nur wegen dir
This piano ballad is another sad love song. A song about not believing in new love after a relationship has not been successful.
10. Die guten Zeiten (feat. Johannes Oerding)
Die guten Zeiten, die sind jetzt // Ich hoff, dass Du es nie vergisst. ("The good times, they are now // I hope that you never forget"). This song with Johannes Oerding, who is just leading the season of the German TV music show Sing meinen Song, is a happy moment, an energetic song. Somehow, I struggle with that again. I was touched by the depressive mood of the songs before too much.
11. Was weißt denn du schon über mich
The song is asking "What are you finally knowing about me" – and it connects to some of the angry songs at the beginning of the album. It is a nice listen, but I have too say that it does not add a message to this album. Feels a bit like repeating the same message in a different style.
12. Wann
The song is about more and more separating yourself and finally being disconnected in a relationship. I like the dramatic and guitar-powered chorus, I do struggle with the verses in this song, though.
13. Vergiss mich
Breaking up and becoming isolated are the key topic of this album. Vergiss mich ("Forget me") is almost an aggressive shout to the former relation. A very authentic song, in which Wincent Weiss is taking (too much) responsibility. Somehow frightening, impressing – and one of the best songs of the album to me.
14. Wie gemalt
The second last song of the album is surprisingly powerful. A nice mood towards the end of this recording.
15. Vielleicht irgendwann
The title track closes the album. It is a somehow optimistic message – even though it is very undefined. The song is a lovely finish of the album, for sure.
Vielleicht irgendwann werd ich die beste Version von mir
Vielleicht irgendwann werd ich mal glücklich im jetzt und hier
Dann lauf ich nicht mehr vor allem davon
Was mich irgendwie halten kann
Und dann komm ich an
Vielleicht irgendwann, vielleicht irgendwann
("Maybe at some time, I will become the best version of myself
Maybe at some time, I will become happy in the now and then
Then I am no longer running away
from anything which can hold me
And then I arrived
Maybe at some time, maybe at some time")
Wincent Weiss – Vielleicht Irgendwann – Spotify
Here is my album on Spotify:
Wincent Weiss – Vielleicht Irgendwann – My View
Wow, that one is deep. Vielleicht Irgendwann is likely the most personal, definitely the mot intimate album by Wincent Weiss so far. There are some songs, which feel that the record company has pushed them into this set of rather sad and depressive songs. It is really hard to say that happy songs are bothering on an album – but I feel it is the case here. If you are not in a too sad mood currently, definitely give this one a listen. Well done.
Flyctory.com in Hamburg
Here are postings related to the German city of Hamburg:
Graphic Arts on Flyctory.com
Under the Graphic Arts tag, I sum up all kinds of paintings, graphics and prints: