After being seriously ill, Langhorne Slim feels to be back on track. After he has been publishing music regularly, fans had to wait quite a while for Strawberry Mansion, his seventh full length studio album. It will be released on 29th January 2021.
Langhorne Slim – About The Artist
The civil name of Langhorne Slim is Sean Scolnick. His artist name is related to his birthplace Langhorne, a Northeastern suburb of Philadelphia. Born on 20th August 1980, he is forty years old at the time of album release. He is an active musician since 1999, but is releasing solo music since 2004, when he did his debut, the album Electric Love Letter. His first EP has been Engine in 2006, followed by a self-titled album in 2008. A mental illness reduced his ability to write new songs, so that is previous studio album Lost at Last Vol. 1, has been released more than three years before Strawberry Mansion.
Langhorne Slim – Strawberry Mansion – Track by Track
The album includes 22 tracks. The last three ones are bonus tracks, the nineteenth songs is the demo track of For The Children. The total playtime is 51 minutes.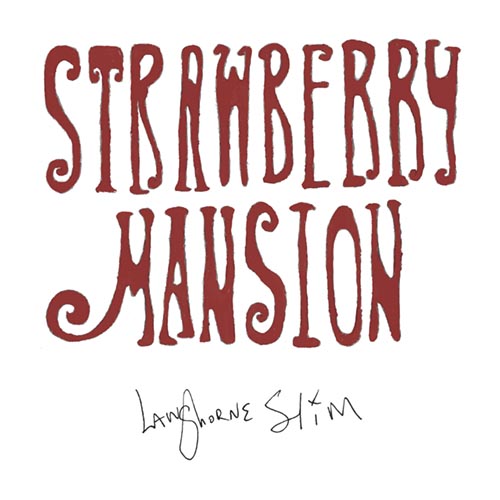 1. Mighty Soul
Soon we'll all know that we don't know nothing
And it's a new world to behold
A golden hour to stand for something
To find the power in your Mighty Soul
Mighty Soul is a good starter of the album: the less than two minute track is coming with good vocals, looking back to the Nashville tornado and Covid-19, which is simply referred to as First a tornado and then a plaque. Very compact, but good sound.
2. Dreams
The simply melody and the way Dreams is performed by Langhorne Slim makes me smile – it even feels a bit like a children song to me – but the message is more serious.
3. No Right Way
Morning rises soft and sweet
Before the world gets on its feet
As sure as the night is long
There ain't no right way to do wrong
While quite of lot of the first half has already been published ("The A-Side"), the second part of the album offers a lot of new songs. No Right Way is already known by the Langhorne Slim fans. The song is following a similar concept: brief tracks, which feel a bit too easy and simply, as they don't come with a too wide range of notes and atmospheres – but the more you get into the song, the more you enjoy the songwriting.
4. Lonesome Times
In a song which is just 1:53 minutes long (indeed, the shortest one…), Langhorne Slim even manages to have two major piano solo parts. Amazing. The song is about loneliness.
5. Alright To Hide
Alright To Hide has a strong traditional Western touch – you even somehow feel like riding through the area. A song which simply makes me smile.
6. Panic Attack
The Panic Attack is a song exactly about that topic: Langhorne Slim wrote this one in the middle of a panic attack – and he describing the situation with a lot of irony. You just have to enjoy and have a laugh – no matter how serious the song's topic is.
7. Sing My Song
Don't you worry about a thing
It all happens when nothing's happening
There's a quiet place where I can hear
And I'll sing my song when my song appears
A really lovely track again. Just enjoy to listen to the artist again and again.
8. Summer Days
This song, which is about enoying some lonely summer days, is a bit of slower than the songs before, majorly using string sounds. Good one, again.
9. House On Fire
House on fire, me and my baby on the lawn
Watch it burn to the ground
All we have is gone
House On Fire has a strong Rock'n'Roll touch with organ sound. Again, in a comparably short song (okay, with 2:52 minutes, it is rather long for a Strawberry Mansion song…), there are quite some stories and social critics in there.
Some folks don't believe nothin' till it's in the palm of their hand
Till their own house is on fire
Some folks will never understand
Great listen.
10. Morning Prayer
The epic one – the tenth song, the Morning Prayer, is the longest song on the album, lasting 3:03 minutes. The press kit to the album beautifully states that the song "is inspired by the songwriter's effort to the first time in his life". If I would do so, the result would definitely not be such a beautiful song. The song is having a break in the middle and it feels like an actual prayer even more from there.
11. Colors
Colors is connecting to Morning Prayer quite beautifully, as it is in fact a song thanking God for sending him the girl of my dreams. Cool one.
12. High-Class
The quick piano shuffles of High-Class sound a bit like a happy saloon dance. After two deeper tracks, time to enjoy Strawberry Mansion a bit.
13. Blood On Yer Lips
With organ and string sounds and a lot of speed, the melody of Blood On Yer Lips is one of my favorites. Great listen.
14. Strawberry Mansion
Strawberry Mansion, which title is referring to Langhorne Slim's home town area, is one of the many surprises the artist gives you while listening to these new songs: the title track is in fact an instrumental.
15. The Mansion
The Mansion nearly has a psychedelic atmosphere to me. This makes it one of the most special songs of the album, indeed.
16. Last One Standing
Last One Standing keeps the deep and depressive feeling to me. The sounds in the middle of the song even have a touch of madness.
17. Something Higher
Take my hands out of my pockets
On my feet there's walking shoes
Once it starts, you cannot stop it
We will no longer be born to loose.
Lovely to have a very positive message again after some rather sad songs. The melody is cheering me up as well.
18. Red Bird
The "ordinary" part of the album closes witits shortest song – Red Bird is just 1:33 minutes. Nice traditional sound, quickly played and sung – I wonder that there is still a bridge and a short acoustic guitar solo in this one. Magical.
19. For The Children (demo)
The shortest track on the whole album is this demo song, which is really just an aired recording. Nice one.
20. Nowhere To Go (bonus track)
The quick and melodic Nowhere To Go is another really interesting and good listen track. Nice start of the bonus track section.
21. Change Of Plans (bonus track)
While I enjoyed Nowhere To Go and enjoyed to listen to its story, Change Of Plans does not really go for my highest rating. But hey, it is a bonus, just take it as a present.
22. Long Journey (bonus track)
And it's a long journey home
I just can't make it all alone.
I feel this song about friendship, people who accompany you, is a lovely closing song of the album.
Langhorne Slim – Strawberry Mansion – Spotify
Here is Langhorne Slim's Strawberry Mansion on Spotify:
Langhorne Slim – Strawberry Mansion – My View
I love epic tracks. I now it is not too mainstream, but for example in metal albums, I just enjoy to listen to songs which are five, six, seven or more minutes long. From that perspective, Langhorne Slim and his Strawberry Mansion is definitely not too favorable to me – some of the songs are even that short that they would not be played in mainstream radio.
But finally, that's not critics to the album – Langhorne Slim has in fact created a lovely long player with short stories. I like the intimacy, the honesty – but also the irony in the songs. I enjoy the way the songs are arranged, especially in that very compact time frame the songwriter is allowing his stories to last. This is impressive and entertaining – and not bad at all!
Flyctory.com in Philadelphia
Here are all my postings about Philadelphia:
Amusement Parks – More Postings
Here are all postings about Amusement Parks: