If you think about Dutch country music, you definitely think about Ilse DeLange. Of course, if you follow my blog, you have also run into the music of Sylvia Aimee. The more, I am glad that in this episode of my Spotlight interview section, I have met another promising Dutch artist, Angie Flare. Angie is about to release her EP With The Car Running, which is roughly expected to be published in April 2022. Talking to her, we looked forward to her new big release, but also to her career so far. A really interesting chat again in my point of view.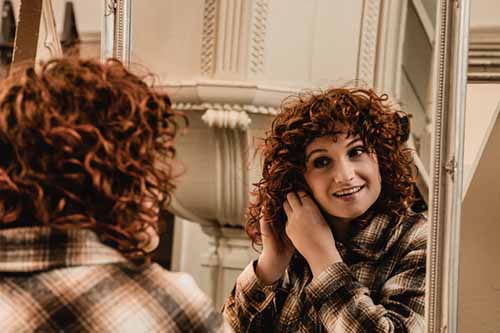 Flyctory.com meets Angie Flare
FLYC: Angie Flare, thanks for joining Flyctory.com. Your civil name is Inge, your artist name is Angie Flare. What is the reason behind your artist name?
Angie Flare: My full name is very long and very Dutch (haha). Because I make English music for an international audience I decided to release under an artist name. Angie has always been my 'international' nickname to use abroad, because Inge is hard to pronounce. And it's a very similar name. But I had to add another word to my artist name to be easier to find and stuff like that. So I decided to choose a word that fits the story I want to tell: Great things come in small packages. "Flare" is a widening in shape but also a sudden bright light, so it was the perfect match.
FLYC: How did you get into making music?
Angie Flare: Making music has always been self-evident in my family. My granddad was a professional musician and a lot of other family members are musical. There was always someone singing and/or playing the piano when we were together. So as a little girl I was always singing in the stroller, on the bike..everywhere. It was as natural to me as breathing. From the age of 7 I was determined to become a (professional) singer.
FLYC: Did you always feel like doing country music?
Angie Flare: No, it's definitely been a quest. The first time I fell in love with country music was when I was about 10 years old when my dad gave me the album of Dutch country singer Ilse DeLange. I listened to it over and over again and still know it by heart. But for years I wanted to be able to sing every musical style. So I studied pop, rock, musical theater even classical. I sang in different cover bands and performed a lot all over the country on parties, weddings, little festivals etc. but it started bothering me that I was singing these same old party songs over and over again.
Then I discovered writing my own songs, so I can tell my own story and have an impact. But I had to search for my own sound and voice in these songs. And then I stumbled upon my love for country music again thanks to the Nashville series on Netflix. I fell in love and even decided to visit the city twice with my boyfriend. I felt so much at home there that I knew immediately that the Nashville sound and songwriting style was what I believed in and wanted to do.
FLYC: Since the late 1990's, the Netherlands has a dominating country music artist, Ilse DeLange, who practically turned all her records into platinum ones domestically. Does that make it easier for you to publish country music in the Netherlands?
Angie Flare: No, it's actually hard to release country music in the Netherlands, it's a small market and I think it's growing fast at the moment but it doesn't get any support on nationale radio and television. So it's still hard to reach that growing audience. Even Ilse DeLange switched to making pop music (haha). So I think it's important to widen your horizon and look at international audiences as well. As Ilse also does.
FLYC: Is Ilse somehow an idol for most Dutch country music artists?
Angie Flare: Yes, she definitely is. I think, like me, she introduced a lot of Dutch people to "modern" country music and ignited their love for country music.
FLYC: In 2020, you released your first EP, Footprints in the Sand. Would you see that as your first major step in your artist career?
Angie Flare: Definitely, as the EP title says, these were my first musical footprints. However, shortly after releasing my EP the world shut down due to Covid so I didn't really get the chance to play live and promote the EP. That was the intention with this EP, to build a live reputation with my band. But still, it definitely was a kick-off for my musical career.
FLYC: Two of the songs of Footprints in the Sand got quite some reputation, the title track and "Home". What are these songs about?
Angie Flare: Home actually has two layers, it's about my relationship and the fact that wherever we are I always feel safe and comfortable when I'm with him. Second, it's about the way I fell in love with Nashville. It's so special that you can feel at home in a place you've never been before just because you're surrounded by music you love and great musicians.
Footprints in the Sand is about the urge to leave a legacy, asking myself the question: what will I leave behind when I'm not here anymore?
FLYC: Social media and streaming allows you to spread your music globally. Is it nonetheless to make fans and followers outside the Netherlands, especially under Covid-19 circumstances?
Angie Flare: Social media and online definitely has a lot of opportunities to connect with a global audience, and Covid was a chance to explore that. So I did a lot. But it also showed me even more that nothing compares to live to make a connection with followers/fans. Playing live, traveling, meeting people has so much more impact and of course makes me so much happier. So as the restrictions are lifted more and more I feel now like I finally really can take off with my music.
FLYC: I read that two years before you released that EP, you in fact visited Nashville for the first time. How was that like for you? What does the city mean to you?
Angie Flare: It was love at first sight with Nashville. I felt more seen than at home and everything (like the best musicians, artists, songwriters of the world) was within reach. This city totally resembles everything I believe in: great music and songwriting craftsmanship, a strong community, the urge to keep chasing dreams and recognition for every musician, big or small.
FLYC: Footprints in the Sands also praises the big Nashville artists and their music. What are your favorite country artists?
Angie Flare: Carrie Underwood and Luke Combs were the biggest influences for my EP. I love the 'rocky/ masculine' vibe of Carrie Underwood's music but it's a shame she doesn't co-write her songs. I also love Dolly Parton as a person, her story and self-deprecating jokes are an inspiration. Of course there's more artists I like (with songs so good I can only dream of to ever write like that) but these are the most common for me.
FLYC: Your first 2021 single was Marry Myself. What is that song about?
Angie Flare: Not long before Covid I had a lot of trouble being alone at home. My boyfriend is also a musician and was on the road a lot. I had a hard time being by myself like I always needed confirmation that I matter. Covid lockdown made it even worse because I didn't have anything fun to go to (run away to). But I hate being miserable so worked on it and I learned to be more kind to myself and to do fun things alone, with myself. And that was a big (and fun) eye opener for me. So I wrote 'Marry Myself' to share this experience, an ode to self-love.
FLYC: In November, you released With The Car Running. The song is a very powerful country-rock track. What is the story about?
Angie Flare: I decided to make the most out of the extra time Covid gave me so I planned different co-writes to write new songs and meet new people. With the Car Running was written during one of those co-writes with Adrian. He had some ideas he shared and one of them was the line I'm halfway out the door with the car running in the background. That sentence touched me in the context of the self-love journey I was in as described above. I immediately loved the power and independence of that sentence and within an hour we had a full song.
FLYC: With The Car Running will also be the title track of your new EP. What can you tell us already about this release?
Angie Flare: As we speak we're putting the finishing touches to the tracks and the artwork of the EP. There'll be five songs and all together they tell my story of finding self-love, taking independence, choosing my own path and following my dreams. The style is modern country that leans mostly to rock but sometimes to the pop side. It'll be released around April 2022. I organized a crowdfunding to fund this EP so the funders will receive the EP before the official release.
FLYC: You are originally from Southern Netherlands. How is the feedback about your music in the Netherlands – and in neighboring countries like Germany or Belgium?
Angie Flare: The feedback in the Netherlands is great, I'm really happy with that. People like the way my music is produced and the total package of the photos, videos etc. I'm happy with that, 'cause I do put a lot of effort in that. Every detail has to be right. Still, the commercial radio stations are hesitant to play this genre in our country. I'm just starting out with having some support abroad, and I really wanna expand that.
FLYC: The Netherlands have a quite talented and high quality country scene. We talked about your music, there is DeLange, Sylvia Aimee. What does it need that Dutch country is profiting more from that internationally?
Angie Flare: I think 'community' is the keyword. The Dutch country scene has to be more connected, so together we can have more impact in our own country ánd in other countries. We made a good start with a few singer-songwriter friends (also Sylvia by chance) and we're really trying to spread this Nashville community feeling. Hopefully it helps to grow our fanbase altogether.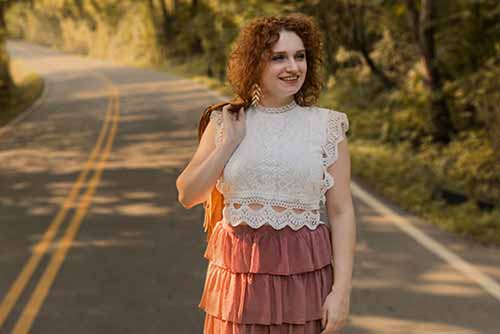 FLYC: After the EP release, what are your future plans for 2022?
Angie Flare: My main goal is to tour with my band. For instance, start as an support act for a bigger country artist in Europe, Scandinavia and/or England. And it would be awesome to tour the States one day. The combination of traveling ánd making music would be a dream come true.
FLYC: Last, but not least, if you could opt to sing a duet with any country music star – which song and which artist would that be?
Angie Flare: Definitely Carrie Underwood, oh my, I'm afraid she would blow me away with her vocal skills but I'll try haha 🙂 The song? 'Church Bells' is my favorite.
All pictures: Artist material
Follow Angie Flare Online
Everything about the Netherlands
Here are all postings related to the Netherlands:
Country Music Interviews on Flyctory.com
Here are all country music related postings in my Spotlight interview section: