Ozarker is already the seventh studio album of the US-American musician Israel Nash. I already liked the predecessor Topaz, so that it felt to be an easy choice to present this album to you as well. Publication date for Nash's album has been 20th October 2023.
Israel Nash – About The Artist
Israel Nash really kicked off his career when he moved to New York City in 2006. In 2009, the 1981-born artist independently released his debut album New York Town. After releasing his second record, he moved to Texas and established in the music scene there. His 2021 album Topaz (you will find more bio in that review) had great reviews. American Songwriter put his album on the fourth spot of their year-end list, the Scandinavian Gaffa magazine even did one notch better.
Israel Nash – Ozarker – Track by Track
The ten track album lasts 46 minutes.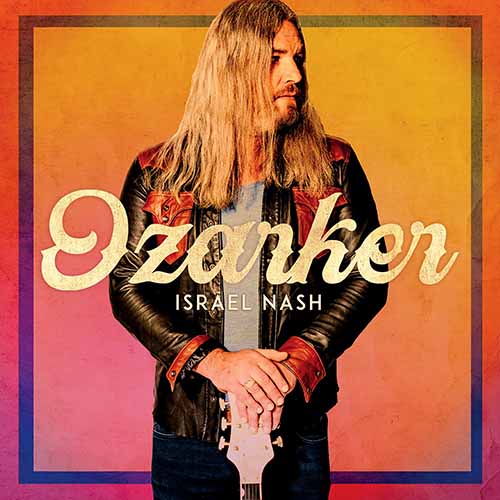 1. Can't Stop
Can't Stop, keep spinning these wheels
Come closer and I'll show you how it feels
It's all been a bit too real
I Can't Stop, keep spinning these wheels
The album starts with a real comfort zone. Can't stop is a great song for home listeners as well as on stage. You listen to it, you enjoy it, it catches you and makes you happy. Simply a good rock song.
2. Roman Candle
The first three songs of the album have already been released as singles. Compared to the opener, Roman Candle is a bit calmer, but by that also more narrative. Lovely lyrics in the chorus, by the way:
I will shine I'm a Roman Candle in the night
Burning bright a flash of light before your eyes
Burning bright, that's right, all night
Out of sight, burning bright
3. Ozarker
Stories from home from the Ozark Hills in rural Missouri, are the key elements of this album. And of course, they are a key element of the title track. The emotional side of Ozarker are maybe a bit too kitschy – especially when the soft Shalalalala is sung by the choir in the chorus.
4. Pieces
Nash is looking at the broken Pieces of an unfortunately ending relationship in this one. The fourth song comes with rather strong country music elements. Overall, the song is driven by strumming guitar and very emotional and intense vocal performance by Israel Nash
5. Going Back
After these rather slow, emotional and sometimes also melancholic musical moments, already the first piano sounds spread more vital and uplifting mood. The story behind this song is, however, the Newton Gang, who committed one of the largest series of bank robberies of US-American history in the 1930's. The song comes with excellent storytelling – and the energetic parts of the song are accompanied by rather thoughtful and struggling episodes. Great song.
6. Firedance
The Firedance is a great song to start closing your party on a long summer day. The chorus is a lovely sing-a-long. Not a deep story, but simply a good listen, which has nice leading piano and guitar passages.
7. Lost In America
It was God and country, cash in hand
For a one-way ticket off to them far east blowing sands
I won't forgive and I can't forget
All that I saw and those things that I did
In Lost in America, Israel Nash illustrates the mental struggle of people who served for the community. The key person in this song is a Vietnam War veteran. The song is finally one of the most impressing and touching recordings on this album.
8. Midnight Hour
The drums are comparably present in the eighth song, Midnight Hour. Israel Nash records a straight, good listen. After Lost in America, though, the track struggles a bit leaving a sustainable mark in the mind of the listener. Not a bad song, but just a too strong predecessor.
9. Travel On
I really like this ninth one. It reminds me of the opener, as Travel On is one of these songs which feel to be just right from the very beginning. It comes with a really nice hook as well.
10. Shadowland
The Shadowland is closing the musical journey of Ozarker. The vibe of the song nicely suits to Travel On.
We came with nothing but the clothes on our backs
And if you need a back hand you don't have to ask
In Shadowland
Thereby, Shadowland reminds of the rather dark and more challenging areas in rural Missouri. The sound of the song is rougher as well. But it is defintiely a very catching listen.
Israel Nash – Ozarker – Spotify
Here is Ozarker on Spotify:
Israel Nash – Ozarker – My View
Israel Nash does straight recordings – and is an excellent storyteller. I especially love the way he is describing mental and social struggle. Ozarker is so relatable, so honest, so true. And it is so beautiful. Very nicely done one.
Favorite Song: Shadowland
2023 USA Rock Music Reviews
Here are all my Media Reviews published in 2023 related to the USA and rock music:
Free Entry Places – 2023
Here are all places with free admission I reviewed in 2023: