The Backstreet Boys sing for Santa – on 14th October 2022, the massively successful male combo releases their very first Christmas album. I have been too curious and went for a review of A Very Backstreet Christmas. 
Backstreet Boys – About The Artists
The Backstreet Boys are a US-American quintet. AJ McLean, Howie Dorough, Nick Carter and Brian Littrell are part of the band since the beginning in 1993, Kevin Richardson had a hiaturs from 2006 to 2012 (with scattered performances). The roots of the band are in Orlando, but in fact, the band has been set up by record producer Louis Jay Lou Pearlman, who later also formed NSYNC. Pearlman died in federal custody in 2016. Already the boy band's self-titled debut album sold over ten million units globally. The band was successful in practically all parts of the world. While the first albums were all very successful, the sixth release Unbreakable (2007) showed reduced success for the first time.
In 2019, the Backstreet Boys released their latest album so far, DNA. The album came back with very successful chart placements. A Very Backstreet Christmas is the band's tenth studio album overall, and the first one dealing with the holiday season.
Backstreet Boys – A Very Backstreet Christmas – Track by Track
The thirteen song album lasts 44 minutes.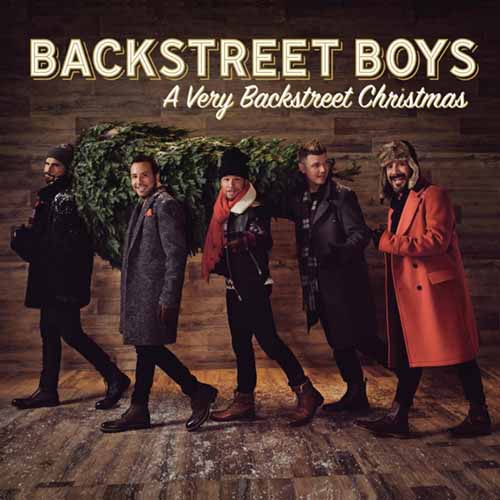 1. White Christmas
The first track of the album sets the direction of the album already: the Backstreet Boys go for the festive classics. There is a bit of soul and groove in their White Christmas interpretation. The a capella style background vocals feel very soppy. Just like the type of song you can only stand in that time of year.
2. The Christmas Song
Nat King Cole made this one famous, when he released it for the first time in 1946. Obviously, he liked this one (or it cashed in well) – as this artist only had four versions of it only. The style of The Christmas Song in the 2022 Backstreet Boys is quite in line with the opening. Maybe this one is a bit less of kitsch than the first song.
3. Winter Wonderland
Flipping fingers as the key rhythmic element lead to a very "homemade" atmosphere. Nice vocal work, overall this one is one of my favorite interpretations on this album – unfortunately, it is just a 1:40 minute listen.
4. Have Yourself A Merry Little Christmas
If you did not have sufficient warmth, kitsch and romance so far – this one will be your favorite. For me, it is just by far too much – but it is rather a matter of Christmas music taste than rating the musical quality of this recording.
5. Last Christmas
How could this Wham song be not included in the Backstreet Boys x-mas songlist. After the very emotional and cozy songs before, they rather surprise with a rather rhythmic and pop-ish recording. I feel the fifth track on this album rather sounds like an average remix of the original than a version having the signature of one of the most successful boy bands of all times.
6. O Holy Night
O Holy Nights connects in style to Have Yourself A Merry Little Christmas. Thus, it even more leads to a feeling that the Last Christmas cover is some sort of alien element on this album.
7. This Christmas
Kitsch, pop, kitsch,…. This Christmas, Backstreet Boys style. The song originally written by Donny Hathaway comes in here comes with a bit of R&B, a touch of swing and a lot of pop ease. One of the most entertaining listens to me.
8. Same Old Lang Syne
The original of this song has been released in 1980 by Dan Fogelberg. Some parts of the song remind by quite strongly of former Backstreet Boys ballads – so I guess that fans will love it.
9. Silent Night
The 2:43 minutes duration of the ninth track belong to one of the big holiday classics. Some parts have a bit of a canon style, but overall, this one feels like recorded right under the Christmas tree… With five quite talented vocalists.
10. I'll Be Home for Christmas
I like this version of I'll Be Home For Christmas, as it is giving a very individual and special style to the Christmas classic. Another nice showcase of the vocal strength of AJ, Howie, Nick, Brian and Kevin.
11. Christmas in New York
Christmas in New York is a nice song with a beautiful Backstreet Boys signature. String, five vocalists and the swinging sound of the track make the Santa-meter feel to burst this year, though.
12. Together
Together presents a Christmas pop song with a good dancing vibe. Traditional Backstreet Boys sound for the most special time of year.
13. Happy Days
The closing song links to its predecessor. Christmas at the Backstreet Boys starts cozy and kitschy, but finally, there is dancing, a good beat and a party.
Backstreet Boys – A Very Backstreet Christmas – Spotify
Here is the album on Spotify:
Backstreet Boys – A Very Backstreet Christmas – My View
The last songs of the album please me a bit more. The album as such is a nice one and gives a nice focus on the outstanding vocal qualities of the five not-that-young-any-more boys. However, A Very Backstreet Christmas feels a bit of ordinary and random to me in this part. Finally, the album is a nice choice if you really need another one in your CD collection or playlists.
Flyctory.com about Christmas
Here are all Flyctory.com postings which deal with Christmas in any way:
(Greater) Orlando – Postings
Orlando is much more than Disney – here are all postings about the Entertainment Wonderland: