Tom Astor is likely the most important living artist of the German country music scene. In 2023, he did not only have his 80th birthday, but is also on stage since 60 years. On 14th July 2023, there are two important events. First of all, he is having one of his biggest shows of the year at the Truck Grand Prix at the Nürburgring. And then, there is a new album, simply called Wieder da! ("Back again"), his first release since the 2018 Gegen den Strom. I had a listen.
Tom Astor – About the Artist
Tom Astor was born on 27th February 1943 in Schmallenberg in the Sauerland region in Germany. Tom Astor is an artist name – there are funnily several theories about his civil first name. Depending on the source, his civil name is Will, Willi or Wilhelm Bräutigam. Astor is active as a musician since the age of 20. He became famous as a country musician. As such, he is one of the few German-singing acts who played festival shows in Nashville as well as in the Grand Ole Opry. He wrote music with country stars like Johnny Cash or Dolly Parton. In recent years, his music leaned more towards blends of country and schlager music. During his career, he released roughly 40 albums.
Tom Astor – Wieder da! – Track by Track
The twelve song album lasts 40 minutes.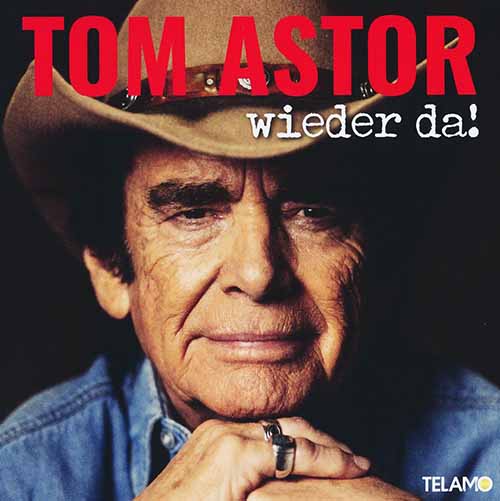 1. Wir sind wieder da
Wir sind wieder da – "We are back again" is the opener Astor's 2023 album. The song comes with a touch of rock music and a nice sway. Overall, the 2:35 minute listen has a positive attitude and is not really complex, so that it works perfectly as a sing-a-long track. Indeed, this version of the song feels a bit like a live recording, especially towards its end.
2. Unsere Zeit
Unsere Zeit ist noch nicht vorbei ("Our time is not over yet") feels like the perfect follow-up to the message of the opener. The song is looking back to life, full of positive messages and thoughts. A very thankful song with a nice country music heart.
3. Gefühle
The third song's title is already telling it – this one is about "Feelings". The song is a typical schlager song with some country vibes, as Astor wrote quite a few ones during the last two decade. The calm voice of Tom Astor turns this song into a really nice listen, though.
4. Lass den Kopf nicht hängen
Lass Dich den Kopf nicht hängen is an idiom roughly stating something like "Don't be sad". While the the song starts rather slow and mousy, the chorus is energetic and comes with a typical saloon-country vibe. The piano is taking the melodic lead, together with the guitar. Very energizing listen.
5. Rastplatz
German country artists like Astor, Truck Stop or Gunter Gabriel wrote a lot of trucker country songsin the last. Rastplatz ("Rest Area") is in line with this "tradition". The song is lamenting on all the stress and pressure you typically have nowadays – not only as a trucker.
Ich such' 'nen Rastplatz
Für Gestresste
Ohne Netz und High Tech-Kram
Nette Typen, die gut drauf sind
Und viel Spaß am Leben haben.
("I am looking for a rest area
For stressed ones
Without mobile network and high tech stuff
Nice guys, who are in a good mood
And have a lot of fun in life")
6. Sie war da
The sixth song is rather heading towards Texas / Southern country vibes. The slow song is about falling in love with a roadside assistance lady. A bit of kitschy and schlager-alike, but nicely told by the German music legend.
7. Wer die Freiheit aufgibt
Wieder da! is indeed presenting a wide range of song. After the quiet Sie war da, the seventh song is a rocking, melodic country song. Thereby, the song is urging not to give up freedom. A very social-critic album with a clear message. Nice one.
8. 36 Stunden
36 Stunden (36 hours) is another trucker country song. Not only due to that, the song somehow connects to Rastplatz – the song is criticizing all the pressure and workload on professional drivers. The sound of the track is more aggressive than the one of the fifth song – there is also a nice blending of rock'n'roll in 36 Stunden. Your boots will move to the rhythm while listening to this one, I promise.
9. Der verlorene Sommer
Der verlorene Sommer ("The lost summer") is looking back to the Covid-19 pandemic. Astor states Es war Sommer, doch er war nicht wirklich da – "It's been sommer, which has not been really there". A melancholic song driven by typical country music instruments, which is not accusing somebody, but just focusing on the missed feelings. This turns Der verlorene Sommer into a very special listen on this album.
10. Cadillacs und Rock'n'Roll
I guess I don't have to translate the song title. After the melancholic musical reprise of 2020, this song is a country-rock party song, which is looking back to Tom Astor's earlier days in the 1950's. A beautiful praise of this decade – which is also looking back to a love story.
Cadillacs und Rock'n'Roll
Music Stars wurden zu Idolen
Für uns spielten sie die Musik,
die wir so liebten
("Cadillacs and rock'n'roll
Music stars becam idols
For us, they played the music
Which we loved so much")
11. Wer den Regenbogen seh'n will
This song could also be a Truck Stop recording. A bit of schlager, some trucker vibes and a bit of country leads to a song like Wer den Regenbogen seh'n will – "Who wants to see the rainbow". The song is about that there are good times after bad times as well.
12. Wenn du lachst
I enjoy the focus on the dignified voice of Tom Astor in this final song, which is another "take it easy" message on this album. Nice fade-out of a wide range of sounds and topics.
Tom Astor – Wieder da! – Spotify
Here is Wieder da! on Spotify:
Tom Astor – Wieder da! – My View
Wieder da! is much better than I expected. Tom Astor presents a wide range of coutnry songs. Some are rocking, some are thoughtful, some are kitschy and feel schlager-alike. Overall, it is a lovely blend of a wide range of German country songs. I love it.
German Country Music Reviews
Here are all my Media Reviews, related to Germany and to Country Music:
Car Rental Reviews
Here are all my car rental reviews so far: