It is definitely no lie to call Andy Bell and Vince Clarke musical legends. The electro pop duo, which is active since the mid-1980's, wrote multiple hits and especially were huge in their genre int their early years. They are still producing music and fascinate their worldwide fan base on and off stage. Their latest album, The Neon, has been released on 21st August 2020.
Erasure – About The Artists
Andy Bell and Vince Clarke, who formed Erasure in 1985, have been a huge part of the British music history. For example, between 1986 and 2007, 24 consecutive singles made it to the Top 40 of the British charts. However, the beginning were rather tough when Vince Clark, who has been successful alongside Alison Moyet as Yazoo, and Andy Bell teamed up in London the mid-1980's. After some rather commercial failures, they had their breakthrough in 1986: Oh L'amour already made it to notable chart rankings in Australia, France, Germany and Sweden, while Sometimes placed second in their home country and went big in many other markets. This also lead to the corresponding album, The Circus being Top 10 in the UK and Switzerland.
The later 1980's and early 1990's were huge for Erasure, having four albums in a row on top of the British charts. A huge international success was their tribute to ABBA, the 1992 EP Abba-esque, which featured four songs of the Swedish quartet. Even though the commercial success was slowly fading on the singles side, the band was still quite successful in studio albums. Their latest release, World Be Gone (2017) made it sixth in the UK. The Neon is the band's eighteenth studio album.
Erasure – The Neon – Track by Track
The Neon lasts ten tracks and takes 37 minutes.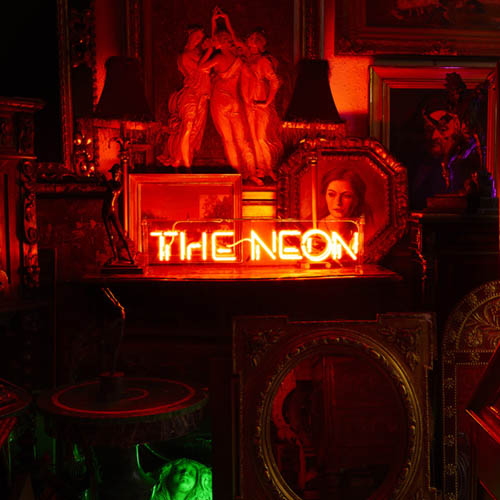 1. Hey Now (Think I Got a Feeling)
Walk through the city singin' hallelujah
Wish for a lover's touch
Wore out the mirror, but it can see right through me
I gotta get the look
Head for the city, feelin' kinda lonely
I gotta play the part
Destroyed all the rumors with a stick of war paint
(Hey now, hey now, think I got a feelin')
Though electronic pop is not my favorite genre at all, I love Hey Now (Think I Got A Feeling) since I listened to the single the first time. Ain't that 100 per cent Erasure sound? Ain't that feel like in the 1980's, just with a slightly more modern touch? I love it!
2. Nerves of Steel
Nerves of Steel simply connects to the sound of the first track. However, it is a bit duller, slower, less part-alike. Not as good as its predecessor.
3. Fallen Angel
Fallen Angel just gets me. I love the melodic (and very catchy and present) chorus. Great listen!
4. No Point in Tripping
No Point in Tripping is stronger with a strong of anger, especially towards the beginning of the track.
Baby, come on, you're the one I need
Baby hang on, you make me believe
The more I listen to The Neon, the more I believe in Erasure.
5. Shot A Satellite
Shot A Satellite has been the second single out of The Neon album. Again, the melodic style of the chorus just makes you enjoy. It is Erasure. It is the same power for 35 years.
6. Tower of Love
Tower of Love is slower, less rhythmic than most of the tracks before. Thus, it also feels very vocal-centric. Something like "Erasure does electric ballads"? The label is up to you – but these guys really give an impressive sound to their fans.
7. Diamond Lies
Strong track! I love the light and easy chorus. The music is sometimes even a bit of scary and creates a lot of atmopshere.
8. New Horizons
Did I write something about "electric ballads" before? Andy Bell and Vince Clark can do it very classic as well. Piano, voice. Yeah, there are some electric sounds in the background as well. But this one is special on The Neon – and it is outstanding!
9. Careful What I Try to Do
Careful what I try to do
I'm a cynic, yeah, but I would die for you
You said it by the feel upon your face
I'm never gonna call out what you say
I look shattered by the book
You never were defeated by a fool
Where each other beat about the place
All we gotta do is seize the day
While some of the songs before took me until the first chorus or at least some verses before they really got me, Careful What I Try To Do does it from the very beginning. Really love to listen to this one.
10. Kid You're Not Alone
The album finishes with the very slow, but also very melodic Kid You're Not Alone. Lovely finish – great to close your eyes and dream away.
Erasure – The Neon – Spotify
Here is the Spotify link to The Neon:

Erasure – The Neon – My View
There may be quite some kids around who might think that WTF thing when they would listen to this album. I just cannot tell you how big that "Memories of my youth years" factor in The Neon is. I am 41 years old, grew up with the music with Erasure from their very beginning, lost them a bit in the late 1990's, but never lost their memories. The Neon definitely links to these memories, it is signature Erasure sound – and it is good. By that, it feels like a perfect distraction – 37 minutes traveling. A time travel to the Erasure years – and a long-distance travel to the Erasure world. I love that Andy and Vince take me on that trip!
Postings about London
Here are all postings related to the UK Capital:
Pop Music Reviews on Flyctory.com
Here are all Media Reviews of the Pop Music: