On 8th March 2019, just when the Country 2 Country festival in London was about to start, Maren Morris released her second album, GIRL. Many magazines did a Day 1 review – I pushed this posting to after Europe's largest country music festival. Here are my thoughts on the album. In May 2019, I saw GIRL live on stage in Amsterdam.
Maren Morris – About the Artist
The 1990-born Maren Morris is a typical product of the Texas country music powerhouse. Born in Arlington (Dallas / Fort Worth metropolitan area), Texas, she already started releasing music at the age of 15. It took her ten more years to have limited success with a self-released EP.
2016 Morris released the album Hero, which changed her live. My Church became a country radio classic, the other singles 80s Mercedes, Rich and I could use a Love Song lead to considerable success as well. Among a huge list of awards and nominations, Morris was a four-time Grammy nominee in 2017 and won the "Best Country Solo Performance" category.
Maren Morris – GIRL – Track by Track
The album has 14 tracks with a total duration of 47:00 minutes.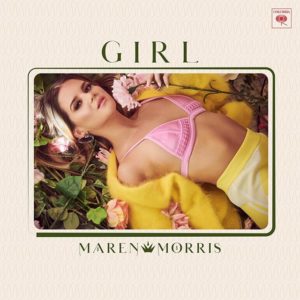 1. GIRL
This swinging, classic Maren Morris track just touches you and gives a great start into the album.
2. The Feels
The Feels is my favorite track on the album. The sound reminds me of a summer party song. It shows how versatile country music – and Maren Morris – are. I feel a touch of reggae in this one and want to book my summer vacation… Oh, I am going to the CMA Fest – and Maren will be there as well. Will love this song at Nissan Stadium, Nashville, Tennessee, definitely!
3. All My Favorite People (feat. Brothers Osborne)
This track sounds like classic country – with a lot of Southern Rock. Brothers Osborne give this one a great touch. The lyrics are about sharing the same lifestyle in the industry, quite a nice country music anthem.
4. A Song for Everything
A song about songs. I typically love it (For example, I selected Catheine McGrath's "Lost in the Middle" as my favorite song 2018). Like this one as well.
One danced you through love
One rocked you through lonely
Mixtaped your heartbreak
And made you feel holy
For the hits and the misses
For the fire and rain
Close your eyes and listen
'Cause there's a song for everything
There's a song for everything
5. Common (feat. Brandi Carlile)
For this one, Maren partnered with Brandi Carlile, who recently won two Grammies. Nice country track, which has quite a touch of pop music.
6. Flavor
A song about taking your own decision and doing things your way. Sounds like a classic Maren Morris track to me.
7. Make out with Me
I love the beginning of this track:
This is the end of side one of this record
Please turn over to the second side
After this, Make out with Me a is a love song about missing the one you love.
8. Gold Love
Gold Love is a perfect example, how modern country music may come very close to other genres. Here it is just a good pop song, with a bit of summer vibes. But still, you feel the country elements in it. Very interesting musical fusion kitchen.
9. Great Ones
While the verses of this track sometimes feel like a speech song, the chorus is really nice and melodic. The repetitive But the great ones, the great ones do make it catchy. I do like that track definitely, though at its beginning I rather feel like looking for the forward button.
10. RSVP
Especially the chorus of RSVP sounds like Soul, like Black music and gives another touch to the long-player. The lyrics? Quite obvious, I would say…
RSVP
Bring your love to me, yeah
It's an open invitation
To an all-night situation
If I'm where you wanna be
11. To Hell & Back
Especially at the beginning and during the chorus, the track is even a bit mystic. There is a nice melody in it, which becomes more and more strong during the run-off of To Hell & Back. On the other hand, the first two associations I had about this song were a lullaby and supermarket music. Somehow nice, feels got, but does not disturb you in what you are doing. I want to be disturbed by music though, it shall catch me.
12. The Bones
When I look into the user ratings by song on Amazon, The Bones is one of the top tracks of the album. Maybe one reason is that it is one of the tracks which you would least identify as country music (similar to Common, which is rated quite high as well). The track feels "too soft" to me, though, also a bit too pop-alike. Makes me feel sleepy. Not my favorite.
13. Good Woman
This track is much more country, but a die-hard ballad as well. Not too bad, definitely… But I miss a strong character here. The song does not feel like Maren Morris to me.
14. Shade
Shade starts very slowly – it takes some 90 seconds before the song is having more guitars and more power. Then, Morris even gives us some elements of soul music in this finale. I like the last minute of this less-than-three minute track – but it feels too thin to me to like the whole track.
Maren Morris – GIRL – My View
I feel the review of GIRL was the toughest I had so far with flyctory.com. I loved Maren Morris' first album Hero, there were so many great and powerful tracks on it. GIRL does not have any song which is close to My Church, Sugar or 80s Mercedes. It is not at all a bad album, but on the other hand I asked myself why I should buy it. The title track is nice and I am really curious if The Feels may really become a summer party hit. Nevertheless, I feel that Maren Morris took the wrong way when she gave GIRL that very different character. I just love her as this powerful, cheeky and rocking country girl.
Maren Morris – GIRL – Amazon.de Links
If you want to purchase the album physically or digital, you can do so via the following Amazon.de links:
Flyctory.com about Country Music
Here are all Country Music-related postings on Flyctory.com: