On 10th February 2023, I ran into the single release All my Songs by the German duo Mael & Jonas (in fact, Mael comes with a diaeresis / trema) in my Songs of the Week. I loved the song and looked forward to have a deeper listen into their debut album, which has been released on 10th March 2023. Here is my review of Rocket Science.
Mael & Jonas – About the Artists
Mael & Jonas are a duo from Koblenz in the Rheinland in Germany. Jonas started performing songs. As they fit will together and Jonas felt very nervous before gigs, Mael supported him and they became a duo. They became famous in Germany when they competed in the 2020 edition of The Voice of Germany. In this tenth season, they finished third. They said that they defined a sound they feel comfortable with the year thereafter. Jonas, for example names Machine Gun Kelly as one of their idols during that process.
Mael & Jonas – Rocket Science – Track by Track
The twelve track song lasts 38 minutes.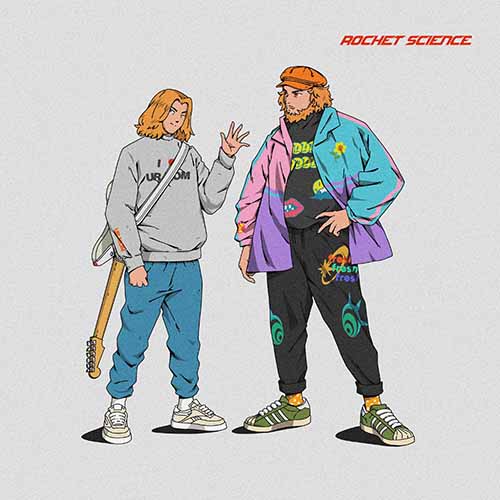 1. All my songs
A touch of rock, a bit of rap, the straight sound of a punk song… That's the sound which made me love these two guys… Why should I think differently one month after I ran into this track? Very nice one!
2. She's half Croatian
Oh up and out just go
To the point we lose control
I feel like we both know
It's a one week thing
Oh met on vacation oh
She's half croatian so
I feel like we both know
It's a one week thing
It's a one week thing
A song about a summer love. To me, this one is one of the best tracks of the album. Again, the song has the energy of a rock track, but also the ease of pop. Nice one.
3. I swear to god
Twelve million streams on Spotify, over 300k views on YouTube… I swear to God has definitely been a blast for the two friends, when they released the track in October 2021. Very cool, modern sound, which stays in your mind.
4. Hey Anna
The fourth track beautifully underlines that these guys are also not bad at all regarding the gentle sounds. The gently strumming guitar gives a nice folk singer-songwriter touch to the song, but the rhythm joining later shows that these guys have a pop music heart. Nice work with electric sounds as well.
5. Simp
The 2:44 minute song Simp is a rather moderate speed rock-pop track. Again, the rhythm is rather present. Nice focus on the vocals – and the chorus rocks quite nicely. I am smiling.
6. Mario & Peach
The video gaming reference makes me smile before listening to the song (does someone remember that Peach was initially named Princess Toadstool?). Good song, but I feel that it is rather close to Simp before. I like the lyrics and the keys in the bridge, though.
We're like Mario and Peach in a big arcade
Always on the run for things we chase
We know that there won't be better days
But all I ever wanted
All I really ever wanted is you…
7. I owe you
The chorus continues the title with I owe you the time. The song is a nice modern rocker with some bassy vibes in the background. Very energetic listen, this track is definitely fun.
8. Cold pizza
Even though Mael & Jonas free their electric guitars in the chorus, the sound of Cold pizza is rather pop-ish. The keyboard/synth melody line is the key element of the sound.
9. Regret
I really like Regret. The groove is just too cool. The ninth track thus reminds of some Jamiroquai songs. A slight time travel some two decades back in the history of music. This one stays in your mind, for sure.
10. Selling out
The tenth song is a nice, atmospheric one. Nonetheless, I feel it is just not as present as other tracks. This makes it feel more average than it actually is.
11. My diary
This diary comes with a very melodic, vocal-driven sound. The last song of Rocket Science, which has already been released as a single. Nice listen.
12. You could come over
You could come over is a gentle chucker-out: the song comes with a rather soft sound, nice to listen to. A touch of a fade-out.
Mael & Jonas – Rocket Science – Spotify
Here is the album on Spotify:
Mael & Jonas – Rocket Science – My View
I feel that the Germans did really well with Rocket Science: the debut album defines their sound, but still does not feel stubborn and shows a nice flexibility in sound. There are some weaker spots here and there, which prevent the album to jump to the very top of the rating chart… But it's still a really nice experience to listen to these guys.
Rheinland Music 2022
Here are all my Music & Media postings related to the larger Cologne region in 2022:
London Top Pick! Reviews
Here are all my postings about London, which lead to a Top Pick! review: