The Ontario-based James Barker Band was one of the crowd's favorite at the 2019 Country 2 Country festivals in London and Berlin. Despite playing on the minor stages, their performances lead to a lot of positive feedback after both events. I also loved to see the guys at the Sound of Nashville concert between the festivals in Cologne. Now, the Canadians released their third Extended Play Singles Out on 24th May 2019. The band names it an "album" on their website, while I feel more comfy with the EP thing for the seven track release. Here is a review.
About the James Barker Band
The James Barker Band's roots are in Woodville, Ontario. Apart from James Barker, the band contains of three more members, Taylor Abram, Connor Stephen and Bobby Martin. Contracted with Universal Music, they have a quite quick career so far, as the band was found in 2015. Their first EP was Game on in 2017, which reached the Top 30 of the Canadian Country album charts. Since 2016, they have regular entries in the Country Singles charts of their home country. Their biggest success so far is Chills, which reached the chart's top and even made it to a US Country Billboard entry. They also have a couple of CCMA Award nominations.
James Barker Band – Singles Out – Track by Track
As stated above, the EP contains seven tracks. This leads to a playing time of roughly 22 minutes. The price for the download is roughly 7 Euro / USD on Amazon.de / Amazon.com.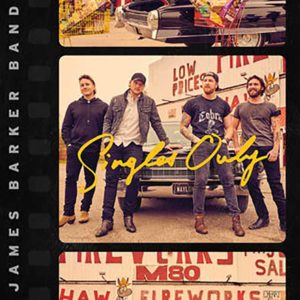 1. There's A Drink For That
The first track of the EP and their latest single is a typical James Barker Band song. Some lyrics from the bridge maybe?
Bourbon, whiskey, wine, or margaritas
If you need a little something then I feel ya
Just starts with a good mood song – to me, the best track on the album.
2. Slow Down Town
A nicely written song about growing up in a small town. Really like this song.
3. She's A Hit
That's just the way musicians write a love song, I feel – comparing a girl with a song:
She's in my head when I go to bed and when I wake up
She's music to my ears, all I wanna hear, and all I think of 
She's a jukebox classic that everyone picks
Know every word, it goes like this, oh-woah-oh
She never gets old
A somehow nice one, but I feel it is much live on stage than in studio conditions.
4. If It Weren't For Girls
Nice hookline, nice lyrics like
First time fallin' in love
In every bar in every town all over the world
If it weren't for girls
But nevertheless, it felt to me like I heard this one before. Was it the second track? The third? Or at the end? Just did not get a grip on it.
5. Keep It Simple
A song about an easy night out, nothing special… Or just Keep It Simple. A better track, but not as good as the first two ones.
6. Want You In It
This song is more on the ballad side of life. I feel, though you associate the JBB very often with party country music, they do good in there. Nice one. A friend of mine played this song and published it on Instagram right after it has been released. I have to admit that I prefer her version.
7. Good Together
We go good together
Yeah, you and me
We were meant to be
We're like fireworks in a full moon sky
Yeah, the two of us
We're dirt roads and dust
We're like a first kiss and butterflies
One of these songs, which feel okay on the EP – but you are sure you can't stop partying when they play it live on stage. So warm up with the track on the album and look forward to the guys being back in your home town area.
James Barker Band – Singles Out – My View
Interesting to see where the North American music market is going to. Albums play a very subordinate role, so that there are more and more single song and EP releases. A seven track less-than-half-an-hour one is already an "album". Within these 22 minutes, the James Barker Band present nicely produced happy-mood country music. It could be more characteristic, though – there is a chance that it feels too random. Thus, Singles Out is definitely not a must have album, but nice music you like to listen to when you got it. And live on stage, these guys are awesome anyway – you will love the songs when they are around.
I saw the James Barker Band on 20th November 2019 in Zurich again.
James Barker Band – Singles Out – Amazon Link
You may download the EP on Amazon:
Postings about Canada
Here are all Flyctory.com postings dealing with Canada:
Flyctory.com about Country Music
Here are all Country Music-related postings on Flyctory.com: