On the promotion platform I use most frequently, I rarely run into songs or albums which are labeled as "Country Music". Mostly, these are productions of Nashville big guns. The more I am happy when I am running into German country artists. One of them is Dennis Adamus. After his fans could already grab the physical version, his new album Right For You becomes available more easily for the digital music lovers – Right For You becomes part of the streaming platforms' portfolio on 29th October 2022.
Dennis Adamus – About The Artist
Dennis Adamus is a 29 year old singer-songwriter from Hamburg, Germany. Apart from doing solo music, he is also the guitarist of another country and blues band, Jimmy Cornett and the Deadman. Right For You is his debut album.
Dennis Adamus – Right For You – Track by Track
The twelve song album lasts 44 minutes.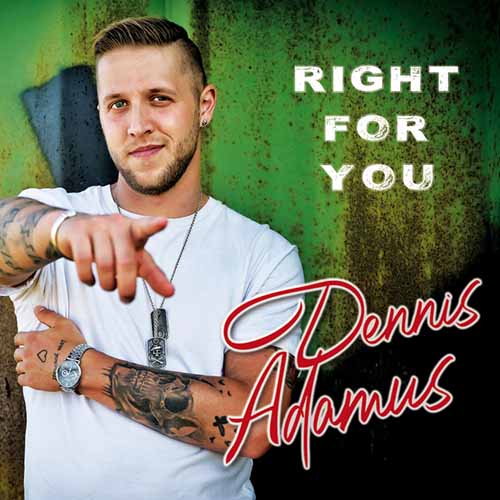 1. Can Be So Easy
That's country music made in Germany? The sound of the opening track could be a Nashville recording. There is a slight accent in the vocals, but overall, Adamus start with a really good, catching track, which stays in your mind.
2. Do It Again
The second song is another straight modern country recording, which even has come nice rocking elements. Come on, baby, do it again… After two songs, I definitely want Adamus to do some more.
3. Love Road
The song starts a bit of slow with the guitars feeling to play some simple chords to support the artist's vocals – but with the chorus latest the song also develops some very energetic sides. Good one.
4. Lady in Red
Lady in Red is one of the best vocal performances of the album to me. Overall, I really enjoy listening to this track, which develops a really nice flow. However, the electric guitar got their share of the song as well.
5. I'm Breaking Down
I so far just found one single release from Right For You – and that's this track, I'm Breaking Down. A which many German listeners would not name country at all – very cool and modern recording.
6. Your Best Friend Too
While most of the songs so far came with a modern country rock style, Your Best Friend Too has a very own touch and groove. It is coming with a touch of R'n'B. Just 2:23 minutes, but a really nice addition to the other songs.
7. Dance on Me
After this short leaving of country grounds, the album is presenting another cool rock song. However, the song has a touch of blues rock to me as well. Very catching melody and fun to listen.
8. Til The Next Morning
Even though Adamus vocals and presence are of course not that close to the Australian superstar, I feel a touch of Keith Urban when I listen to songs like Til The Next Morning. I even feel that arranging this track more towards a party and dancing track would have made it even better.
9. Go To The Top
Another straight song having sufficient drive to be a good listen. Songs like Go To The Top are really nice listens – even though I feel that the artist has not reached his full potential yet.
10. Baby I Miss You
The second last song is a beautiful slow, every emotionally performed country ballad. A track full of energy.
11. Right For You
Dennis Adamus saves the title track of his album until the very last song. The song comes with a stronger touch of rock music, his voice also feels more raspy than in the tracks before. Nice finish of this album.
Dennis Adamus – Right For You – Spotify
Here is Right For You on Spotify:
Dennis Adamus – Right For You – My View
Congrats to the debut performance, Dennis Adamus. A really well recorded, very modern country album with nice rock and blues references. The sound of the album could also fit to German mainstream music media. I am looking forward to more music by this guy – and maybe also some live performances.
Flyctory.com in Hamburg
Here are postings related to the German city of Hamburg:
German Country Music Reviews
Here are all my Media Reviews, related to Germany and to Country Music: