I love musicals in general – but two ones massively influenced my life. The first one was We will rock you based on the music of Queen. I saw it twelve times, all in Dominion Theatre, London (though they played it in Cologne as well). Then came Rock of Ages – and this one just seems to be(come) the fictional story of my life. Next weekend, one day after my 40th birthday, I am planning to see the show for the 17th time. Time to introduce you to this one – maybe one day, you get your face melted as well. It is currently on tour in UK until summer 2019 and will even visit Berlin in December. If you want to see some more pictures of the play, I did visit an amateur cast interpretation of the show in Zons near Cologne in September 2019.
Rock of Ages – Story and Background
The play has been written by Chris D'Arienzo. The first time, it has been played in Los Angeles King King in 2005. The Broadway debut was at March 17, 2009. The first London West End show was at August 31, 2011. With over 2,000 performances, it is one of the 30 longest running Broadway musicals ever.
The musical playing in the 1980's in Los Angeles is having a quite classic plot: unfortunate love, bad guys and problems, happy ending. Rock of Ages does not try to be complex and even jokes about it during the stageplay.
A Rock Music Love Story…
The main characters of the show are Drew (or "Wolfgang van Colt") and Sherrie. Drew works as a bar-back in a legendary rock club, the "Bourbon Room". He is also a rock musician, who is not really climbing up the career ladder. Sherrie is a countryside girl, who comes to L.A. to make it big in acting. Her parents do not support her in that. Her first two experiences in L.A. are getting robbed and running into Drew, who is making her work in the Bourbon Room as well. Neither their career nor their love is really progressing fine, also as Sherrie runs into the famous singer of "Arsenal", Stacee Jaxx. Their affair becomes quite unfortunate and Drew gets a record deal, so that both quit their jobs. However, their career does not work out. Drew is forced to play in a boy-band, Sherrie becomes an erotic dancer. Of course, the story end with a happy end.
… and the potential last show in the Bourbon
The side story is about the Bourbon itself, which is only by Dennis Dupree and also run by Lonny, who is also taking the role of the narrator in the musical. A German investor, Hertz Kleinmann, wins the support of the major of L.A. and wants to turn down the strip in favour of "clean, efficient living". The Bourbon gets seized, the Arsenal gig is thought to be the very final one. Regina, the former city planner of the major, tries to avoid it and especially sees a good heart in Hertz's son, Franz. Franz is however not opposing against his father. Happy ending here as well, of course.
Rock of Ages – Why is it special?
Giving a short reason why you should visit "Rock of Ages" as well is really challenging to me. What makes it special to me? First of all, there is the music. The selection of songs is just amazing. The story is thin… But you simply enjoy yourself, also due to the proximity between the cast and the audience. At Bat out of Hell, I saw a sign that you should not sing along with the song – you won't find at RoA. In some shows, the audience is already standing during the first act and singing and dancing. But apart from the music, it is also the way the play is set up, the humour, sometimes they even interact with the people directly. They simply lough about themselves – and you feel that the guys on stage simply have an as good time as the audience has.
Finally, there are of course the ROAdies, how the die-hard fans of the play call themselves. They are actively supported by the musical management, e.g. with discounted / pre-sale tickets. In the first rows of each show I attended, I somehow found people I met somewhere already. If there was a great plot, you might enjoy it one time – but as there is an amazing 2:30 hrs (including intermission), you just come back. I am just beginning in my double-digits regarding my visits of Rock of Ages (see below), some ROAdies easily have multiple hundred ones.
Rock of Ages – Music and Quotes
I don't want to tell you too much about the show – neither on the story nor on the musical selection. The key song of the play is (of course at the very end) – Don't stop believin', originally performed by Journey. In some occasions, two songs are mixed together, like We built this city by Starship and Too much time on my hands by Styx. Sherrie is of course reflected in Oh Sherrie by Steve Perry. Some songs I love are Heaven (orig. by Extreme) and Every Rose has its Thorn (Poison). My favorite scene comes with Hit me with your best shot (Pat Benatar).
There are also some epic quotes from the musical, which you will keep in mind after your visit. For example, look forward to
I'm not gay, I'm just German (I have to love it, don't it?)
[…] Sometimes the dreams you come in with, may not be the dreams you're leaving with – but, hey, they still rock.
The latter one is quite popular as a tattoo among some ROAdies.
Rock of Ages – The Movie
The musical was a huge (und unexpected) success on both, the Broadway and London West End. Thus, it is not too surprising that there is also a movie adoption. The story is not exactly the same and also introduces some different characters, but is very close to the original plot. The cast is amazing, though. Tom Cruise is playing Stacee Jaxx, Alec Baldwin does Dennis Dupree. Julianne Hough, who is now very successful with Dance Shows in US TV, plays Sherrie. At the time of recording the movie, she was a very promising country singer, though. Diego Boneta takes the role of Drew. Here is the original movie trailer:
Tom Cruise and Alec Baldwin several times stated that they dio not like the movie and their role. There is also a significant part of the RoA musical fans, which do not like the movie as well. In my point of view, it is definitely not as good as the musical, but I absolutely like it. I feel that especially the vocal performances of Tom Cruise and Mary J. Blidge are amazing. The most I love Julianne Hough, though. The Rock of Ages movie and her singing was finally one of the key factory which made me become a country music fan. Here is the video excerpt of Any way you want it, which is appearing very similarly in the musical as well:
My personal Rock of Ages story
I guess that no show will ever do to me what Rock of Ages made me do in my life: not only that I will have my xxth show soon, there will be a total of 24 when the tour is closing in Belfast in July 2019 (some ROAdies have multiple hundred visits, though). My first visit was at Helen Hayes Theatre in New York. Overall, I saw the show in four countries, USA (Las Vegas, Broadway), Sweden (Gothenburg), Germany (Ulm) and in the UK. In the UK, a saw it in two theaters in London as resident shows including the very last show in the as well as in multiple location. Rock of Ages not just gave me a story I just look forward to see the next, but by that also a lot of interesting places to visit.
Special Performances
The best performance so far I saw was very likely the Gothenburg one, played in the Rondo at Liseberg. This is quite remarkable, as the show was played in local language Swedish and I am very limited in it. They had an amazing cast including .Joacim Cans from Hammerfall and Europe's Kee Macello. Peter Magnusson as Lonny was just fantasic (though I did not get quite some of his jokes). The Vegas shows were (like most Vegas shows) cut down to 90 minutes. Apart from that, there is less explicit language in the US, so that I would name this the worst performance. I loved the Broadway show, though, which has been my very first Rock of Ages visit. Being at the very last show at the Garrick Theater was of course very special to me as well. It was amazing how close the RoAdies were to the actors after the performance.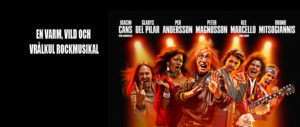 Current UK Tour Cast
I absolutely love the team of the current UK tour. To me, the key character for a great show is Lonny – and Lucas Rush is doing a really great job here. There are some other top-notch members, like 2002 Pop Idol Winner Zoe Birkett (Justice Charlier) or Kevin Kennedy as Dennis Dupree. Danielle Hope (here is a review of her February 2019 concert) is doing the role of Sherrie until end of November, she will then be replaced by Jodie Steele. Luke Walsh is doing Drew for the whole tour.
Rock of Ages in Berlin
Rock of Ages had its debut in German in Ulm this summer. I was gifted to see the second performance of the cast. I had a quite enjoyable evening, as the team did quite a good job transforming the jokes into German just for a limited number of jobs.
Now, the original UK cast will visit Germany for the firs time. Berlin will be the only non-UK or Irish stage of the Rock of Ages tour 2018/19. The Admiralspalast will host performances between 4th and 9th December. I will unfortunately not make it this time. The show will be in English, apart some parts spoken by Hertz and Franz, of course 🙂
Rock of Ages – Some Links
The soundtracks of both, the musical (Broadway cast) and the movie, are still available. Here are links to Amazon Germany:
In addition, here are some links to the current UK Tour:
Here is the Facebook group of the ROAdies
All pictures of this posting are taken from the Rock of Ages UK website and social media sites with courtesy of the musical management.