I definitely do not focus on jazz, but with albums like This Life by Curtis Stigers, which as even been my Favorite Non-Country Album 2022, the genre is growing. Listening to new releases, I just felt fascinated by Austrian artist Simone Kopmajer, who releases her new album With Love on 10th February 2022. Here is my track by track review.
Simone Kopmajer – About The Artist
Simone Kopmajer is an Austrian jazz singer, who was born in Schladming, Styria, in 1981. She grew up in Bad Ausee and learned to play the piano and the sax in her childhood years. However, she later concentrated on her vocal performance and also studied jazz singing in Graz as well as in New York City. Her debut album was Nothing's Gonna Change, released in 2011. Her long-plays made it to the Austrian Album Charts twice. My Wonderland peaked 60th, while Christmas even made it to the 23rd spot. Both albums have been 2020 releases.
Simone Kopmajer – With Love – Track by Track
The fourteen track album lasts 61 minutes.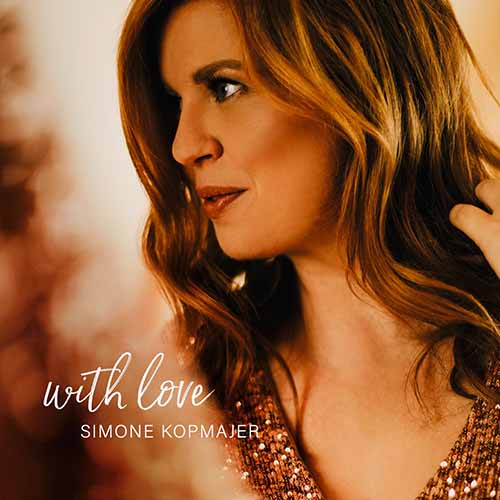 1. The Look of Love
Interestingly, this four minute opener has been the only track I could find as a single pre-release. The song comes with a very classic jazz setup. Brushing drums, piano, some strings. The focus is on Simone Kopmajer, who is doing a lovely job in this song. If you don't appreciate it, though, you might quickly feel that The Look of Love is a bit too uniform and boring.
2. How Wonderful You Are
The second song is How Wonderful You Are written by Gordon Haskell. I personally like this kind of song much more. Kopmajer takes a rather narrative role, there is a swinging vibe in the melody. It simply leads to a better potential for her instrumentalists to showcase their talents. In this song, saxophonist Harry Allen and John Di Martino on the piano are definitely the key musicians which define the sound of the song.
3. Until It's Time for You to Go
The third song, Until It's Time for You to Go, is the longest song on the album. Kopmajer and her band create a beautiful gentle atmosphere, which is backing this lovely ballad. This track does not sound too jazzy, it could also be a slow and gentle piano pop ballad. I am amazed by the vocal performance of the Austrian.
4. I Can´t Make You Love Me
I would characterize the fourth song as a piano pop ballad with a touch of a jazzy background. The sax and drums give the jazz touch – but overall I Can't Make You Love Me is quite a mainstream listen.
5. Opposites Attract
Opposites Attract is one of the originals of the album. Kopmajer wrote this one together with Karolin Turek. A nice and easy swining jazz song with a nice presence of the saxophone. I love  coffee and you drink tea, you're the rhythm and I'm the melody – this kind of jazz love song almost feels a bit cheeky.
6. How Can You Mend a Broken Heart
Oh damn, these 4:37 minutes simply have to touch me. The authors are one of my biggest musical idols, Robin Gibb, and his brother Barry. In my Juliet edition of the Songs of my Life, I gave you a bit of background why I admire Robin so much. And Simone (I just have to name her with her first name if she is doing a Gibb one…) is doing a lovely job here. The Austrian knows how to receive a good Flyctory.com review ;o).
7. Cold Cold Heart
This album features a lot of well-reputed artists. Cold Cold Heart is an original by Hank Williams, by the way. That blend of jazz and country music is so cool. Feels like a whole jazz combo is riding on the same horse through the prairie. Love ti!
8. I´m Gonna Sit Right Down and Write Myself a Letter
I'm gonna sit right down and write myself a letter and make believe it came from you. I really enjoy the song collection which has been taken for the with love album. This track is again feeling more jazzy, but it has a nice drive and vibe. The story just has to make you smile anyway.
9. For Once In My Life
The ninth song feels to be very close to some of the songs at the beginning of the album. A bit of slower, which leads to a nicer presence of the individual instruments. Especially the strings profit from the arrangement in this track.
10. Take It All In
The tenth song is another Turek / Kopmajer original. The song has a beautiful melody. The organ part is definitely the characteristic sound of Take It All In. Again, the two ladies do a beautiful blend of pop and jazz sounds.
11. Everything Happens to Me (feat. Sheila Jordan)
The last section of the album also features two collaborations. For Everthing Happens to Me (orig. by Tom Adair and Matt Dennis), Detroit jazz singer Sheila Jordan joins as a guest musician for an intercontinental collaboration. The dialog-alike setting of the song leads to a very interesting and fascinating listen.
12. Tell It Like It Is
Even though Aaron Neville initially released this one as an artist in 1966, many Europeans know this song by the 1989 cover version by Don Jonson. Simone Kopmajer is creating a very own interpretation – but these is no risk that you don't recognize the song. The sax is taking the key role here.
13. You Don´t Know Me (feat. John Di Martino)
For this song, John di Martino is explicitly named as a guest musician, even though he is part of Kopmajer's set anyway. The rationale: di Martino is presenting is dark and a bit of raspy voice in here – a perfect fit for this song. Great listen.
14. Over the Rainbow
The closing song of the album is one of the biggest classics in music history. Glenn Miller, Judy Garland,Israel Kamakawiwoʻole or Marusha, they all did this one. Now there is another name on the list: Simone Kopmajer. She is doing a slow and gentle interpretation, which makes sense and sounds beautiful. Thus, you close this hour of listening to her with a smile, definitely.
Simone Kopmajer – With Love – Spotify
Here is the album on Spotify:
Simone Kopmajer – With Love – My View
With Love is a beautiful jazz album. Simone Kopmajer has a fantastic voice and also has a good touch in arranging the songs in a way that even I (as a not too big fan of jazz music) like it. A plus of this album is also the wide range of originals – you simply look forward to the next song and ask yourself how the Austrian is transposing the melody into her musical world. She did in an excellent way, indeed.
Jazz on Flyctory.com
Here are all postings on Flyctory.com related to Jazz:
Flyctory.com in Graz
Here are all my postings related to the Austrian city of Graz: