Indeed, Hanna Batka is Mitten in Berlin – "In The Middle of Berlin". She is not only indeed living in the German capital, her songs also tell typical large town stories of a young lady in her early 20's. Especially the title track made me listen her to her debut album – and to share my thoughts with you. You may listen to the songs from 19th March 2021 onward.
Hanna Batka – About The Artist
Hanna Batka was born in Berlin-Schöneberg in 1999. Her parents are both musicians, so that her musical career started with learning to play the violin. She also attended a Gymnasium (high school) specialized on musical education and learned to play the guitar and piano. At the age of 13, she started a YouTube channel with cover versions of popular songs, which had quite some success.
Hanna Batka – Mitten in Berlin – Track by Track
The album has 16 tracks and lasts 57 minutes. However, the last five songs are instrumental versions of songs which are already part of the album. Thus, the net time of the eleven songs is 40 minutes.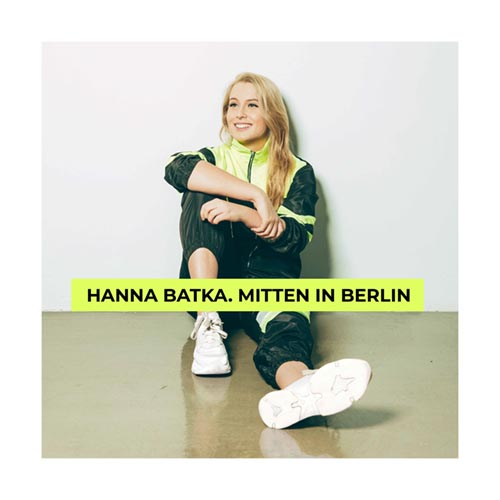 1. Himmel auf Erden
Wir holen uns den Himmel auf die Erde
Und jeder Tag fängt krass von vorne an
Wir klauen uns die beiden schönsten Sterne
Einen für Dich, einen für mich
Mehr brauchen wir nicht.
("We are taking down heaven down to Earth
And every day is starting at the very beginning
We are grabbing the two most beautiful stars
One for me, one for you
That's all we need.")
The album starts with a beautiful rhythmic pop song. The album is emotional and rhythmic, the songs often have the potential to have a dance. Thus, the album is close to German schlager here and there. Sometimes really close. The opener is definitely a promising tune.
2. Du fliegst hoch
Du fliegst hoch ("You are flying high") is happy mood song with fast rhythm and easy lyrics. The kind of song which makes you smile. Well written pop.
3. Komet
Komet ("Comet") is one of the songs released before the album. The piano track is one of the songs why I first felt to flag this posting as schlager as well. Categorize it as you like. It is definitely a beautiful, which is on the one hand very hand very mature, but on the other hand still has this teenage naivity touch.
4. Im Regen küssen
Apart from the title track, Im Regen küssen ("Kissing in the rain") is my favorite song on the album. Regarding which genre you favor, you will call it pop, schlager or even modern country / Americana. A song about love.
5. Drachenblut
C-O-U-N-T-R-Y. I would really love that German record companies start calling songs like Drachenblut what they simply are: it is nothing but a nice and soft modern country song with a nice rhythm and a beautiful chorus. There are just no pick up trucks, cool beer cans and all the other stereotypes.
Doch dieses eine Herz kannst du nicht zerstör'n
Ganz egal, wie oft du es brichst
Es hört nicht auf zu schlagen, werd' in Drachenblut baden
Ganz egal, wie oft du es brichst
Mein Herz zerstörst Du nicht.
("But you cannot destroy this one heart,
No matter how often you break it
It won't stop beating, I will take a bath in dragon blood
No matter how often you break it
You don't destroy my heart")
6. Nicht obwohl, sondern weil
Nicht obwohl, sondern weil is just a bit too emotional, too soppy to me. The the song rather feels like a not-really-average schlager track and not like a nice German pop track. I really enjoy listening to her songs on this album. It is a bit like playing with fire.
7. Einfach Glück
Einfach Glück is another song about being in love. Hanna is just thinking about her new Princess Charming. I like the emotional atmosphere of that song. It is nice storytelling, indeed – even though the overall song is not at the artist's very best, I feel.
8. Wenn Du ein Song wärst
Already during the first listen of the one, Wenn Du ein Song wärst ("If you were a song") caught me.
Wenn Du ein Beat wärst
Würde ich auf Dir tanzen
Wenn Du ein Song wärst
Würde ich Dich singen
Wenn Du ein Bild wärst
Würde ich Dich ausmalen mit allen Farben dieser Welt
Wenn Du ein Song wärst
Ich würd den ganzen Tag nach ihm singen
("Ich you were a beat
I would dance according to you
If you were a song
I would sing you
If you were a picture
I would color you in all colors of this world
If you were a song
I would sing the whole day according to it")
Beautiful metaphoric lyrics, which lead to a really nice story.
9. Mutter
Mutter simply means "Mother". The song is about alcohol abuse, about staying at home. A very deep, energetic song.
10. Polaroid
A faded Polaroid picture is the main metaphor of this song. The drum sounds like a cozy horse ride in the countryside, but the story about memories and past emotions is a nice one.
11. Mitten in Berlin
In my point of view, you have to wait for the very last song (apart from the instrumentals) of the album to listen to its premium tune. The title track is about meeting the girl of Hanna's dreams on a Friday in Berlin – in the "Middle of Berlin". A search for a very special person in the German capital in 3:32 German pop song minutes.
12. Drachenblut (Instrumental
13. Komet (Instrumental)
14. Im Regen Küssen (Instrumental)
15. Einfach Glück (Instrumental)
16. Mitten in Berlin (Instrumental)
Okay, I am not doing a real Flyctory.com track by track review in here. But shall I really mention four times that these tracks are the songs above in instrumental version? If you want to sing along to Hanna Batka's songs, have fun with these five ones.
Hanna Batka – Mitten in Berlin – Spotify
Here is Mitten in Berlin on Spotify:
Hanna Batka – Mitten in Berlin – My View
Hanna Batka is definitely an interesting artist, somewhere between pop, schlager and references to German country. The album could definitely profit from a wider range of songs, Mutter is definitely the surprising track with a very different character. I feel, Batka has a lot of potential and it will be interesting, how much this album will help her to promote her music to the next steps. Enjoyable listen, for sure.
Flyctory.com in Berlin
Here are all postings related to the German capital:
Country Music in Germany
Here is any Music & Media posting related to country music and Germany on Flyctory.com: