Blues rock from Europe on this 27th August 2021 release: Krissy Matthews is active in the genre since fifteen years. He is releasing his seventh studio album, Pizza Man Blues in late August 2021 – hope you enjoy the review.
Krissy Matthews – About The Artist
Krissy Matthews has a British and a Norwegian family background. He was born on 25th May 1992 and started playing the guitar at the age of eight. A concert he visited some three years later raised his interest in the blues genre. Already at the age of twelve, he founded the band Krissy's Blues Boys, in which his father was one of the musicians. Keith Matthews also played the bass on his first album Influences, which was recorded in 2005. A record deal lead to a re-branding of the album to Blues Boy with a second release wave. Matthews was very active the following years and released three more albums until 2011 (Hit The Rock). He became more popular in the United Kingdom and Norway, but also in Germany. He toured and was on stage together with big names of the genre. His previous studio album is the 2019 Monsters in Me.
Krissy Matthews – Pizza Man Blues – Track by Track
The ten track album lasts 48 minutes. By the way: the album's name is referencing to all the jobs Matthews had to do during pandemic times, including pizza driver. There are two versions of the final song Grateful on the album.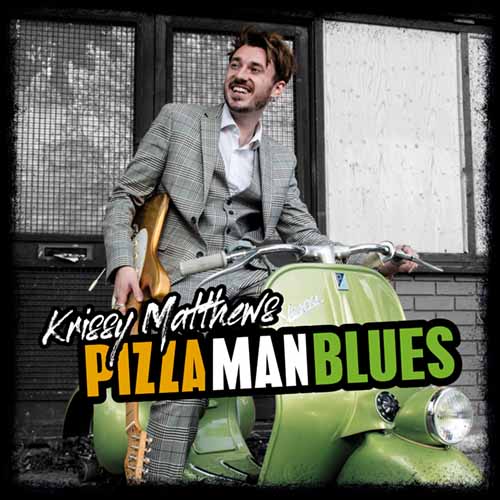 1. Mayday
Mayday does not feel like a blues track at all at the beginning. The series of riffs fired from the electric guitar could rather be taken from a harder Southern rock track. The song starts with a driving sound, feeling like a good part of a soundtrack for a sequel of the Easy Rider movies. Cool song, even if you don't have a Harley at home.
2. The Man Said No
While the opener did not remind me too strongly of the blues genre, this song already has a certain groove. On the other hand, I just can't stop thinking of songs like The Wall by Pink Floyd. Cool song.
3. Disaster
The sound of Disaster is more quiet, the drums are partially played with the brush. This third track feels like a perfect song for an intimate show in a small bar or on a compact stage. It also beautifully focuses on Matthew's voice. Very good listen.
4. Anti-Social Media
Hard and distorted guitars together with great brass sounds – Anti-Social Media is the first track which features a rather classic blues vibe. Especially the brass sounds add a lot of value to this track. The 6:55 minute epic track beautifully plays with different melody lines. Very good listen.
5. Hairdryin' Drummer Man
Some cool bass vibes from Joshua Rigal, some chords from Greg Coulson on the keyboard – Hairdryin' Dummer Man comes with a powerful rock touch, but majorly with a very classic blues drive. Feels really traditional, could have been recorded a couple of decades ago like that.
6. Pizza Man Blues
Time to listen to Matthews for almost four minutes and check out about his pizza delivery experience. The song comes with cool storytelling, but also a lot of ease. Also due to its parts which attract to join the vocal parts, I expect this song to become popular among Krissy Matthews' fans.
7. Ride
Ride is a bit deeper, a bit of harder. The guitars and the drums almost create a heavy stomping song, on which Matthews put Ride. Good sound, good song.
8. Carry You
At Carry You, the vocal melodic line is the key driver of the song in the verses – but the guitars take back their sound territory in the chorus. This leads to a beautifully wide sound. Good track.
9. Grateful
Grateful almost sounds like a country music ballad. The harmonica, the acoustic guitar, being very centered on the story of the songs are some of the hints. Ballad-alike track, which almost lasts six minutes.
10. Grateful Unplugged (feat. Layla Zoe & Felix Peikli)
I am always very skeptic when the some song appears in different versions on an album. Can the additional style add value to the album? This unplugged version is about 80 seconds shorter and introduces two nice voices, Layla Zoe and Felix Peikli. Still, I am not not overwhelmingly happy with this one.
Krissy Matthews – Pizza Man Blues – Spotify
Here is the Pizza Man Blues on Flyctory.com:
Krissy Matthews – Pizza Man Blues – My View
I really enjoyed listening to Krissy Matthews' 2021. Pizza Man Blues shows a nice spectrum of sounds and stories. It also feels very modern. Very entertaining listen – absolutely recommend to give this one a chance – or at least order a pizza at him.
Norwegian Music on Flyctory.com
Here are all my Music & Media postings related to Norway:
Singapore – More Postings
Here are all postings which deal with Singapore: