Parker Millsap is a very interesting US artist, who is blending different genres to his very signature sound. On 9th April 2021, he is releasing his fifth studio album. I was really curious about Be Here Instead. 
Parker Millsap – About The Artist
Parker Milsap was born in Oklahoma on 26th February 1993 and grew up in the 6,000 people town Purcell in that state, South of Oklahoma City. He is a singer-songwriter, who is mixing influences of country, blues and rock to a very characteristic style of music. He is active as a musician since the age of 19, when he debuted with his album Palisade. While this album did not lead to noticeable commercial impact, he lead the US Americana charts with his next two ones, a self-titled album in 2014 and The Very Last Day in 2016. The latter album was also nominated as the Americana Album of the Year.
Parker Millsap – Be Here Instead – Track by Track
The twelve song album lasts 39 minutes.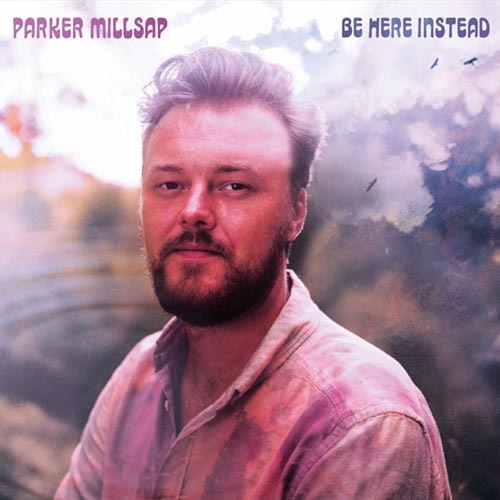 1. Rolling
The album starts with Rolling, in which organ sounds and squeaky guitar riffs are the key melodic elements. They are even more present than Parker Millsap's vocals in my point of view. I am rather mixed about this one – but I have to say that its about my least favorite track of the album overall.
2. The Real Thing
I can't stand a poor connection
Can't hold your hand through the screen
I don't want your reflection
I just want the real thing
The second track, which is also the first single release in running order, is a song I can much better relate to. Millsap's vocals are more present and the guitar melody lines are very clear to the listener as well. Love to listen to this one.
3. Vulnerable
Vulnerable is one of my favorite songs. The range of background sounds from swirling to melodic is fascinating. The vocal side of the track is also rather melodic, but also very gentle and… vulnerable. Nice one.
4. It Was You
Who held me when I was aching?
Who dried the tears I bled?
Who was it when I was shaking
That sat by the bed
Their hand on my head?
Snipping finger-alike rhythm and rather straight piano sound are the instrumental elements, before the lyrics are supported by a much wider arrangement of songs. This leads to a very powerful song with a quite powerful touch.
5. In Between
Very different sound in the fifth sound: Parker Millsap is going for the acoustic guitar and puts a very intimate ballad on the album. The song feels a lot like folk music to me and is a really nice listen.
6. Dammit
The permanent guitar riffs and the partially screaming vocals by Parker Millsap give Damnit a rocking touch. The song feels very angry and is definitely a nice contrast to the songs on the album so far.
7. Empty
Empty is a rather slow track with piano backgrounds and decent rhythm. It thus feels a bit like a synth pop ballad with a touch of blues to me. Sounds weird? I cannot argue against that thought.
I'll say it simply
I have been draining
I am empty
But now it's raining
Undoubtedly, though, the atmosphere suits to the story of the song.
8. Now Here
Parker Millsap is writing very emotional and direct lyrics. This leads to a very unobstructed atmopshere between the artist and the listener. Now Here is the perfect example to that. It feels like a story, like a movie with good backing sounds and a good soundtrack. Enjoy it.
9. In Your Eyes
The song is again dominated by Millsap's voice, which is this time supported by some female background voices. In Your Eyes song has a certain rock touch again, but stays in the comfort song of the album. Depending on your perspective, this may be postive – you know what you get – or negative – the variation is limited.
10. Passing Through
In the introduction, I stated that Parker Millsap's music is also having a country and blues influence. The bemused Passing Through is a nice example for that. I especially like his vocal performance on this song.
11. Always
The second last song of the album is the very melodic Always, which is driven by an uplifting melody. One of my favorite tracks of the album, which almost feels a classic recording from good old music times.
12. Being Alive
Being Alive is again having these compact, returning guitar riffs as the key melodic element.
If you're hearing you are feeling
If you're fearing you're not healing
Tell me what more
Can you ask for?
You have arrived
Tell me what more
Are you here for
Than being alive?
Nice finisher.
Parker Millsap – Be Here Instead – Spotify
This is the Parker Millsap album on Spotify:
Parker Millsap – Be Here Instead – My View
Be Here Instead is one of these albums which are extremely hard to rate for me. There is no doubt about the musical quality, but the Parker Millsap sound is just a very special one. Either you like this signature way of doing music – or it is likely hard for you to listen to a full album. Personally, I am very glad that the album has some slightly different sounds in the finale of songs. Otherwise, it would have been hard for me to follow as well.
Superb 2021 Travel Reviews
Here are all my travel reviews released in 2021, which got a rating better than 4.5:
2021 Top Pick! Media Reviews
Here are all my 2021 released Media Reviews, which lead to a Top Pick! rating: