Even though she is an active musician since a bunch of years, Kat Eaton releases her album debut on 2nd July 2021. Her music is a blend of different Americana genres. The album is called Talk To Me. Really looked forward to share my thoughts with you.
Kat Eaton – About The Artist
Kat Eaton is a British artist in her mid-30's. Originally born in Cardiff, Wales, she grew up in Sheffield and nowadays lives in London. She is mainly a vocalist, but also plays piano and guitar. The artist, who blends blues, soul and country, started to write music in her teenage years. In 2014, she had a first release. However, her first successful major release was the 2017 EP When You're Not Around, which got national airplay, but was also played in the Netherlands, for example.
Kat Eaton – Talk To Me – Track by Track
The ten track album lasts 35 minute. A couple of songs have been released as acoustic tracks before the album.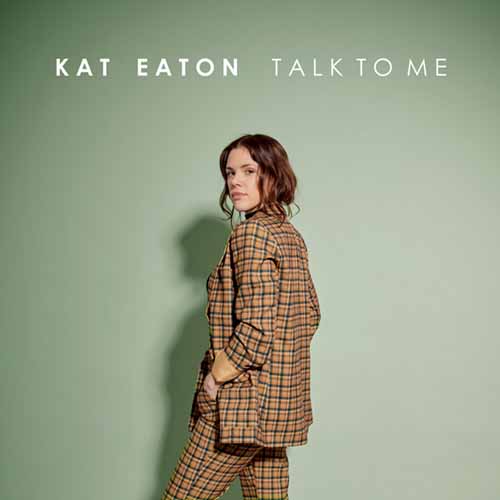 1. Barricade
The album starts with Barricade. The brass sounds almost give a touch of swing to to this track, which is a lovely soul-pop song. I really love to listen to the gentle vocals, which give the opener a very catchy character. Good starter, for sure.
2. Checking In
Checking In is slower, a bit of dream-ish. The key background in the verses is the organ. The chorus is spreading some more energy. Again, the music is very nicely written to support Eaton's singing, which sounds different than in the opener – but works out well, too, definitely.
3. Need A New Way To Say I Love You
I stated that Kat Eaton is blending soul, country and blues into their songs. This third song is definitely having a groove, which reminds of the blues genre. There is also more guitar presence than in the songs before. I like the accentuated rhythm and groove of this song.
4. Lottery Ticket
Soul with a touch of blues – that's how I would describe Lottery Ticket. The song is very straight – and not only a good listen, but also a track which makes you want to sing-a-long with the artist. One of my favorites.
5. Talk To Me
The title track of the album is quite in the middle of the album. The song is a beautiful soul ballad, during which Kat Eaton is using a rather dark voice, which is then rising up to the high notes in chorus. Nice. The song has some really energetic moments towards the end.
6. All Kinds Of Crazy
All Kinds Of Crazy is another slow ballad track. Due to the backing vocals, it comes with a strong touch of gospel to me. If you like female soul voices, this might be a really good candidate for your favorite song of the album.
7. Slow It Down
Something which came into my mind while listening to Slow It Down: Kat Eaton already sounds so incredibly precise, so mature. The song (again, which the major background choir sounds) just comes with a lovely groove.
8. Dreaming About You
Dreaming About You is coming with the same powerful soul-pop touch as you have it in multiple songs of the Talk To Me album. Nice sound – but I would have loved to have some more special and characteristic elements.
9. Put Yourself In My Arms
Didn't I ask for some more special moments on the album? Here is one of them – Put Yourself In My Arms is having the soul-gospel style with a lot of brass sounds, but comes with a very nice, quick background rhythm. Kat Eaton for the dancefloor. One of my favorites.
10. Out Of The Rain
Talk To Me closes with its shortest track, Out Of The Rain. It feels like Kat Eaton saved some of her powers for this energetic blues track with a lot of soul touch. Great listen.
Kat Eaton – Talk To Me – Spotify
Here is Talk To Me on Spotify:
Kat Eaton – Talk To Me – My View
There is not too much country music style in Talk To Me, in contrast to the bio information I found. That's all about the album on the negative side. This Sheffield lady does an impressive job with a great voice. A cool Americana-blues-soul blend of songs, which I absolutely loved to listen to. The Top Pick! banner on top of this review already revealed that I feel you should give a listen to Miss Eaton.
Media Review – Debut EP / Album Top Picks!
Here are Media Reviews of debut EPs and albums, which I assigned the Top Pick! rating to:
Sheffield
Here are all Flyctory.com postings related to Sheffield: