After I have been quite impressed by her recent development, I was quite curious about 24-1, the new album by German pop artist Lina. I had a listen to the publication, which has become available on 24th February 2023.
Lina – About The Artist
Lina, whose civil name is Lina-Larissa Strahl, is an actor and music artist from Northern Germany. She started with these role in children / teenage movies, but is more and more developing towards a "mature" profile. In January 2021, she has been releasing her EP Meins. You will find more bio information about her in this review.
Lina – 24/1 – Track by Track
The twelve song album lasts 33 minutes.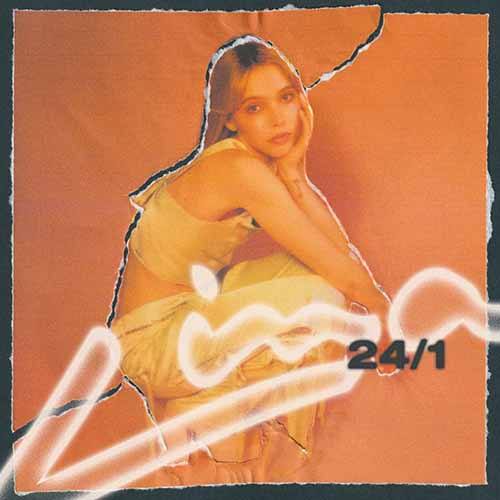 1. Lost Kids
Wir waren jung
Wir waren dumm
Wir waren Lost Kids
("We've been young
We've been dumb
We've been lost kids")
As said in the introduction, I was really curious if Lina could continue her development towards a rather mature and adult pop music style. Lost Kids does topic being young, but it feels very strong, modern. The song does not make you think of a crowd of young teenagers in the audience at all. I like it.
2. Kakao
The second song deals with young adult trouble and finding your spot in the world. Great, very intense song, which starts with a situation when Lina wanted to have a Kakao (chocolate drink) from the school kiosk, but just could not afford. Even though the times have changed, the feelings are similar. I'm blown away by this rather melancholic, thoughtful track.
Ich will einfach nur normal sein
So wie all die anderen
Bei mir ist so viel anders
Wo soll ich da anfangen?
Immer noch das selbe Scheissgefühl
Wie damals auch
Als ich mir nichts mehr wünschte
Als einen Kakao
("I just want to be normal
Just like all the others
There is so much differnt at me
Where shall I start?
Still the same, damn feeling
The same like back then
When I did not wish nothing more than
Just a chocolate drink")
3. Klippe
The third song is rhythmic and feels more angry and energetic. The song is about the struggle in a breakup situation. Another very straight composition. Good one.
4. Leere Zimmer
The fourth song is a pop–rock track. The song is very melodic and has a nice straight drive. A very different kind of song, compared to the first three ones. But I feel that the former Bibi Blocksberg actor really does well in this style as well.
5. 25/7
Es ist viel zu wenig Zeit, die uns zum Verschwenden bleibt – "There is just by far too few time we have to waste it." The song is about the struggle of having too few time to enjoy yourself, love and life. The longer I listen to it, the more I like it.
6. Schön genug
The three songs Lina shared with her fans before the album release are all located rather in the second part of the album. Schön genug is about the struggle and pressure you nowadays have in times of social media. She asks Bin ich schön genug so wie ich bin – ich seh' nur dass es all' die anderen sind. "Am I sufficiently beautiful the way I am – I just see that the others are, indeed". Even though her boyfriend tells her she is beautiful, she cannot fully believe it and just sees her "negative" sides. Such an up-to-date topic and a beautiful, very fragile recording.
7. Caprisonnen
To me, Caprisonnen was the core track of the album promotion campaign. The song a pop track with dance vibes. I love the rather picturesque way Lina is describing the scenes of the song.
8. Blackbox
Blackbox is another really nice recording. The pop song works with a lot of echo. Again, I enjoy the way Lina describes young adult life – even though I prefer other tracks of the album.
9. Nüchtern
Wenn Du das wirklich so meinst, sag mir das nüchtern noch mal – "If you really mean it like that, tell it to me again when you are sober". Didn't we all have the situation already once or more times in your life. Lina turns this topic into a rather gentle song mainly driven by the keys.
10. Lina, was ist los mit dir?
The title of the tenth track states "Lina, what's up with you?". The song starts rather quiet and slow. The more, it surprises with rocking guitars in the post-chorus. Cool sound.
11. Offenes Verdeck
You might know this track as a single release. The song is one of the most "complete" tracks to me. Good storytelling, very groovy and present pop sounds. Lina feels modern and mature, even though the she is still telling us about young adult experiences. I like it.
12. Freunde oder mehr
"Are we friends or are we more?" is the key phrase of the closing track. A mid-tempo song with a present, stomping rhythm.
Lina – 24/1 – Spotify
Hre is 24-1 on Spotify:
Lina – 24/1 – My View
I really like 24/1. There are two key reasons for it: first of all, I feel that Lina and her team are excellent storytellers. The songs feel honest and relatable. On top of that, the album represents a really wide range of tracks, which nonetheless form a great set of sounds. A truly deserved Top Pick!.
Lina – 24/1 Tour 2023
From April onward, Lina is touring Germany, Austria and Switzerland on her 24/1 Tour:
| | | |
| --- | --- | --- |
| Fr 14.04.2023 | Hanover (Germany) – Capitol | |
| Sa 15.04.2023 | Hamburg – Fabrik | |
| So 16.04.2023 | Berlin – Metropol | |
| Tu 18.04.2023 | Leipzig – Täubchenthal | |
| We 19.04.2023 | Dresden – Schlachthof | |
| Fr 21.04.2023 | Munich – TonHalle | |
| Sa 22.04.2023 | Vienna (Austria) – SIMM City | |
| Mo 24.04.2023 | Zurich (Switzerland) – Volkshaus | |
| Tu 25.04.2023 | Stuttgart – LKA-Longhorn | |
| We 26.04.2023 | Frankfurt – Zoom | |
| Fr 28.04.2023 | Osnabrück – Hydepark | |
| Sa 29.04.2023 | Cologne – E-Werk | |
Media Reviews – 2023 Top Pick!s
Here are all 2023-published Media Reviews, which lead to a Top Pick! rating:
Postings about Hanover, Germany
Here are all postings related to Hanover / Hannover :