According to the press kit, the metal magazine Metal Injection named Great American Ghost and their music "Always hateful, always pissed". Thus, some four weeks after Christmas, they feel to be the appropriate review on Flyctory.com. Their new EP is called Torture World and will be released on 20th January 2021.
Great American Ghost – About The Artists
Great American Ghost is a hardcore / metalcore quartet from Boston, lead by Ethan Harrison. Unfortunately, I just found two of his three band mates, guitarist Niko Gasparrini and drummer Davier Perez. The band has originally been founded in 2012 and has already released three albums. The last one is Power Through Terror, which has been published in 2019. After the 2016 Don't Come Back, Torture World is the second album of the band. Last year, the band got into the news for firing their bassist after people accused him of abuse.
Great American Ghost – Torture World – Track by Track
The four track EP lasts fourteen minutes.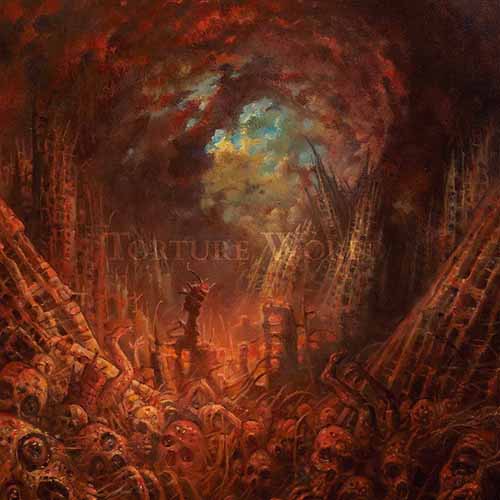 1. Kingmaker
The single release Kingmaker is the opener of this EP. Powerful, screaming guitar – but finally Harrison is screaming even harder. Powerful introduction to the band's 2022 sound.
2. Torture World
While Kingmaker felt to be a 3:30 minutes scream massacre, there are more present melodic parts in Torture World. At the chorus, the song almost feels like an indie rocker – but of course, the guitars are taking back control again very soon. My favorite song of the EP.
3. Womb
At the beginning of Womb, there is just one question: who is having the quicker hands? The guitarist or or the drummer. Even a machine gun would be made green with envy at this rapid entry into the song. Surprisingly, the shortest song of the EP (some 2:46 minutes) rather feels to be the slowest one on the album – even though the band is enjoy a rhyhtmic sprint in the bridge.
4. Death Forgives No One
Death Forgives No One almost feels like a reprise with a lot of elements you've heard before: great vocal battles, high-speed drumming and guitar play and breaks between fast and slow parts. Last, but not least, there is a melodic chorus. Good listen, even though this song is not really adding something new to a set of four tracks.
Great American Ghost – Torture World – Spotify
Here is Torture World on Spotify:
Great American Ghost – Torture World – My VIew
Finally, I feel that this trip to the Torture World is not bad at all, but it lacks two properties: first of all, there is nothing really special about the songs, which feel to play with the same elements. Secondly, the EP is just a bit too short to really spread some character. Thus, the bottom line is a very solid listen, but not a must-have publication.
Aviation in Germany
Here are all my aviation postings related to Germany:
Top Pick Historic Museums
Here are all Historic Museums, which I assigned the Top Pick! rating to: