September 2019 is a country music concert months full of highlights. Just one day after I returned from my Aschaffenburg trip watching Eric Paslay and Lainey Wilson, Thomson Square played my home town Cologne. I will skip the venue section of this review just due to the fact that I already visited the place twice in my recent concert reviews – the friendly Blue Shell in Cologne was already home of my coverages of Lindsay Ell, Twinnie and the James Barker Band in March as well as Wade Bowen in August 2019.
For this posting, there is a designated 193 major size picture gallery.
Thompson Square in Cologne – The Artists
The duo Thompson Square are a couple in real life. Shawna Thompson grew up in Alabama, while her husband Kiefer comes from Oklahoma. They independently moved to Nashville to 1996, but started to perform as a duo more than ten years later. Their self-titled debut album made it to the Top 15 of the US Overall Album Charts – two years later, in 2013, Just Feels Good, even performed slightly better. Their most successful song, though, is their debut single, Are You Gonna Kiss Me Or Not, which topped the country single charts in 2011. Five years after Just Feels Good, Thompson Square released the album Masterpiece in 2018. Neither the album itself nor the single could perform remarkably, though.
Massachusetts-born Sean McConell is already quite well known in the country music scene. The country and folk singer-songwriter is active on stage since 2000, when he founded his own label and also published his debut album Here in the Lost and Found. Overall, McConell has already released nine albums including his 2019 Secondhand Smoke, on top of three additional extended plays. He is quite successful as a songwriter and worked for a huge number of major acts. McConell also write some songs for the Nashville TV series.
Thompson Square in Cologne – The Show
The concert was scheduled to start at 21:00 and Sean McConnell stepped on stage more or less right on time. Most of his performance was very calm (not: without emotion), standing in front of the bar stool and also playing the harmonica in a few songs. To me, the two highlights of the 30 minute set were right at the end. The second last song was Mercy, which McConnell wrote together with Brett Young (who finally brought this song to the top of the charts). The last song of the set, McConnell teased with "I wrote two happy songs in my life – this is one of them", before he performed Best we've ever been, a love song to his wife. He played this song fully accoustic, without any amplifier or microphone, which lead to an amazing atmosphere.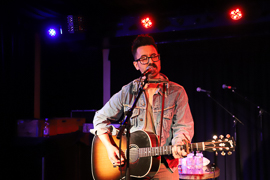 Thompson Square
After a decent setup break of the stage, Thompson Square entered the stage at quite exactly 22:00 hrs and began their set with That's so Me and You of the 2013 Just Feels Good album. While the first songs were rather slow and quiet, the duo showed much more power after a couple of songs. There were some songs which were rather outstanding. A very memorable performance was the teaser for Shawna's future solo album. The song was called Lean on neon, a 1960s style country song, which was that new that the tour managed had fixed the lyrics on stage.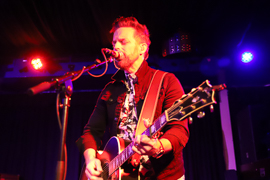 I also liked two songs they played one after each other, Up In Smoke and If I Didn't Have You. The first song is about Kiefer breaking up with another girl when he first met his future wife, while If I Didn't Have You reminds of her dead father. They also played Jackson by Johnny Cash and June Carter Cash. There were some very nice songs towards the end, though these haven't been as powerful as the ones of the middle part. The third last song was Breakers. Masterpiece, the title track of their current album, was definitely a memorable moment. Not that surprisingly, the final song of Thompson Square's set was Are You Gonna Kiss Me Or Not.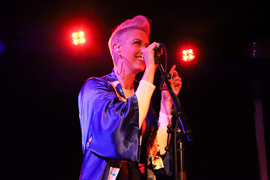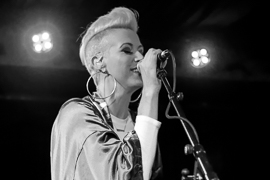 Thompson Square in Cologne – My View
It was another nice evening at the Blue Shell. Sean McConnell impressed with his musical skills. Definitely an amazing person in the country music scene – however, he also somehow showed why he is more successful in songwriting than as a performer. It is great to listen to him and he is good for these kind of smaller venues, but finally, his performing on stage is limited. His eyes closed most of the performance, he gave us stories from his country music world – and they are good ones! No need to worry, we will have a lot of great songs by McConnell in the future still, I am sure. Maybe just sung by other artists.
Thompson Square gave a very convincing show. Amazing to see how much power you can have on stage with one guitar and two voices. I just had fun watching them and they gave an enjoyable evening. On thing I love about country music is that the acts tell you very often a lot about the background of the songs – sometimes they did a bit too much here in my point of view. It was still a good show, but occasionally, the entertainment and humorist element was just a bit too much for me. The middle part of the set was great, some other sections felt to be behind that. Unfortunately, their tour manager took the mixers – which lead to a great sound, but the anyway-quite-dark Blue Shell stage was even darker. Hope you still like the pictures as I do.
Thompson Square & Sean McConnell – The Gallery
There are 193 pictures of the evening in the major picture size gallery:
Flyctory.com about Country Music
Here are all Country Music-related postings on Flyctory.com: