There are multiple ways to fame. Maybe countless ones. Tinka is driving trucks. Full stop. The 31-year old was part of a German TV show, Trucker Babes, which featured women driving the heavy vehicles. She became that she now even tried in music. After three single releases, she completes her debut EP Geil with a fourth single release. Geil means "horny" or "great" (which is nowadays the more common use). Release date was 28th May 2021.
Tinka – About The Artist
Tinka's civil name is Katrin Oschmann. She was born in Sondershausen in Thuringia, Germany. Her family is also having some trucking background. The Trucker Babes show on the German network Kabel 1 made her and her Scania truck called Lotte famous. Amazingly, the show made her that famous that she nowadays has some 160k followers on Facebook only. The three songs of the EP she released before the four track collection already have between 33k und 72k streams on Spotify.
Tinka – Geil – Track by Track
The four song EP lasts 12 minutes.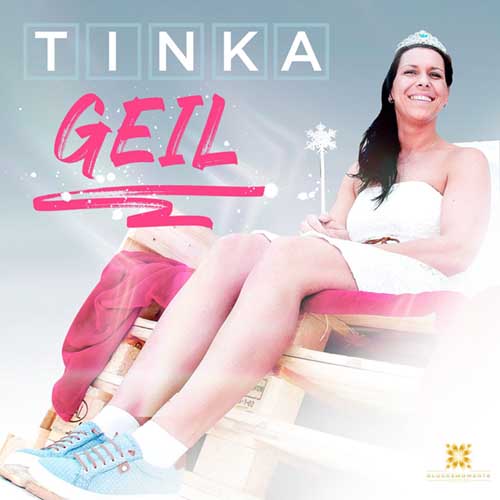 1. Geil
Ich find es geil, richtig geil
In meinem Lkw bin ich die Königin
Ich find es geil, richtig geil
Denn hier auf meinem Bock bin nur ich der Boss
Vorwärts, rückwärts, ich setz den Blinker,
1, 2, 3, 4 – hier kommt Tinka.
("I feel it's great, really great
I am the queen in my truck
I feel it's great, really great
Cause here on my box I am the boss
Forward, backward, I am blinking
1, 2, 3, 4 – here comes Tinka")
Damn, this title track is really hard to write. Yes, it is dance schlager. Very shallow dance schlager. But for some beer parties, it could still be quite a good tune. The more beer you drink, the more you can sing-a-long easily. If that's really the way a powerful lady like her wants to present herself? I don't know.
2. Im Wagen vor mir (feat. German Truck Driver)
The best song of the EP is a cover song. Henry Valentino and Uschi made this song big in Germany 1977 – and it is still a popular party song until today. The duet of Tinka and German Truck Driver comes with a quite rocking touch. Tinka's voice feels to be much better in this song as well.
3. 40 Tonnen Liebe
If I would to marketing for this song, I would name it a catching, modern party schlager with cheeky, funny and suggestive lyrics. Unfortunately, speaking of 40 Tonnen Liebe ("40 tons of love") in regards of her truck feels a bit too thin to me.
4. Meine Flotte Lotte
Is Meine Flotte Lotte ("My fast Lotte" – Lotte is the nickname of her track) really the most-listened to song of this album? It is hard to believe that the song is her popular song so far. It is pure party / Ballermann schlager for beer parties. The lyrics are extremely thin. Hard to bear this song to me, even though I in fact have been really impressed by Tinka in the TV series. At least every listener will finally know that "Lotte" is a female truck.
Tinka – Geil – Spotify
Here is Geil on Spotify:
Tinka – Geil – My View
It would be unfair to expect deep and thoughtful lyrics from a Tinka album. It would also be unfair to expect expert vocal skils. Tinka's main job is to bring good from one place to another and make our lives happen by that. I feel she has been doing extremely well in the studio (hope I did not fail to hear autotunes…), regarding her profession. Her songs are made to party. To me, they are not good enough to be great. But it is also not music absolutely unbearable to listen to.
German Schlager
Easy, German language pop – here are all postings about German Schlager on Flyctory.com:
Technical Museums – Other Postings
Here are all other Flyctory.com postings dealing with technical museums and exhibitions: