When I was scanning songs for my New Country Hits Playlist, I ran into Lightning by the Colorado artist Kimi Most. Based on that, we had a lovely chat about her, her music, but also the struggle of becoming big in Nashville, which is loaded with so much musical talent. I hope you enjoyed this episode of my Spotlight interviews as much as I do.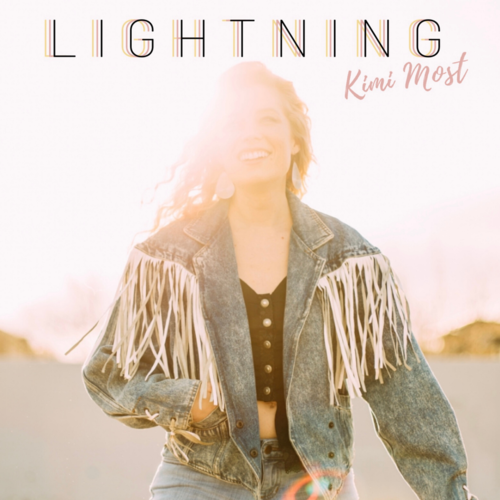 Flyctory.com meets Kimi Most
FLYC: Kimi, thanks for joining my website for an interview. How are you currently during the Covid-19 limitations?
Kimi: Thank you so much for having me! I'm doing well- I came back to Colorado in late March, since I can't play shows in Nashville, and am out of work for the time being. But it's so nice to be with my family, and every one is healthy!
FLYC: How did you find out that you want to pursue a musical career?
Kimi: I bought my first guitar when I was 10 with money I had saved from my birthday. It wasn't until I was about 13 that I started singing and playing covers in local talent shows. But I loved the feeling of being on stage and I knew it was something I was good at! I was never into sports, dance, or anything- this was the first hobby I loved. In high school I became more serious about it and decided to go to college for music business.
FLYC: Why country music? Has there been a specific artist which influenced you?
Kimi: I grew up in rural Colorado and my parents listened to all kinds of music, but a lot of country – George Strait, Pam Tillis, Randy Travis, etc. My first concert was Merle Haggard when I was 7 (thanks Mom and Dad!). As far as influences go, The Dixie Chicks were a big one. I learned a lot of their songs when I first started playing. I saw Keith Urban and Miranda Lambert at Red Rocks Amphitheater early in my teenage years, and that show was a big inspiration.
FLYC: You grew up near Denver in Colorado. Anything you especially enjoyed during your years there apart from music?
Kimi: Yes! I love camping and stream fishing. I still go to the mountains all the time. Our family are also Denver Broncos (our National Football League team) fans – we try to go to a couple games a year.
FLYC: Then there was 2015: You moved to Nashville. How did your friends, your family react on that? Have they all been supportive or did some also try to persuade you to stay in your home region?
Kimi: My family wasn't surprised – I think they were surprised I didn't leave as soon as I turned 18! It was always a dream of mine to go to Nashville, and they knew that. They were excited for me. My friends were also very supportive. I get lots of visitors in Nashville, and it's fun to show them around town!
FLYC: When I explain Nashville to other Germans, I very often say something like "Every second waitress there has significantly more talent than acts making it to the Top 10 in Germany". I imagine it is tough to grow bigger in this music supercity? How have your first steps at Cumberland River been like?
Kimi: It definitely felt like a big step to move to "Music City"- you're right, EVERYONE there is talented! But it's also a very inspiring place to be. Almost all musicians are supportive and friendly and want to see you succeed, too. It's not a competitive environment because everyone just wants to make it in their own right. It took me a few years to get comfortable playing shows, and record music, and I feel like I'm finally taking some steps forward!
FLYC: I guess there are moments in this shark tank where you struggle. How did you motivate yourself to go on?
Kimi: It's very difficult when you are working 2-3 jobs just to pay the bills, and then trying to create music on top of that. When I'm feeling down I'll call my mom, and she'll tell me I can always come back, but I would be bored and there's nothing for me to do in my hometown. She's right 🙂 And with every small step I take, I feel a sense of accomplishment. It's not about the numbers or the money – I'm still getting to do what I wanted to do, and that's make music.
FLYC: You first single's title sounds a bit of… Lonely: Happy Birthday to Me. What is the story behind it?
Kimi: It is a lonely song! I wrote it after my birthday 2 years ago, when I had tried to plan a fun weekend with friends in Colorado. Everyone bailed on me, except my sister. Then I planned a low-key ice cream outing with a guy I really liked from Denver. I got dressed up cute, was very excited, and he called me as I was driving to pick him up that he didn't want to meet up after all. I had already left my house! It was embarrassing and I was so sad. So when I got back to Nashville and had a write with my co-writing squad a few days later, I was venting about it and Happy Birthday to Me was born. Everything in that song is true- even hearing John Denver Sunshine on my Shoulders on the radio.
FLYC: The 2018 song Ride Together (Die Together) is inspired by the Bonnie and Clyde story. How did that happen?
Kimi: I was reading into some outlaw history and came across a poem that Bonnie Parker had written about her and Clyde's love story. It read,
But I say this with pride
That I once knew Clyde,
When he was honest and upright and clean
The idea of loving someone BEFORE they turned bad really stuck with me- do you forget what they were like when you met? I came up with the chorus, and played it for my friend Olivia Rudeen in our writing session and we finished it up.
FLYC: Just recently, you released your third single, Lightning. What is that one about?
Kimi: Lightning was also written with Olivia! Most of the songs we write are sad, and we wanted to write a pop-influenced country song that was about falling in love and it NOT being bad. This was a fun writing session because it started out as something completely different, and evolved.
FLYC: Just going back to you as an artist. What is the standing out feature or signature characteristic of Kimi Most songs?
Kimi: A lot of my lyrics are very visual – I want to paint a picture for the listener. I'm also a sucker for catchy melodies.
FLYC: What do you prefer: songwriting or performing?
Kimi: I like writing songs, but I love performing. Sharing music with other people in a live setting is such a special experience – as a fan and as a performer.
What has been the most memorable venue or show you played so far?
Kimi: I opened for Deana Carter at a rodeo on a lake in Windsor Colorado in 2015. The stage was on the beach, facing the water, and the sun was setting. It was gorgeous. I skipped out on part of my cousin's wedding to play that show.
FLYC: Is there any venue you dream of playing at?
Kimi: Yes! The Ryman in Nashville, TN, and Red Rocks in Morrison, CO.
FLYC: As an artist on the raise, I guess it is even harder to stay in the focus of the people, especially the managers and promoters around Nashville, now that the venues are closed. How do you try to stay in the spotlight?
Kimi: I was hesitant to put out a new song in the midst of a pandemic, but it has turned out to be the best thing for me right now. I made it onto the New Music Nashville Spotify playlist, which has created more visibility. I think people are online a lot more now, and seeing an artist's online presence. Having live-streams, posting content, and keeping fans engaged seems very important, now more than ever.
FLYC: You are working on your debut EP. Anything you can already tell us about it?
Kimi: It's going to be 4 songs (I think!), and has a couple songs I've never played out yet. So that's exciting. It's taking longer to make than expected, since everything is shut down. But hopefully when I get back to Nashville this month, I can really buckle down and have it out this year still.
FLYC: My final one: imagine you could sing a song of your choice with a musical artist of your choice (no matter which genre) as a duet. Which song and which duet partner would you go for?
Kimi: Oh man, I could list off names all day. Anything with Keith Urban. Literally, any song. Also on my "dream duet list" are singing Those Memories of You with Dolly Parton, and Dreams with Stevie Nicks. And I keep holding out hope that I can sing a song with my favorite rock band The Maine someday.
All pictures used: artist material
Women Country
Here are more postings dealing with female country music artists:
Hilton Hotels – Reviews
Here are all my reviews of Hilton Hotels: