I am really glad to present you a new artist in my Spotlight interview section. Tomas Rimeika became quite famous in the Swedish music scene as part of some bands. Since a short while, he is also aiming to go for a solo career. On 2nd June 2022, he released Norden, a four track EP, which is containing English language tracks. However, he is also performing in his mother tongue. Hope you enjoy our chat.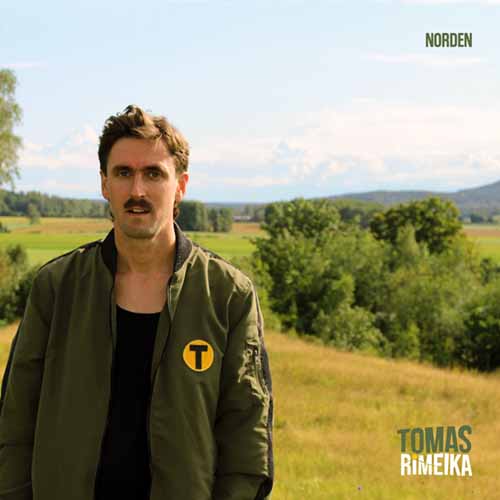 Flyctory.com meets Tomas Rimeika
FLYC: Hi Tomas, thank you for joining Flyctory.com. Maybe, before we get to your new songs, would you mind to give us overview over your musical background? You played in several bands before as far as I know?
Tomas: Yes, I played in the bands Scandal Beauty, Frantic Sunday and The Rhymes before starting my solo career. All of the bands played energetic indie rock with larger-than-life ambitions haha.
FLYC: On 2nd June 2022, you released your debut EP, Norden. What is the story, the idea of the EP?
Tomas: The idea of the EP is coming home. Having been out in the big world, searching for miracles and treasures, and realizing that the biggest miracle was just around the corner all along. The miracle of the ever-flowing river, the insight that it is never too late to start again, the unyielding hope in the Northern sky.
FLYC: Especially as it is your first solo EP, did you have any targets like a certain number of streams you aim to achieve with it?
Tomas: The targets would be both to reach a lot of new fans abroad with the music, but also to touch hearts and minds with the music and the lyrics. To convey that it is never too late to start anew and to feel hope.
FLYC: Now after two weeks, how do you feel about the first reactions, the first feedback from media and fans?
Tomas: The feedback from the fans have been great, I am so grateful to get so many kind words about my music. The feedback from the media have also been nice, I like both Flyctory and MusikFreitag 🙂
FLYC: Not only as it is the title track, Norden is the central track of the release. What is the story of the song? How did you write it?
Tomas: I wrote it by the river in my hometown of Uppsala, Sweden. I was sitting with my synth and computer looking out on the grey sky and the mirroring grey river and started playing a dreamy song "I wanna run with you tonight". Suddenly, out of nothing, there was a piece of music. I kept it in my mind for a couple of months before I wrote the lyrics. It is about a couple living in a big city, but yearning for a life along the blue river, and eternal love. They want to get away from the concrete and walk along the stream and dream it all up again. Open for more magic in their life and find never-ending hope in nature. The river is called Byälven and it is situated in Western Värmland in Sweden.
FLYC: On the one hand, the EP contains the two single releases Norden and Passion – on the other hand, the other songs you released before are in Swedish. Did you always want to release songs in both languages?
Tomas: No, but it made sense when I was doing it, since the English versions got a different meaning to me as compared to the Swedish ones. For example I write about the "River low" in "River" which is the same expression I use in The Rhymes song "Säffle", so it made a fascinating bond between those two songs.
FLYC: If I look into your Swedish songs, songs like Säffle or Sifhälla refer to places in Sweden. What did you make write these songs?
Tomas: I have a huge and never-ending love for my home. It's like a well of inspiration that I keep drinking from and that fills me with new songs. Songs I then write, record and perform. Säffle is the name of my hometown in South-western Värmland, just by the biggest lake of the European Union, Lake Vänern. It's a magical place. Sifhälla is the old name of the town, but also the name of the block just by where I grew up. Some kind of epicenter for the inspiration I guess, haha.
FLYC: If places take such an important role in your life, what does home mean to you?
Tomas: That is a great question! Home is onstage. Live. That's where the magic happens. When we play the music, and break the walls between us and the audience. But it is also Säffle, and the region surrounding it, with the river, the lakes, the hills and the forests. It means a place where I can be myself.
FLYC: When people travel to your home town Säffle at Lake Vänern, what are the things you recommend them to do?
Tomas: They should absolutely take a Swedish "fika" at Konditori Holgers, in the middle of town. They should also visit the old water tower and experience the art inside. And of course take a bath in river Byälven, the "river low", flowing through the center of town. And feel how life is always born anew.
FLYC: One of the biggest moments of your solo career so far, likely, has been opening for Mando Diao in Vara in May 2022. How was it like? How did the people there react on your music?
Tomas: Yes, that is correct. It was such a liberation and a joy to play in front of such a big audience once more. The pandemic stopped all of that. They reacted very positively, I remember the loud applause after our songs, and I also got a hug form Björn Dixgård, the lead singer of Mando Diao when I walked offstage! Best hug in a long time!
FLYC: Looking forward, I saw that you have a small tour through Sweden in September. Any other plans for the next months? Do you may also plan gigs outside Sweden?
Tomas: Yes, I will release my debut album Byälvdalen in Swedish, followed by a ten-date national tour. The next months I plan to do more shows in Sweden. And I also plan to come and play in Germany of course. Have played in Berlin, Hamburg, Pirmasens, Greifswald, Cologne and Pegnitz with my bands before, so I know you are great audiences!
Follow Tomas Rimeika Online
Spotlight – Flyctory.com Interviews
Here are all postings of my interview section Spotlight:
Travel Postings About Sweden
Here are all my Travel postings related to Sweden: