Interesting post-hardcore / nu metal from Scandinavia: while Blind Channel was rather successful on national level so far, their new album Lifestyles of the Sick & Dangerous feels to boost the band's career. Release date of the album is 8th July 2022.
Blind Channel – About The Artists
Blind Channel are a post-hardcore band from Oulu, Finland. The band has been founded in the Northern Finnish city in 2013. They already had some regional success rather early and even had a first EP release (Antipode, 2014). One year later, they released another EP, Foreshadow. While the bands first three albums have been rather successful on a national level, all being around Top 30 in Finland, Lifestyles of Sick & Dangerous feels to be more international. The leading single Dark Side has not only been a chart-topper in the band's home country, but also had chart placements in other countries like Germany or the United Kingdom. A big event for Blind Channel was representing their country at the Eurovision Song Contest.
Blind Channel – Lifestyles of the Sick & Dangerous – Track by Track
The eleven track album lasts 35 minutes.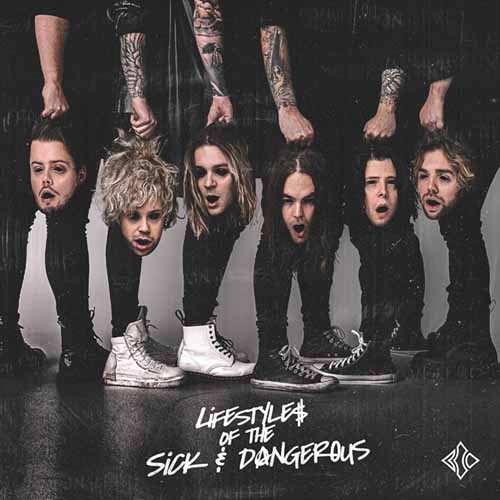 1. Opinions
After a short intro-alike part, the opener Opinions is already a nice showcase of the style of the Scandinavian band: rather melodic parts battle with rap episodes, the chorus is then clearly written and arranged for electric guitar lovers. Modern and energetic.
2. Dark Side
After Options, the album features three songs, which have already been released as singles. Overall, five out of eleven tracks are already known to Blind Channel fans. This one, Dark Side, rather feels like a harder alternative song to me. Quite a lot of synth and rap parts. The chorus is very energetic, but could even have more riff power.
3. Don't Fix Me
The band is working quite a lot with keyboard sounds. Thus, it is not surprising that Don't Fix Me introduces the keyboard theme right at the beginning. There are even some shouting-alike vocals in here. The song is rather short (2:53 minutes). Together with shuffling the different styles, this leads to a very entertaining listen.
4. Bad Idea
Bad Idea is not only closing this block of single release – it is also slightly softer than the song before. Not that many metal elements, but a very melodic rock listen. Good song.
5. Alive Or Only Burning
Especially the first part of the song comes with a lot of rap, metal, a bit of shouting. The chorus is a nice one, the remaining song is just average to me.
6. Balboa
Another single release: Balboa has a very atmospheric arrangement with a really good and present chorus. One of my favorite tracks of the album.
7. National Heroes
The 1:32 minute National Heroes is rather an interlude than a "full" track.
8. We Are No Saints
Saints go marching in are the first lyrics of the eighth song. A song, which is pushing the metal parts rather hard, but then also feels a bit of too gentle in the alternative and melodic parts. The backing vocals giving a choir atmosphere are an interesting element, indeed. Nonetheless, I prefer other songs of the album.
9. Autopsy
Autopsy uses a lot of electronic sounds and thus almost feels like a pop track, if there weren't scattered rock elements. Overall, the song is confusing me.
10. Glory For The Greedy
Did I listen to this one already? Luckily, there are lyrics in (some parts of) music, so that songs have another way to differentiate. Even despite the different styles and all the breaks in the song, Blind Channel does not manage to catch me in the second half of the album as much as they did in the first part. Finally, there are too few surprising parts.
11. Thank You For The Pain
Thank You For The Pain closes the album with some quite pop-alike part, but there are also some nice listens for rock lovers. Nonetheless, the song does not really offer something new to me. It's a solid one, rather close to other songs. Nice to hear some Finnish at the end of the 5:36 minute song.
Blind Channel – Lifestyles of the Sick & Dangerous – Spotify
Here is the album on Spotify:
Blind Channel – Lifestyles of the Sick & Dangerous – My View
I had a really good feeling when I selected Lifestyles of the Sick & Dangerous for my review section. However, I just cannot deny a certain level of disappointment. The quality of some songs is just not good enough and too many songs finally feel to be too similar. Bad luck, as these guys really could be really, really great. I guess they are more fun live on stage – but this album is in the average range only.
Blind Channel – Sick & Dangerous Tour 2022
Blind Channel have been starting to promote their album in their home country before the album release already. They will have an extentive European Tour thereafter:
| | | |
| --- | --- | --- |
| Su 10.07.2022 | Novi Beograd (Serbia) – Exit Festival | |
| Fr 15.07.2022 | Vihti (Finland) – Hiidenkinnu Festival | |
| Sa 16.07.2022 | Rovaniemi – Rock In The City | |
| Su 17.07.2022 | Joensuu – Ilosaarirock | |
| Fr 29.07.2022 | Oulu – Qstock 2022 | |
| Sa 30.07.2022 | Kuopio-  Kuopiorock | |
| Do 04.08.2022 | Wacken (Germany) – Wacken Open Air | |
| Sa 06.08.2022 | Järvenpää (Finland) – Järvenpää Soi | |
| Fr 12.08.2022 | Lahti – Möysän Musaklubi | |
| Sa 13.08.2022 | Turku – Knotfest | |
| Sa 20.08.2022 | Rovaniemi-  Santa Open Air | |
| So 21.08.2022 | Pori-  Rock In The City Extra | |
| Fr 26.08.2022 | Savonlinna – Saimaa Hehkuu | |
| We 31.08.2022 | Hamburg (Germany) – Knust | |
| Th 01.09.2022 | Berlin – Lido | |
| Sa 03.09.2022 | Dresden – Kulturzentrum Strasse E | |
| Su 04.09.2022 | Nuremberg – Hirsch | |
| Mo 05.09.2022 | Munich – Backstage Halle | |
| Tu 06.09.2022 | Stuttgart – Im Wizemann | |
| We 07.09.2022 | Frankfurt – Zoom | |
| Fr 09.09.2022 | Bochum – Zeche | |
| Su 11.09.2022 | Cologne – Kantine | |
| Mo 12.09.2022 | Bristol (United Kingdom) – Thekla | |
| Tu 13.09.2022 | Glasgow – Carthouse | |
| We 14.09.2022 | Manchester – Rebellion | |
| Th 15.09.2022 | London – O2 Academy Islington | |
| Fr 16.09.2022 | Nottingham – Rescue Rooms | |
| Sa 17.09.2022 | Birmingham – O2 Academy Birmingham | |
| Mo 19.09.2022 | Antwerp (Belgium) – Kavka | |
| Tu 20.09.2022 | Tilburg (Netherlands) – Poppodium 013 | |
| We 21.09.2022 | Paris (France) – O'Sullivans Backstage | |
| Fr 23.09.2022 | Madrid (Spain) – Sala Caracol | |
| Sa 24.09.2022 | Barcelona – Sala Boveda | |
| Mo 26.09.2022 | Zurich (Switzerland) – Plaza Club and Bar | |
Postings with Tour Dates
Here are all Flyctory.com postings, which include tour dates:
Floorball in Finland
Here are all my posting related to floorball and Finland: