Sunny Sweeney felt to be able to reach the top of country music some ten years ago. However, she did not manage to keep up good sales. The more, I was curious about her fifth studio album Married Alone, which she released on 23rd September 2022. Here is my review.
Sunny Sweeney – About The Artist
Sunny Michaela Sweeney was born in Houston, Texas, on 7th December 1976. The country artist became professional in 2004. In 2006, she self-released her debut album Heartbreaker's Hall of Fame, which has been re-released by Big Machine one year later. While that album was not successful commercially, the following one, Concrete, lead to the peak of her career so far. The 2011 made it to the Top 10 in the US Country Charts and had her only three chart-noted songs so far. The most successful one has been From a Table Away, her only Top 10 song so far. Trophy has been her most recent album release, becoming available in March 2017.
Sunny Sweeney – Married Alone – Track by Track
The twelve song album lasts 42 minutes.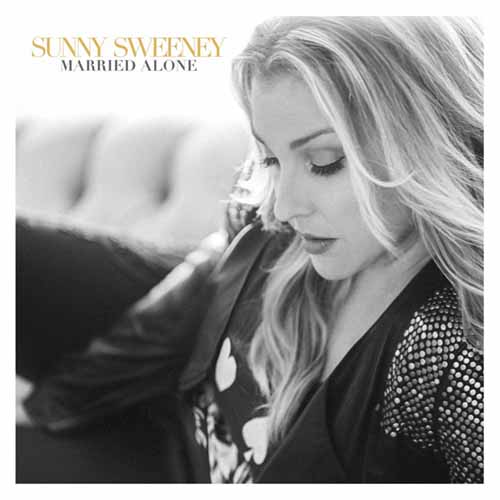 1. Tie Me Up
the opener is a rather traditional country sound with very present steel guitar melodic lines. You can tie me up, but baby you can't tie me down is the main wording of the song, which leads to a good initial listen.
2. Easy as Hello
The stronger rhythm and focus on the melody moves the album a bit more towards the country-pop side. The arrangement is very atmospheric and well done – finally one of the finest listens on the album.
3. Married Alone (feat. Vince Gill)
The title tracvk is supported by Vince Gill as a guest singer. Once Gill, is joining, the song turns into a beautiful duet. Interestingly, the press kit states that Sunny Sweeney has not been a co-writer of this central track of the album. Beautiful slow four minute track.
4. Someday You'll Call My Name
The fourth track is aiming for quite a contrast. The speedy Someday You'll Call My Name is a speedy and rhythmic listen with a big rock'n'roll heart. Nice listen for rather traditional country rock lovers.
5. How'd I End Up Lonely Again
Back to the slower sounds: the fifth track is a country music ballad with a nice instrumental interlude part. Not my favorite listen, though – I feel that the song "hides" a bit too much compared to the other tracks on the album.
6. A Song Can't Fix Everything (feat. Paul Cauthen)
I really liked Paul Cauthen's April 2022 album Country Coming Down. In this album, he is doing a nice duet with Sunny Sweeny. That song can't bring my mother back to life are the very first words of this intense listen. An excellent choice as a single release.
7. Want You To Miss Me
Want You To Miss Me, another breakup song on the album, opens for the second half of the album. The three minute track feels a bit of dark on the instrumental side, but comes with a rather easy and melodic melody on the vocals.
8. Wasting One on You
The eighth song is a nice track with a good groove and some nice brass background instruments. I don't mind wasting one on you – this track is at least not a waste of time.
9. Fool Like Me
Fool Like Me adds a nice piano ballad to the set of Married Alone tracks. Not a bad listen at all.
10. All I Don't Need
These 3:43 minutes don't lead to a too significant speed-up of the album. The melody is very nice, though. Nonetheless, this song cannot change that overall the second half of the album feels weaker than the first one.
11. Leaving is My Middle Name
Leaving is My Middle Name is my favorite song in that second half of the album. Lush guitar chords, a very present groove and a very energetic performance on the microphone lead to a nice listen. Nicely done.
12. Still Here
Still Here is the very last song of the album. It has in common with most songs in track section 7 to 12 that the press kit does not seem to feel it is worth mentioning. This is rather unfortunate – these 3:29 minutes are not a bad listen at all.
Sunny Sweeney – Married Alone – Spotify
Here is Married Alone on Spotify:
Sunny Sweeney – Married Alone – My View
Five years after her last release, Sunny Sweeny gives us Married Alone. Will that boost her career again? Can she come back to the success of Concrete? I unfortunately feel that the answer on these questions is a clear "no". The album is not bad at all, but overall lacking the special moments. Especially if you like rather traditional country sounds, this may be a more-than-solid option for you, though.
Media Review (2022 Women Country)
Here are all my Media Reviews of 2022, which are related to female country artists:
Lufthansa Group
Here are all my postings related to the Lufthansa Group: